Main Content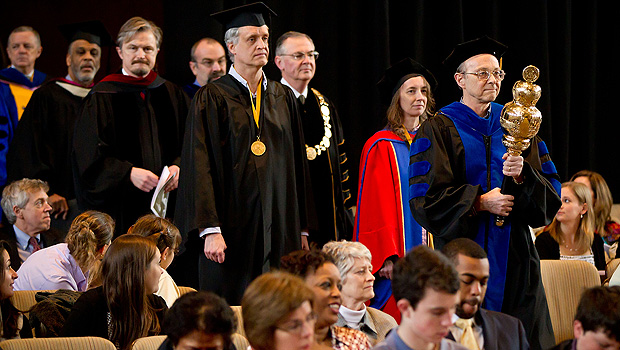 Founders' Day Convocation, held February 16, honored the University's past, including its founding in 1834; its present, celebrating faculty excellence in teaching, research and service; and its future, as graduating seniors reflected on their journey and prepared for life after Wake Forest.
See a Founders' Day photo gallery »
Senior orations
In the early years of Wake Forest, every member of the senior class was expected to present an oration at graduation. With more than 1,500 students graduating in May, the days of each speaking are long gone. But each year, three students are selected to deliver an oration at Founders' Day to share with the community how their four years at Wake Forest have changed them.
The winners of the 2012 Senior Orations competition are …
The Power to Strive Forward
by Jean Chen
"When I first came to America, I learned the expression of a person 'having no life.' And indeed I did not have a life eight years ago. I did not know what life is, according to American standards. However, now I have learned to live my life, make my own decisions with confidence and strive forward without hesitation to achieve my dreams."
Read more »
Don't Give Me an Education
by Amy Gardin
"If you give students a textbook, they probably won't read every word. If you give students a syllabus, they will probably want another, and another and another. If you give students a deadline on this syllabus, they will certainly want an extension. And, it is my firm belief, that if you give students an education, you are giving them one of the worst gifts that one person could ever give to another." Read more »
Easy as Pi
By Brandon Turner
"It might surprise you to know that I was a bit of a nerd growing up…not anymore, of course. However, I probably never endeared myself to my friends as I would point out during movies that there was no way one could hear explosions in space, or that a human would probably melt when exposed to the extreme heat and pressure at the center of the Earth, or that there was no technology that could let CSI turn a blurred, low-resolution snapshot of the axe-killer into a clear, high-definition image—not yet at least." Read more »
Senior video
Medallion of Merit: The University's highest honor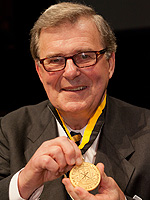 The Medallion of Merit, the University's highest honor, was awarded to L. Glenn Orr Jr. in gratitude for his service as a member, vice-chair, and chair of the Board of Trustees, his friendship and counsel to the Wake Forest and three University presidents, and his commitment in service to the high ideal of Pro Humanitate. "Glenn and Wake Forest reflect and compliment each other so well that it is remarkable that Mr. Orr did not attend Wake Forest as a student," said President Nathan O. Hatch. "In more than 30 years of service to the University, Glenn has demonstrated that Wake Forest has no truer friend and no more kindred spirit."
Past Medallion of Merit winners»
Honors and awards
A number of awards were presented to recognize excellence in teaching, research and service.
Jon Reinhardt Award for Distinguished Teaching

Professor emeritus of classical languages Robert Ulery received the Jon Reinhardt Award for Distinguished Teaching. Referred to as "tough but fair," Ulery taught generations of students before retiring in 2011 after serving 40 years on the faculty. Dr. Mark Carlson ('75, MD '81) writes, "He was my inspiration for academic excellence. He has had a profound effect on my family, and I know he has impacted countless others during his tenure at Wake Forest." Ulery mentored two of Carlson's sons at Wake Forest, one of whom, Luke Carlson, is a junior philosophy major.
Reid-Doyle Prize for Excellence
Assistant Professor of Psychology Wayne Pratt received the Reid-Doyle Prize for Excellence in Teaching. Students give Pratt high marks for teaching, even in research methods courses and statistics classes, which are often considered to be the most difficult in the psychology department. Pratt is committed to mentoring students who work in his lab. In his evaluations, students describe him as "passionate," "knowledgeable," "engaging," and "supportive."
Read more about Wayne Pratt »
Read more about the award; see past recipients »
Award for Excellence in Research

Associate Professor Michael Furr's work in the areas of social and personality psychology earned him this award, which is presented to an outstanding young scholar in the College. Furr is known for developing innovative and creative approaches to his research. In 2009, an entire issue of the European Journal of Personality focused on an article by Furr  and comments on his work by other leading researchers worldwide. He has published two textbooks, and is a recognized leader in his field. Furr joined the faculty in 2004.
Read more about Mike Furr »
Read more about the award; see past recipients »
Donald O. Schoonmaker Faculty Award for Community Service

Professor of Biology Herman Eure (PhD '74) has been an advocate for  the biology department since he joined the faculty in 1974 — facilitating the development of the department and leading efforts to develop a state-of-the-art microscope facility. Eure has been recognized for his commitment to student advising and service to student organizations. As a long-time leader in the North Carolina Academy of Sciences, Eure has taken students almost every year to annual meetings where student scientists present their results. He has been honored as a minority role model in "Who's Who Among Blacks in America."
Read more about Eure »
Read more about the award; see past recipients »
Kulynych Family ODK Award

Thomas O. Phillips ('74, MA '78), director of the Wake Forest Scholars program, works tirelessly to help students craft and submit applications for post-graduate study and scholarships. From reviewing applications to editing essays, Phillips continuously pushes his students to present their very best work for scholarship boards. The Wake Forest Circle of Omicron Delta Kappa award recognizes Phillips proven passion for building meaningful and lasting relationships with his students well beyond the confines of the classroom. In 1997, the award was endowed by the Kulynych Family Foundation.
Read more about Phillips »
Read more about the award; see past recipients »
Bill J. Leonard Distinguished Service Award

Laura Barclay, a 2008 alumna of the School of Divinity, is  this year's Distinguished Service Award recipient. In her work as social ministries coordinator at Cooperative Baptist Fellowship-North Carolina, Laura has been a leader for the racial reconciliation ministry team, the wealth and poverty committee and a wide range of other initiatives for ministries of justice, reconciliation and compassion. She is an advocate for creating possibilities for women in ministry and is a key player in immigration awareness and advocacy work.
Read more about the award; see past recipients »
Joseph Branch Excellence in Teaching Award


In his four years at Wake Forest, Steve Virgil, director of the Community Law and Business Clinic and associate clinical professor of law, has helped create opportunities for law students to make a difference in the community. He has fostered inter-professional development, joining divinity, medical and law students for week-long courses in Nicaragua. His clinical students have provided legal services to more than 400 individuals and entities. Students praise professor Virgil for infecting them with his passion to serve the underserved and marginalized, for his exacting ethical and professional standards, and for being "a really cool guy."
Read more Virgil »
Read more about the award; see past recipients »
Marcellus E. Waddill Excellence in Teaching Award

Jayne Grubbs (BA '01), who teaches academically gifted fifth and sixth graders at Caleb's Creek Elementary School in Kernersville, N.C., received the Waddill Excellence in Teaching Award on the elementary level. Heather King (MAED '97), who currently teaches mathematics at West Forsyth High School in Clemmons, N.C., received the Waddill Award on the secondary level. The award was established in 1994 in honor of Marcellus Waddill, professor of mathematics from 1962 to 1997, and funded by his son David.
Read more about Grubbs and King »
Read more about the award »
Past recipients »
Categories: Alumni, Events, Faculty, For Alumni, For Parents, Student, Top Stories
Wake Forest in the News
Wake Forest regularly appears in media outlets around the world.