Main Content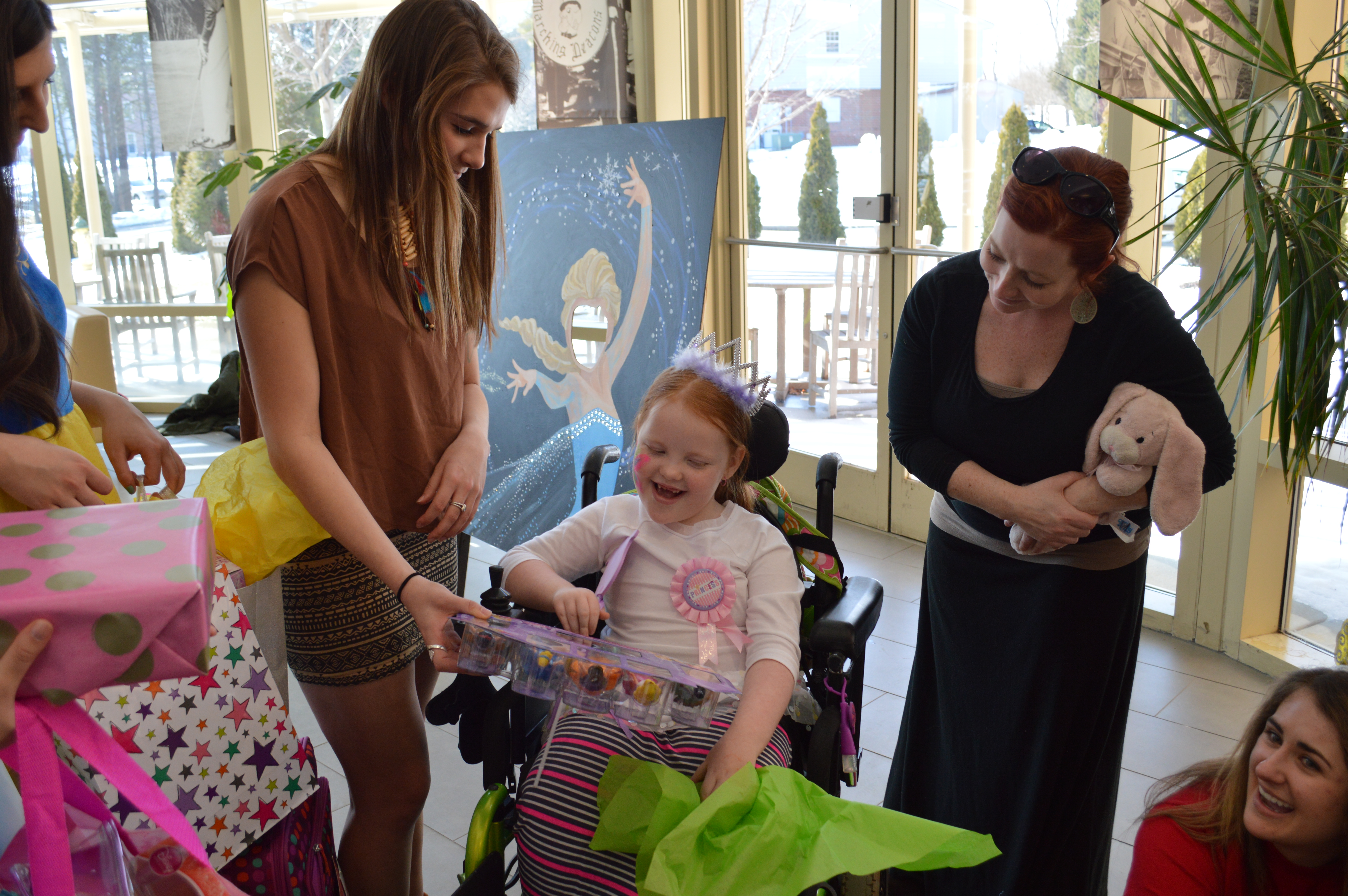 When 6-year-old Ava Elsner arrived on campus Saturday afternoon, students dressed as Cinderella, Snow White and Jasmine greeted her and placed a sparkling crown on her head.
Ava, who suffers from spinal muscular atrophy, was the guest of honor at the princess-themed "wish" party. The Wake Forest chapter of Chi Omega, working with the local Make-A-Wish organization, raised the funds to grant Ava's wish to go to Disney World with her family. The students planned the event on campus as a prelude to her weeklong Disney adventure. They see their service to Make-A-Wish as an extension of Wake Forest's motto, Pro Humanitate.


Aspen Kissell, a junior from Troy, N.C., took the lead in planning the send-off event. Kissell was an intern with the Make-A-Wish Central and Western North Carolina chapter in Charlotte last summer.
"The stories at Make-A-Wish just melt your heart," she said. "I'd like to work for a non-profit after I graduate."
Kissell and more than 50 other students escorted Ava past the balloons and pink ribbons to celebrate with wand-making, face-painting, cake and presents.
"I can't believe I got to hug Princess Jasmine," Ava said.  "I didn't know there were going to be presents!"

Ava's mother Johanna Elsner said her daughter had been looking forward to meeting college students and was excited they wanted to hang out with her. Ava's parents, grandparents and friends attended the party, too. Her older brother, Aiden, was not as interested in the princess decorations, but enjoyed the snacks.
Next stop:  Disney World.
"The only time Ava has ever flown on a plane was to visit a medical specialist," her mother said. "The Chi Omegas and Make-A-Wish did such a great job planning and organizing this event and trip. This is something none of us will ever forget."
Cat Draper, a junior from Binghamton, N.Y. and president of the Chi Omega chapter, is one of several students who have completed "wish" volunteer training through Make-A-Wish, so they can work directly with children and families.
Draper, who plans to be a pediatric oncologist, said she originally became interested in Make-A-Wish after a family friend was granted a wish through the organization.
The Make-A-Wish mission is to "grant the wishes of children with life-threatening medical conditions to enrich the human experience with hope, strength and joy."
"A 'send-off' party is the perfect enhancement for wish-kids, just like Ava, who are about to embark on the trip of a lifetime," said Kate Berry, development manager for Make-A-Wish Central and Western North Carolina. "And, for the Chi Omegas, being able to witness the smiles, hope, strength, and joy that their hard work of fundraising to grant a wish brings, is powerful."
Categories: Campus Life, Campus Life Highlights, Community, Student, Top Stories
Subscribe
Sign up for weekly news highlights.
Subscribe