Main Content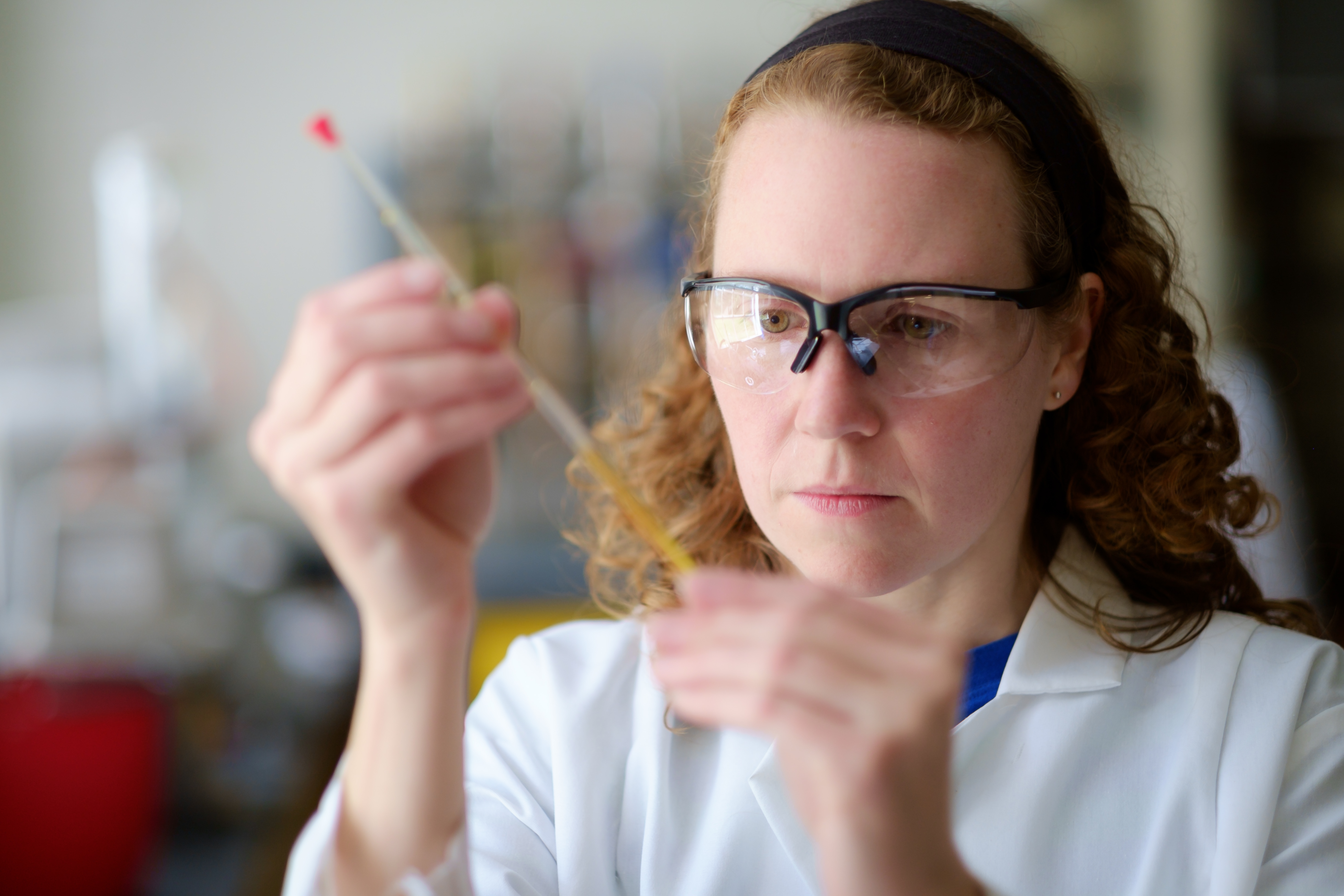 Gold is worth more than money.
Soon it could help to make the pharmaceutical industry greener thanks to the work of Amanda Jones, an assistant professor of chemistry at Wake Forest University.
Jones received a $390,000 NSF Career Award to improve the efficiency of powerful and environmentally friendly gold catalysts for use in the pharmaceutical industry.
She explained gold can be used to speed up reactions pharmaceutical researchers use to make different types of drugs and medicine.
"Catalysts like gold improve the efficiency of reactions which makes them more useful in an industrial setting," she said. "They can also be used to combine elements together that otherwise wouldn't bind. This added complexity helps when you are trying to make new drugs."
Researchers have traditionally used toxic mercury salts for these types of reactions. Jones said gold catalysts not only offer a green alternative to mercury salts but also have been shown to facilitate many reactions that mercury salts can't.
The current problem with using gold catalysts for making new pharmaceuticals is scientists know very little about how they work. Jones said scientists only began researching gold catalysts in the late 1990s and do not yet have a cheap enough formula to use them for pharmaceutical production on a large scale.
"The economic feasibility of using expensive catalyst for the production of pharmaceuticals and fine chemicals is dependent on the ability to use them in minimal quantities with maximum recycling," Jones said. "Our work examining the structure, efficiency and reactivity of these compounds will help us achieve the needed high level of efficiency."
The gold standard for young researchers
The prestigious NSF CAREER Award funding the research is given to the nation's top junior faculty who demonstrate excellence as teacher-scholars. It encourages excellent teaching, mentorship and community outreach. In line with these objectives, Jones will help train a new generation of chemists at Wake Forest by giving them hands-on research experience.
"The fun part about the chemistry I am doing is that it is very easy to learn something new," Jones said. "My students will have the opportunity to investigate very specific reactions at the most fundamental level which in my experience is the best way to build a solid and well-rounded understanding."
In addition to her work in the lab and classroom, Jones is also developing reading clubs for elementary and middle school children as a way to encourage early and life-long engagement with science.
She said The Tripods, a science fiction series by the British author John Christopher, played a big role in her decision to pursue a career in science.
"A lot of science promotion is based on the flashy, explosion producing chemicals scientists can make in the lab," she said. "My route is a bit different. I want to get kids interested in science through literature. Reading played an important role in introducing me to science and chemistry and I can't imagine my life without it. I want to share that with others."
Categories: Personal and Career Development, Pro Humanitate, Research, Scholars and Scientists, Teacher-Scholar, Top Stories
Subscribe
Sign up for weekly news highlights.
Subscribe