Main Content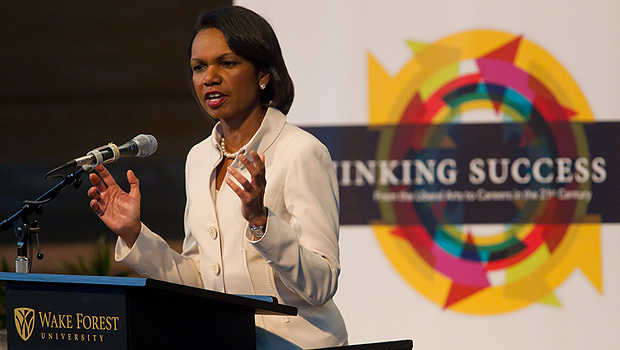 "How do we make sure students take advantage of the truly transformative power of education?" The question from former U.S. Secretary of State Condoleezza Rice centered more than 2,000 people who filled Wait Chapel, where she spoke about the state of America and the role of higher education.
Rice, who is a professor and senior fellow at Stanford University and founding partner of The Rice Hadley Group, delivered the keynote address on April 11 for "Rethinking Success: From the Liberal Arts to Careers in the 21st Century," a three-day national conference at Wake Forest to examine issues related to the relevance and value of a liberal arts education to the workforce today.
In addition to the Wake Forest community, presidents, career office directors and distinguished faculty from more than 70 colleges and universities lined up to hear her perspective on what higher education must do to prepare students for life after college and what can be done to ensure success.
Rice reflected upon how the American higher education system continues to be "the gold standard" globally because of its breadth of options, emphasis on creativity and innovation, and promise of social mobility.
"It's the place that affirms that it doesn't matter where you came from, it matters where you're going. You can come from humble circumstances and go on to do great things," she said.
Her positive approach to the complex subject matter captivated the audience. Rice seamlessly transitioned from inspiring stories to humorous anecdotes. She spoke about her grandfather, a sharecropper in rural Alabama who recognized the value of an education nearly 100 years ago and became a college-educated Presbyterian minister. Moments later, she shared a discussion with her parents that, from the sounds of laughter, clearly resonated with students. It went something like:
Rice: I've decided to change my major.
Parents: To what?
Rice: I don't know.
Parents: You don't know? What are you going to do with your life?
Rice: It's my life.
Parents: It's our money.
So, after deciding piano and English literature were not for her, she said she "wandered" into a course on international politics taught by Josef Korbel (who happened to be the father of Madeleine Albright, who would also someday become Secretary of State). As it turns out, she found her passion "wandering" around, and pursuing that passion led her to great success.
For junior Taylor Parsons ('13), a classical studies and philosophy double major from Troy, N.C., her advice on chasing one's passion and challenging oneself to do something difficult struck a chord.
"One of the first classes I took at Wake was Roman poetry. I was really interested in it, but I wasn't very good at translating Latin at the time. Now, I'm writing an honors thesis in the subject, and I've found my passion," he said. "The classics have been my gateway to discovering the real value in the liberal arts, and Dr. Rice's message reaffirmed my choice of study."
In her address, Rice acknowledged societal questions about the rising cost of higher education and the value of the liberal arts in particular. She suggested faculty must train students for a set of skills – including writing, critical thinking and oral argumentation – so they are prepared for life's challenges later on, as well as how to market them.
"Our challenge (in higher education) is to adapt to new challenges without losing the core of who we are," she said. "But our core is about the proposition that people who are educated, people who have a chance to engage the whole wealth of human knowledge and human history, are better capable and better able to navigate the changing world."
Categories: For Alumni, For Parents, Speakers, Student, Top Stories
Subscribe
Sign up for weekly news highlights.
Subscribe