Main Content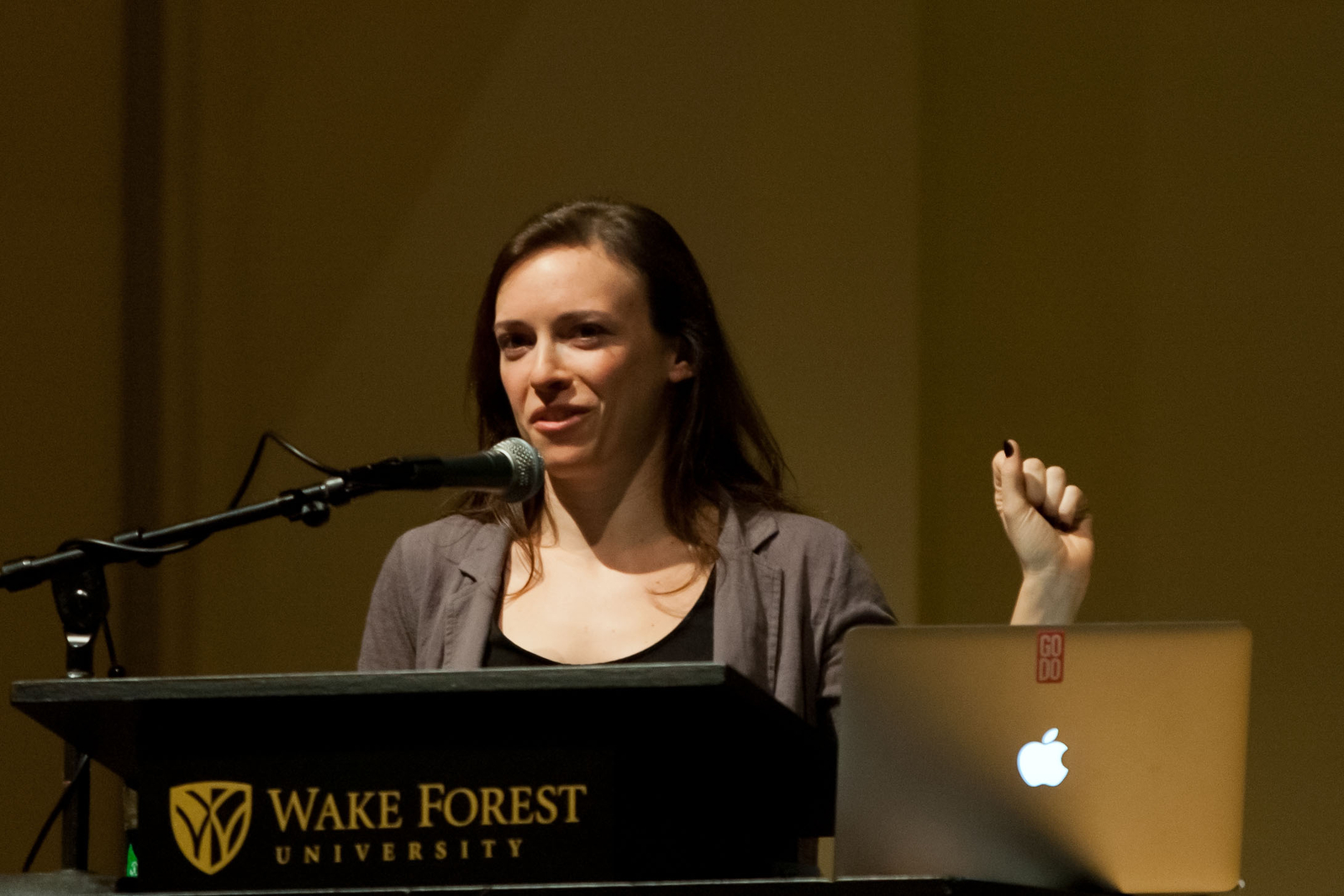 A social entrepreneur is someone who tries to make things tomorrow better than they were today. That is the definition Jessica Jackley, perhaps best known as the co-founder of Kiva, an online microlending service, gave Wake Forest students, faculty and staff at a talk September 6th in Brendle Recital Hall.
"When she said we should look at lending as interaction, and not just a transaction, that made a big impact on me," said Abishek Tadikonda ('14), co-president of the Wake Forest Micro-Lending Club. "I think it epitomizes the way our club, and Kiva, view microlending."
Jackley said her path to Kiva started with Sunday school sparking an interest in charity, but she didn't really act until she heard a speaker from Bangladesh talk about microlending at a talk at Stanford University, where she worked as a temporary secretary. Inspired by his passion and ideas, she quit her job and bought a plane ticket to Africa to see what she could do.
A year later, she was working on Kiva with co-founder Matt Flannery.  "I spent a year thinking about the problem I was trying to solve," Jackley said. "I was waiting for permission to start our venture."  But once Kiva started, it found exponential success. The service allows people to make loans as small as $25 to an entrepreneur almost anywhere in the world and even became one of Oprah Winfrey's "favorite things." To date, more than $350 million in loans have been made, by more than 1.2 million Kiva users.
Jackley said we must be willing to make the jump from planning to doing, and urged students to take action.
Micro-Lending Club Co-President Adam Mysorewala ('14) said "We spent six months formulating our ideas and are finally getting off the ground now. We may have been a little hesitant in making the 'jump' to get things started, but are now excited to be working with Kiva in the microlending sector."  The club formed in April 2012.
Although Jackley is no longer with Kiva on a full-time basis, she still serves an advisor. Jackley's most recent venture is ProFounder, a crowdfunding tool for U.S. entrepreneurs. Regulatory issues led to ProFounder's close in February. But that doesn't daunt Jackley. After starting an unsuccessful venture, Jackley said she is finally able to call herself an entrepreneur.
She's in good company at Wake Forest. The University's largest undergraduate minor? Entrepreneurship and Social Enterprise.
For Tyler Gaetano, ('15) the message about failure resonated. "Once you have crashed and burned with a venture you realize there is just as much to be learned there as with success," Gaetano said. "I will now be much more willing to make that 'jump' and launch my own venture while at Wake Forest."
Campus Life, The Center for Innovation, Creativity & Entrepreneurship, Office of the Dean of the College, Institute for Public Engagement, Office for Personal and Career Development, the Schools of Business, the Department of Economics, Departments of Women's & Gender Studies and The Entrepreneurship Society all worked together to sponsor Jackley's visit.
Categories: 2012 Highlights: Entrepreneurship, Events, For Parents, Highlights, Life on Campus, Speakers, Student, Top Stories
Subscribe
Sign up for weekly news highlights.
Subscribe