Main Content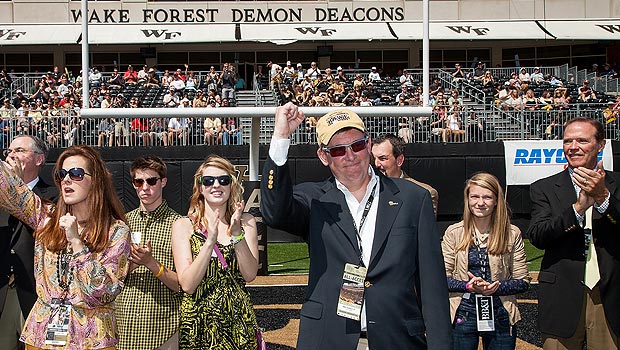 Ben C. Sutton Jr. has long been a champion for Wake Forest. As the head cheerleader in his student days in the late 1970s, he led the cheers at home football games.
Now a new generation of Wake Foresters is cheering for Sutton in gratitude of a leadership gift to renovate and expand Reynolds Gym, creating a facility with more than 250,000 square feet of space dedicated to fitness and well-being. The facility will bring the elements of campus life, student health, academics, student recreation and NCAA Division I athletics under one roof.
"The Sutton family's gift will empower students, faculty and staff to pursue a healthy and balanced lifestyle," said President Nathan Hatch following a public announcement about the gift during the Wake Forest-Army football game. "This center is the first and most visible sign of our University's renewed commitment to a culture of health and wellness."
It is also fitting that Sutton's gift will provide for a state-of-the-art strength and conditioning facility for student-athletes, as well as expanded space for sports medicine, nutrition and fitness. It was as an employee of the athletics department at Wake Forest that the idea to launch a sports marketing company came to him.
"We were working creatively and diligently to find a way to bring additional resources to our athletic program when I realized there could be a real business here," Sutton said.
With the blessing of then-President Thomas K. Hearn Jr. and former athletic director Gene Hooks, Sutton launched ISP and he and his team grew it into a national sports marketing company, which was acquired by IMG Worldwide, Inc., in 2011.
Sutton, who had befriended now-AD Ron Wellman when the latter was athletics director at Illinois State, soon had the opportunity to work directly with Wellman when he replaced the retiring Hooks in late 1992.
"Ben was always a visionary, and was tireless in pursuit of his dreams," Wellman said. "I don't know anyone who has his passion or energy, and few have made a bigger impact on this University and community than Ben. We are so grateful for his leadership."
As the President of IMG College, Sutton has turned a commitment to his clients, colleagues and community into the largest collegiate sports marketing company in the nation. This commitment to relationships has kept him close to his alma mater, where he has deep Wake Forest roots.
His grandfather and both parents attended Wake Forest. Sutton is a "Double Deac" with undergraduate ('80) and law ('83) degrees. As a student, he worked part-time at the University in both the alumni and athletics offices, and upon graduation, moved into the athletic department full-time. He has served on the University Board of Trustees and is a 2012 recipient of the Distinguished Alumni Award. Now his daughter, Addison, carries on the family legacy as an undergraduate student at Wake Forest, the fourth generation of his family to carry the flag of the Old Gold and Black.
Students across campus say that the new health and wellness center will enhance the variety of exercise options currently available and provide additional ways to reduce stress and connect with friends.
Tanner Price ('14), quarterback of the Demon Deacons, has known of the great need for an enhanced strength and conditioning facility for student-athletes and is excited to learn of the total vision for the new center.
"This is the perfect situation for us," Price said. "A great alumnus, whose family is really part of our family at Wake Forest, and especially in the football program, offering the lead gift that will help us competitively by providing a fabulous strength-and-conditioning center. It will be a state-of-the-art facility that will be as nice as any in the country. I think I can speak for all students in thanking Mr. Sutton and his family for his visionary commitment."
Philip Rohrer Jr. ('14) is a frequent visitor to campus fitness facilities and president of the club basketball program.
"There is absolutely an incredible variety of wellness options," he said. "The ability to run on the treadmill, life weights or attend a Zumba class in the Miller center, as well as climb at The Crux or get in a quick game of squash in 'the Six' is a wonderful testimony to Wake Forest's strong belief in developing the person as a whole.
"I think that the facilities we have, although numerous, do need to be updated."
When Brian Craig ('13) needs some time away from his studies, he also heads to The Crux, an indoor bouldering room in Reynolds Gym.
"It's a great social atmosphere where I can get an alternative workout," Craig said. "I've also been active in Outdoor Pursuits, which offers day hikes, white water kayaking or skydiving. I've tried a lot of new activities and met people who encouraged my outdoor life at Wake."
Craig said that having these outlets leads to lower stress and total improvement of campus life for students at Wake Forest. It's a culture Provost Rogan Kersh wants to nurture for the entire campus community.
"Well-being means attending to one's physical and emotional health, emphasizing the importance of character, improving the built environment and much more," Kersh said. "A comprehensive culture won't be something we accomplish with one building, but something we strive to create together as a campus community and then initiate over months and years. If we do it right, our ultimate hope is to enhance Wake Foresters' well-being across their lifetimes."
Julia Magee ('14), an education major, said that finding outlets for her energy is an important part of her student life. She laughed when she quoted her mother, "She says I was born running and never stopped."
For Magee, a campus where students often wear workout clothes is a place where she feels welcome. "It's fun to knock on a neighbor's door and invite them to play soccer or volleyball," she said. "People here are very interested in eating healthy and exercising. It's a good place for healthy competition."
Kersh said that while this new center will be the heart of the wellness culture, the input from students, faculty, staff, and other groups extending beyond campus borders will be vital to its success.
"We need those voices to help us examine what works well and what to avoid," he said. "You can't create a culture of well-being with a top-down edict. It's going to take us working together on campus and even into the Winston-Salem community to find the necessary ingredients to help balance education, social relaxation and exercise."
That balanced relationship between work, leisure and relationships speaks to Ben Sutton's history of seeking and finding balance in his own life. By keeping his company's headquarters in Winston-Salem, close to the community that helped him build his successful business, he has remained connected with his Wake Forest roots.
"Wake Forest is central to our family's history," Sutton said. "It gives all of us great pleasure to develop a facility that will serve future generations of Demon Deacons. Supporting this University is part of our family tradition, and we are honored as a family to provide new opportunities for our students, faculty, and staff to focus on wellness."
Categories: 2012 Highlights: University News, Alumni, For Alumni, For Parents, Top Stories, University Announcement
Wake Forest in the News
Wake Forest regularly appears in media outlets around the world.