Main Content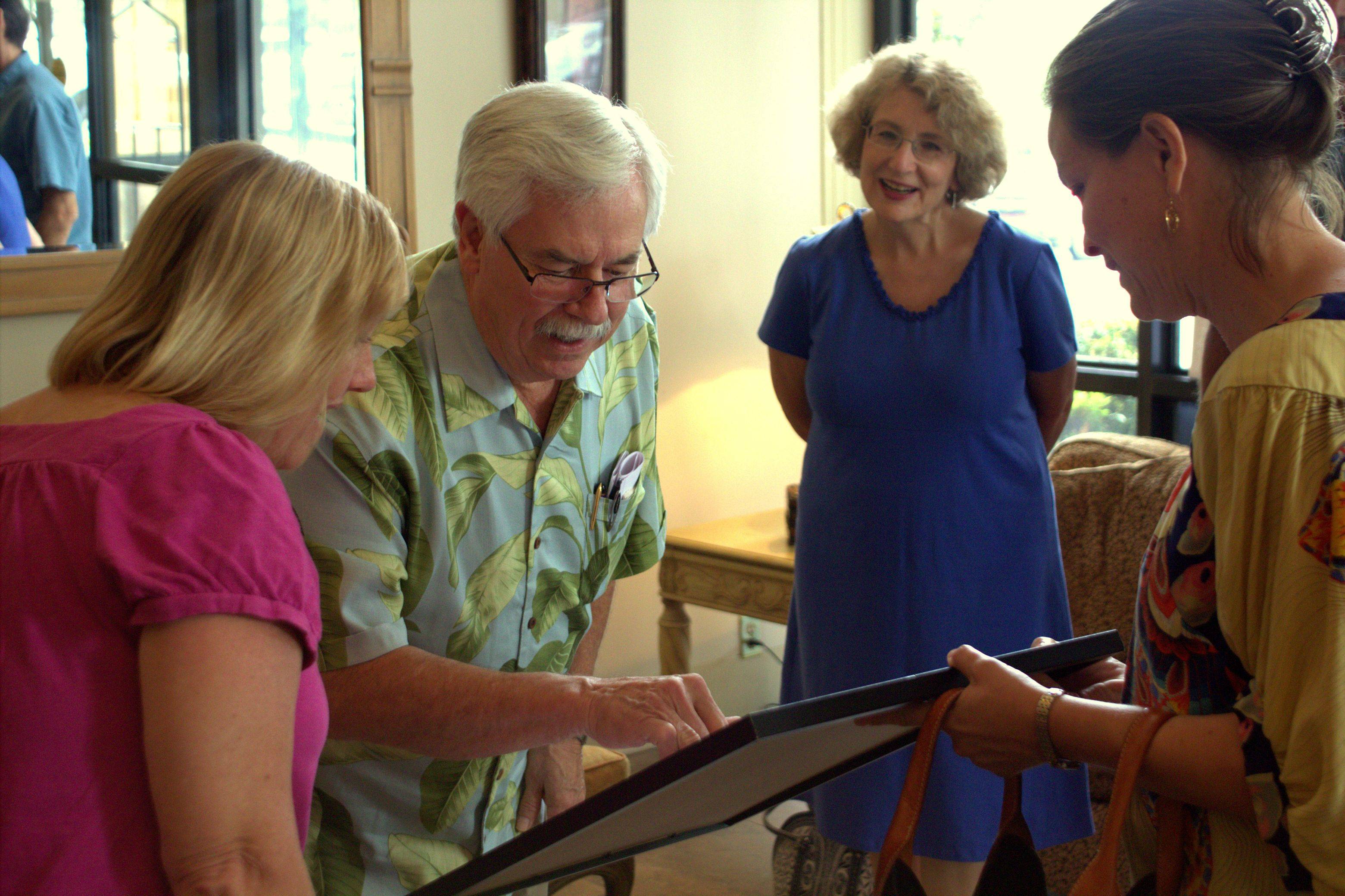 When Josie Hug stepped into the group gathered around Ray Kuhn, the William L. Poteat Professor of Biology, a hug is exactly what she got, along with cries of "You're family now!" As the newest graduate student in Kuhn's immunobiology lab, Hug has joined a close-knit group that spans generations — something she might not have known comes part and parcel with her work with Kuhn.
While researching how chytrid fungus, related to mass frog extinctions, infects and penetrates frog skin, she's working side by side with a professor who has been keeping in touch with all his students since his arrival at Wake Forest in 1968. More than 30 of his former students, plus their spouses or significant others, gathered in Clemmons last month to celebrate their mentor's 70th birthday and their shared experiences as his research partners.
Bob Crawford (BS '69, MA '73) in Kuhn's first class of undergraduate and later graduate students, said Kuhn's work blazed new discoveries in the field, not the least of which was a name for their work. "I am still under the belief that our lab coined the term immunoparasitology, after Ray returned from a California seminar on immunology and told us all we were going to be immunologists, then had us get to work on a new model system, the parasite Trypanosoma cruzi."
Crawford says his work with what seems like every infectious agent known to man – parasites, bacteria and viruses – culminated with being awarded Distinguished Scientist status and assigned to be the director of the biodefense division at the Armed Forces Institute of Pathology at Walter Reed. "I remembered how much Ray had taught me and how much I had always wanted to be like him as a scientist and mentor."
Many of the former students in the room bonded not only in the lab, but during the three-day Fancy Gap Immunoparasitology Workshop, created by Kuhn in 1974 and still held every October in the University's lodge off the Blue Ridge Parkway in Virginia.
Paul Thomas (BS '99), who now has his own immunology lab at St. Jude Children's Research Hospital, remembers going to the workshop as a sophomore, where he was encouraged to share his project work with respected leaders in the field, something he says is rare for students at other schools. "Sometimes mentors in our field, particularly PhD mentors, might feel a little tension with their graduate students, a little competition, but there was never any of that with Ray. He wanted us to do well and treated us all equally."
"Ray fostered a community," said Cheryl Davis (PhD '88), Kuhn's first female PhD student, who teaches biology and immunology and is the Distinguished Professor of Biology at Western Kentucky University. "It was an exciting time to work in his lab, with so many grants and projects. But he would also bring us together for fun and camaraderie. Look around this room – there are generations of former students here. The fact that he's still in contact with all of us and still bringing us together to have fun gives you a sense of the kind of mentor he is."
Max Grogl, who is now a Colonel in the U. S. Army and Director of Experimental Therapeutics at Walter Reed, came to Wake Forest directly from Colombia. "Ray picked me up at the airport and took me home. He basically adopted me – he became my second dad." Grogl, who earned his PhD in 1983, has fond memories of learning to perfect his English by listening to Kuhn play country music on his guitar. "He's such a good human being, such a character. He loves what he does. It's fun to him, the work he's doing, so he teaches his students the same way. I could have been in Alaska or Argentina – but I would have come here to celebrate this reunion and his birthday."
"Wake Forest let Ray have the freedom to create something special," said Dianne Ritter (PhD '88) who, like Davis, is one of Kuhn's first female students. Like the other alumni in the room, Ritter said Kuhn's lab was a catalyst for experimentation. His students overwhelmingly describe Kuhn as a supportive mentor, but don't think he held their hands in the lab.
"Ray had a way of letting you fall on your face with the science. But he was there to pick you up. He let me go through all the trials and tribulations as I figured out a project, so I could find the answers." Ritter, now principal research scientist at Pfizer, says her experience in Kuhn's lab helped her advise her own daughter about graduate school. "I told her when she was looking at grad school to pick a person, not just a school. Find a mentor."
Categories: 2012 Highlights: Mentoring, Alumni, Faculty, For Alumni, For Parents, Mentoring, Personal and Career Development, Research, Top Stories, Wake Forest College
Wake Forest in the News
Wake Forest regularly appears in media outlets around the world.