Main Content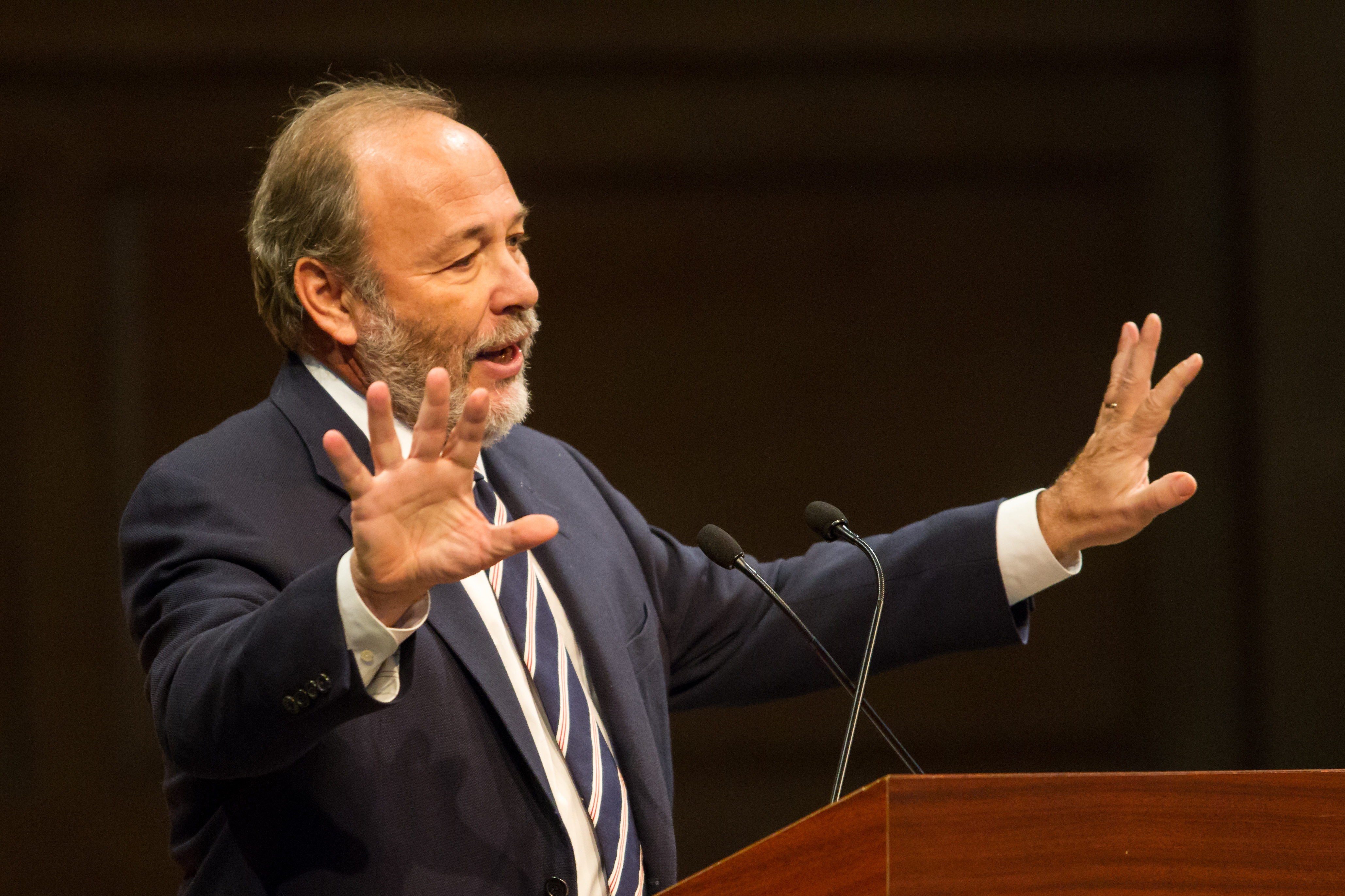 Service is the key to rekindling the American Dream, Time magazine columnist and bestselling author Joe Klein said in his speech, "Exploring the State of the American Dream: On the Road in America with Joe Klein," in Wait Chapel Oct. 10.
"Think more about the things that you owe than the things that you want," said Klein, whose popular Time.com blog, "The Swampland," has captured an international audience fascinated by the stories of Americans who pursue the American Dream despite challenging times.
Klein's message resonated with Leann Westin, a junior from Boston who is majoring in biology and attended the event.  "Mr. Klein's speech reminded me what we can do to become better Americans—the importance of the habits of citizenship."  She liked the idea of national service.  "I think it should be required.  It would make for a much better world."
The experience of service and sacrifice united his parents' generation, said Klein, who is writing a new book "The New Greatest Generation" focused on the contributions soldiers returning from Iraq and Afghanistan are making in their communities.
"If I had one wish for my generation, it would be that everyone in my generation had gone to boot camp to push themselves physically and psychologically," he said.
He emphasized the importance of shared experience for this generation of college students, too. "The things we have in common are more important than those that divide us…How can we make you better than us?  As good as my parents?  The answer is service.  It is going to make you better people, better citizens."
In a wide-ranging talk that included stories from his more than 40 years covering wars in the Middle East and U.S. presidential elections, he also commented on the detrimental effects of political consultants on politics and the challenges facing today's journalists.
"We've gotten to the point where people only hear what they want to hear," he said.  "We moved from three channels to 1000.  If this has been the golden age of anything, it is the golden age of marketing.  We've retribalized ourselves."
Five Wake Forest students had the opportunity to ask questions during the event. Shelby Smith, a senior political science major from Charlotte, asked about women's place in the American Dream.  Klein responded, "We're going to have a woman president pretty soon.  We're going to be better off as women move into positions of power in this country."
Marc Barnett, a philosophy major from Tennessee, asked how America can redefine the American Dream in a way that goes beyond the monetary.  Klein said moving the values of the military into mainstream society in other forms of service is one way.
Klein hit the road last year to find out what people in America were thinking outside the Washington Beltway. He traveled from New York to Los Angeles, and more recently, drove south to north, starting at the border in Laredo, Texas, and winding up in Iowa. Along the way, Klein met with politicians and community leaders as well as everyday people who invited him into their homes and businesses to talk about politics, politicians and the challenges facing America.
Klein's speech was the kickoff for Wake Forest's Rekindling the American Dream Conference, a symposium jointly sponsored by the music department and the politics and international affairs department.
The idea for the conference started with a conversation between David Coates, professor of politics and international affairs and Patricia Dixon, senior instructor in music.  Both immigrants, Coates from the United Kingdom and Dixon from Chile, they talked about what they could do to add to the quality of the debate around the elections.  They focused on exploring the history, character, present condition and future potential of the uniquely American vision of continuing prosperity and rising social mobility.
"We thought it was a good thing to combine a serious discussion of public policy with a celebration of the music of the American Dream," Coates said.  "Rekindling the American Dream" brings together eminent speakers and performers who will build on Joe Klein's discussion of the American pursuit of the prosperity.
Dixon teaches a first-year seminar, "Music of the American Dream," this fall.
"Just because you are a music major, doesn't mean you are not interested in politics. And, majoring in politics doesn't mean you are not interested in the arts," Coates said.  "We want people to be both socially sensitive and culturally aware."
The event is part of Wake Forest's Voices of Our Time speaker series, which recently featured Alan Simpson and Erskine Bowles. Voices of Our Time brings to campus the world's thought leaders—including scholars, scientists, writers, business and public policy leaders, activists and religious leaders—for discussions on the important national and international issues of our time.
While at Wake Forest, Klein also met with the editorial board of the student newspaper, Old Gold & Black, to share insights about the evolution of the journalism industry and wisdom from his years of on-the-ground reporting. He stressed the importance of political engagement among college students, said Old Gold & Black editor Meenu Krishnan. "And, he encouraged us not to lose hope in politics."
Categories: Events, For Alumni, For Parents, National, Speakers, Top Stories
Subscribe
Sign up for weekly news highlights.
Subscribe