Main Content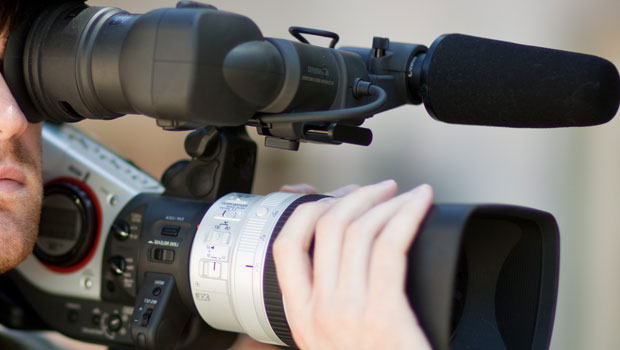 Whether it's Owen Wilson on the set of "You Are Here," or Michael Landon Jr. filming his upcoming movie, "The Ultimate Life," Winston-Salem has become a hot spot for North Carolina's thriving film industry. And from a student-run film festival to a graduate program in documentary film to an undergraduate film studies program, Wake Forest is part of the "action."
Scene 1:  The Reynolda Film Festival

Since 2008, the student-run Reynolda Film Festival has evolved into a weeklong series of speakers, panel discussions, workshops and film screenings for aspiring writers, directors, designers, and animators who dream of a career in the film industry.
The keynote speaker for 2013, Ed Burns, is an Academy Award-winning actor, producer, writer and director. Festival staff chose him for his "dedication to low-budget filmmaking." His work includes: "Saving Private Ryan," "The Brothers McMullen" and "The Fitzgerald Family Christmas."
In addition to Burns, Wake Forest graduate Curt Beech ('94), an Academy Award-winning art director whose credits include "Lincoln," "The Help" and "The Social Network," will discuss setting the scene in film.
Screenwriter Josh Olson, known for his work on "A History of Violence," will discuss the art of storytelling.
The event includes a student film competition. More than 60 films were submitted this year, including films from Spain, Canada, Afghanistan, Belgium, and the United Kingdom. Twelve of these films have been named finalists — three films in each of four categories: narrative, animation, experimental and documentary. Finalists were selected by panels of peer and professional judges, and one or more will open each of the feature films and events, giving each filmmaker an opportunity to be shown in front of leading industry professionals. The four winners will be announced and screened on the final day of the festival.
"I'm passionate about creating conversations around the arts," says senior Rebecca Moberly, who is co-organizer with junior Connor McCarthy.  "And this year promises an amazing group of speakers."
"For students and members of the Winston-Salem community interested in gaining experience and information about working in the industry the Reynolda Film Festival is a great way to get inspired," says McCarthy.
The Festival is co-sponsored by WAKE TV, the Department of Communication, the Film Studies Program and the Documentary Film Program.
A complete schedule of films, panel discussions and speakers is available here.
Scene II: The Wake Forest Documentary Film Program
The Documentary Film Program (DFP) expresses Wake Forest's motto, Pro Humanitate, through passionate storytelling. The program, originally the nationally acclaimed Documentary Institute at the University of Florida, moved to Wake Forest in 2010.
Offering students the option of an MA or MFA in documentary production, the DFP produces award-winning and socially significant documentary films.
DFP students tell local stories and raise awareness about community issues such as the challenges refugees face ("The One Who Builds"), immigration (the "Where are you From" project), and the importance of art as a form of healing for teens ("Ink From My Soul").
"The DFP has a definite place in the regional community," says professor Peter Gilbert, whose documentary "Hoop Dreams" was nominated for an Academy Award. "And synergy will continue to develop as students filmmakers tackle tough issues that raise awareness and encourage conversation."
Regional film festivals like the RiverRun International Film Festival held annually in Winston-Salem, offer DFP filmmakers a unique chance to have their films screened and recognized, if they're accepted. This year, five DFP student films will be shown in RiverRun's North Carolina Shorts category. The program features the best short films received from N.C. filmmakers.
Professors in the DFP program continue to make films while they teach, giving students opportunities for hands-on professional work. One example: The Imagination Project. Five teams, each made up of third-year DFP graduate students and an undergraduate student, are making five different films on artists of the Holocaust. "They are gaining the experience of working for a client, Yad Vashem in Israel, and the short films they create will become part of the museum's exhibit—gaining the students and Wake Forest worldwide attention," says Gilbert.
Scene III: Film Studies Program
There are 40 students in film studies at Wake Forest. The interdisciplinary program started in 2004 and continues to grow in popularity, as has the number of students in the communication department interested in media studies.
"We seem to increasingly live busy, over scheduled lives. Films become a great escape from those lives, where we set aside two hopefully uninterrupted hours to enjoy a complete, exciting and engaging story," says Woodrow Hood, director of the film studies program. "We have reactions to watching films, and some of us want to know why we reacted in the way we did. Film studies helps give us answers to that 'why' question. Studying film is ultimately a process of self-discovery in many ways."
Courses from departments and programs across campus including East Asian languages, art, communication, English, humanities, Romance languages, sociology, theatre and dance, and women's and gender studies offer an interdisciplinary approach to film study. Students work with expert faculty and filmmakers who share their passion for film and production and encourage creative, critical and theoretical thinking about film.
Categories: Admissions, Arts & Culture, Campus Life, Faculty, For Alumni, For Parents, Student, Top Stories
Subscribe
Sign up for weekly news highlights.
Subscribe