Main Content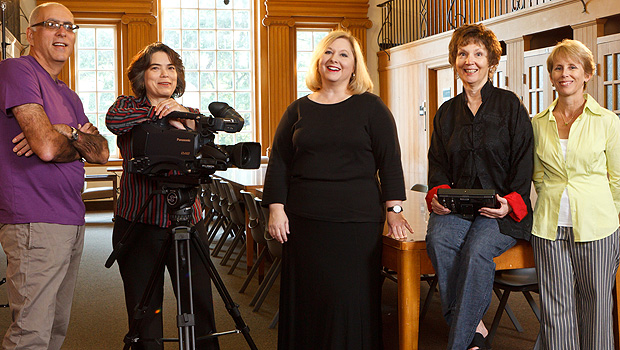 By 14, Petr Ginz had written five novels and a diary about the Nazi occupation of Prague. By 16, he had produced more than 170 drawings and paintings, edited an underground magazine in the Terezin Ghetto and boarded a train to the gas chamber at Auschwitz.
But a new Wake Forest Documentary Film Program movie, "The Last Flight of Petr Ginz" is a story of celebration as well as tragedy. The film uses the teen's vivid artwork and creative writing to showcase his imagination, even as his world crumbled around him.
"This is a child who lived in his mind," said Sandy Dickson, who co-directed the film with Churchill Roberts at the University of Florida. "He was driven by his imagination and his intellectual curiosity, but his work reaches me at an emotional level. When you look at his artwork you see the ghetto, stark and grim. But then you also have fanciful sailing ships and whimsical flying machines."
"The Last Flight of Petr Ginz" incorporates Petr's drawings, diary entries, family photos, magazine articles, interviews and animation to shine a light on his extraordinary imagination. The use of animation and a lively original score in the film caught the attention of the United Nations Outreach Programme.
"This documentary really makes Petr's story accessible to students," said Kimberly Mann, manager of the Holocaust and United Nations Outreach Programme. "We have partnered with Wake Forest and the International School for Holocaust studies of Yad Veshem to produce a 32-page companion study guide so students ages 13 and up with learn this history, about the UN and the importance of defending human rights around the world."
The UN will produce the study guide in six languages and send copies of the film to its global network of information centers in 63 countries for special screenings and educational programs for students.
While the film uses archival documents, photos and footage, the team from Wake Forest also traveled to Israel to interview Petr's sister, Chava Pressburger, whose book "The Diary of Petr Ginz" inspired the project. Pressburger also spent time at Terezin with her brother.
"We were pulled in by her incredible love for Petr," Dickson said. "On many levels it's a love story between a brother and a sister."
The documentary crew includes Cindy Hill, creative editor/associate director; Cara Pilson, director of research/associate director; Peter Gilbert, consulting producer; and Mary Dalton, director of outreach, along with co-director Churchill Roberts of The Documentary Institute at the University of Florida.
"The Last Flight of Petr Ginz" is not yet available to the public. The documentary is about to begin its film festival run, starting with the Atlanta Jewish Film Festival in February 2012. The film will be screened in Winston-Salem in the fall.
Categories: 2012 Highlights: Arts, Arts & Culture, Faculty, For Alumni, For Parents, Graduate School, Humanities, International, Top Stories
Subscribe
Sign up for weekly news highlights.
Subscribe