Main Content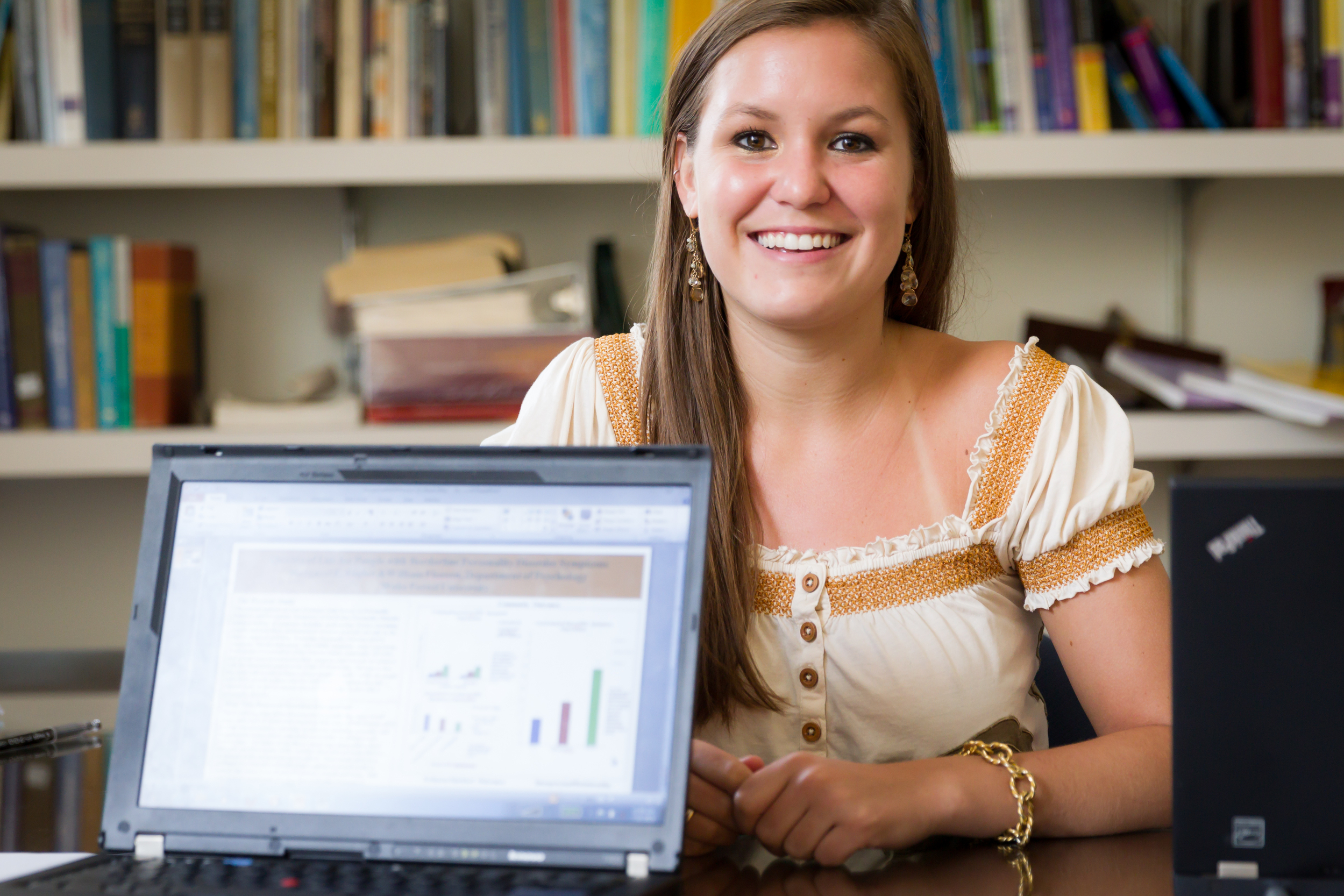 When Maggie Gigler began her academic journey at Wake Forest, she knew she wanted to major in psychology and then go on to earn a doctorate in clinical psychology.
As one of 127 students presenting research at the 2013 Undergraduate Research Day, working with faculty mentors is moving Gigler closer to her goals.
The senior from Charlotte conducted research with psychology professor William Fleeson to form a clearer picture of the quality of life for people with Borderline Personality Disorder (BPD).  More common than schizophrenia and bipolar disorder, BPD is a serious mental illness that centers on the inability to manage emotions effectively.  It afflicts about 5 percent of adults according to the National Alliance for Borderline Personality Disorder.
"People think about this issue in broad terms, but we need to think about this at the individual level," Gigler said.  "What is it like for someone with borderline personality disorder to live on a day-to-day basis? With their families? In their communities?"
Her study, funded by a summer research fellowship through the Undergraduate Research and Creative Activities Center (URECA), addressed these questions.  "We hope a better understanding of the impact this illness has on quality of life will lead to more tailored treatments for people with BPD," she said.
This is clearly one of the most disruptive and urgent health care issues in our country, Fleeson said.  About 10 percent of those with BPD die of suicide.
"When you get people like Maggie, it's stunning the work they can do during a summer," he said.  "The quality of our undergraduate students is incredible.  It's like working with graduate students."
Fleeson and Gigler plan to submit the study this fall for publication in an academic journal.  The study is part of a larger project, "Personality, Patterns and Perceptions," led by Fleeson and Wake Forest Professor of Psychology Michael Furr.
During the University's Family Weekend, students presented the results of faculty-mentored research on issues ranging from clean energy to education in Nepal.  Here's a sampling of projects:
Computer-Enhanced Kinesthetic Learning Applied to the Development of Perfect Pitch: (Computer Science)
Perfect pitch is the ability to identify or produce a given pitch without any reference. This trait is extremely uncommon naturally – about 1 in 10,000 are born with it – but some studies indicate that under the right conditions perfect pitch can be taught. Senior Jamie Floyd is working with computer science professor Jennifer Burg to combine visual, aural and bodily kinesthetic feedback to help students develop perfect pitch.
The Effects of Pink Noise on Preschoolers with Autism: (Psychology)
Low frequency pink noise may help children with autism focus on a specific task or activity. Senior Kristine Cantin is working with psychology professor Deborah Best to examine for the first time whether low frequency pink noise, modulated to the frequency of a typical resting maternal heart rate, helps improve the cognitive function of preschoolers with autism.
The Generalization and Application of Wave Energy: (Mathematics)
Sophomore Yinger Jin and Assistant Professor of Mathematics Sarah Mason are trying to come up with a new way to harness the power of a liquid wave by studying the mathematical relationships between wave and electrical energy output. Their research led to the construction of an oscillating water column model in the Reynolds Gym swimming pool, which they are using to generate electrical energy.
Analysis of Features at a Late Woodland Period (AD 800-1600) Native American Village Settlement in the Upper Yadkin River Valley: (Anthropology)
Centuries before Europeans set foot in what is now North Carolina, the upper Yadkin River Valley was home to a thriving Native American culture. To date, very little is known about the lifestyle and culture of these early inhabitants of the Piedmont. Senior Peter Ellis is working with assistant professor of anthropology Eric Jones to change this. They are analyzing the spatial arrangement of features discovered at a Native American settlement site in Jonesville, N.C from the Late Woodland Period (AD 800-1600) to learn more about the design of native villages, roles and functions of domestic areas, and the structures and details of day-to-day life.
The Medical Implications of Robotics with Painting: (Biomedical Engineering)
Robotic-assisted surgery is allowing doctors to perform many non-invasive procedures faster and safer than ever before. Sophomore Timothy Lee is working with Craig Hamilton, an associate professor of biomedical engineering at the Wake Forest School of Medicine, to study the movement and precision of a robotic painting arm. Their goal is to discover whether painting will lead to new possibilities and techniques for enhancing robotic surgical applications.
Categories: Faculty, Mentoring, Research, Student, Top Stories, Uncategorized
Subscribe
Sign up for weekly news highlights.
Subscribe