Main Content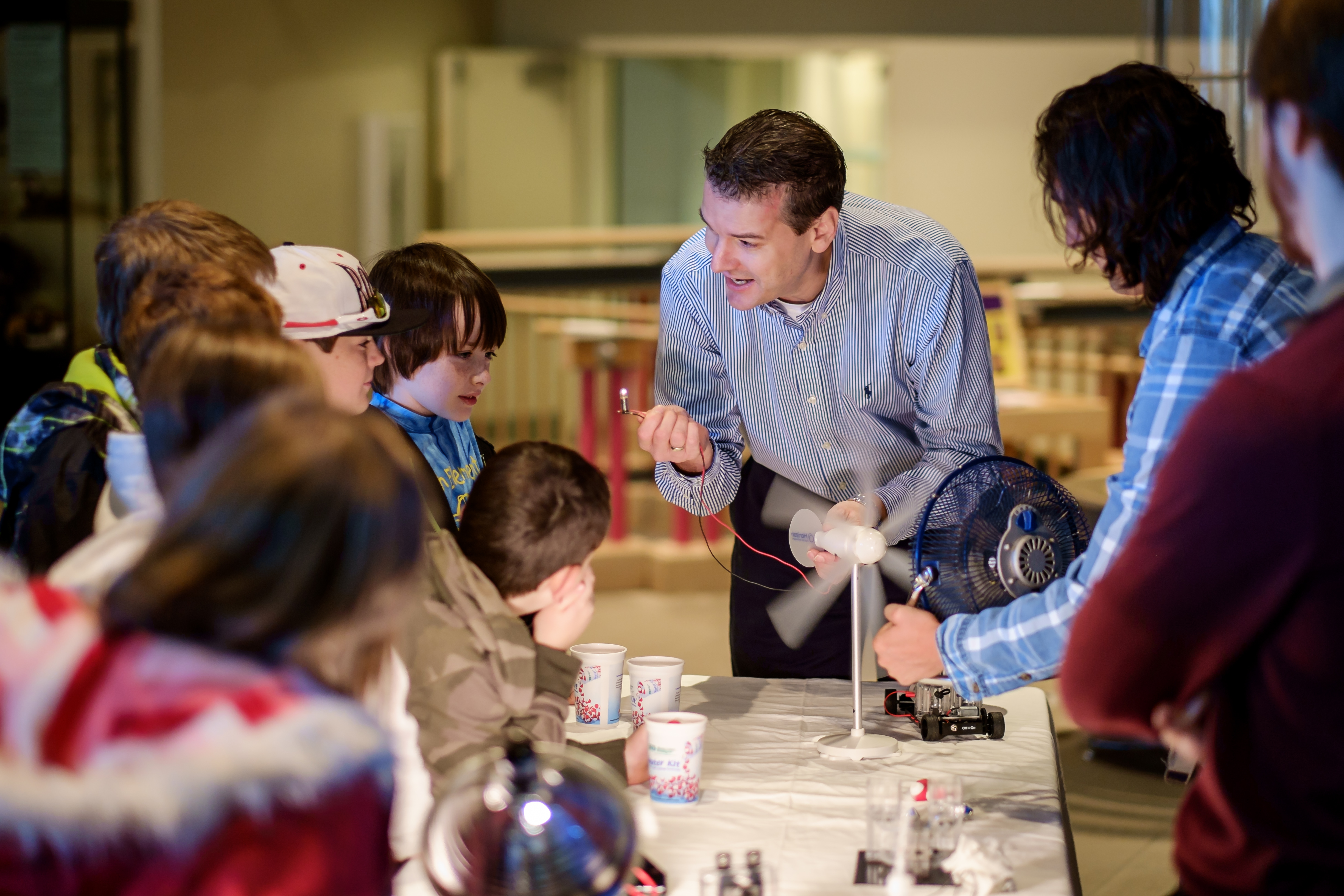 Timo Thonhauser, associate professor of physics, believes awareness is an important first step in getting people to accept new technology.
That is why the condensed matter theorist chose to work with SciWorks science center in Winston-Salem to develop an interactive mobile exhibit directed at children to demonstrate the use of alternative fuels, especially hydrogen.
On Friday, Thonhauser unveiled the alternative energy cart to a group of several hundred visiting second, third and visiting fourth graders to help explain problems with current fossil fuels and possible solutions using hydrogen as an alternative. Using a model hydrogen fuel cell car, students could separate water into hydrogen and oxygen and see how the emitted gas powered the car across the floor.
"The idea for this was to be hands-on and raise awareness of alternative options," he said. "People are used to thinking about cars needing gas, and that's just how it is. For a new technology to be adopted into society, you need the awareness first."
Thonhauser leaves in early December to teach in Vienna for a semester but will man the mobile exhibit a few times before turning duties over to post-doctoral student Sebastian Zuluaga and graduate students Evan Welchman, Calvin Arter and David Harrison.
Adam Wilson, exhibits and facilities manager at SciWorks, said the alternative energy cart allows for great hands-on learning for visitors, both young and old.
"It is great that Wake Forest University and SciWorks can team up to provide exciting new science experiences.  Visitors will be able to try out a hydrogen powered car, explore wind power and other alternative energy demonstrations."
This outreach project is part of Thonhauser's 2012 National Science Foundation CAREER Award, given to a select few junior faculty nationwide who excel as teacher-scholars. He also recently spoke at a SciWorks Science Café, a series of free, informal talks that highlight the research of regional scientists, tailored for the general public.
Thonhauser said that as hydrogen becomes more mainstream, his hope is that today's students will be familiar enough with it to embrace it and think, "oh yeah, I saw that in a science museum once."
It is a timely concept – Toyota announced this week it will start selling its first mass-market, hydrogen powered car in December.  Thonhauser said the announcement is an indicator of why educating the general public about alternative fuels is so important.
"I am definitely excited that real cars, going beyond prototype models, will be available soon. Once people see them on the road, the technology will attract much more attention, which in turn will boost further development," Thonhauser said. "People in general don't know enough about alternative fuels, and awareness is an important first step in getting the technology accepted."
Categories: Faculty, Research, Top Stories, Top Stories 2013-2014
Wake Forest in the News
Wake Forest regularly appears in media outlets around the world.