Main Content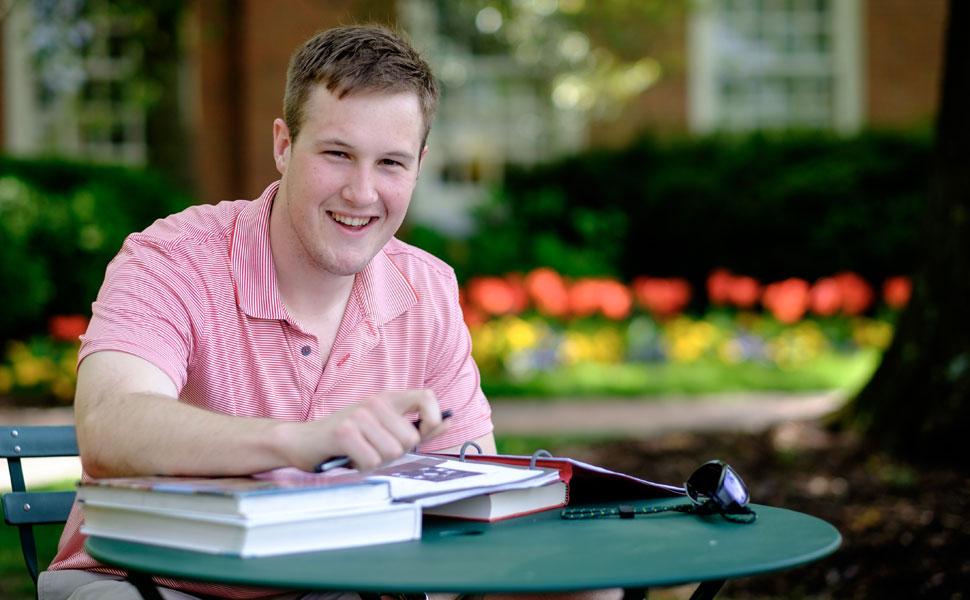 Wake Forest University senior Addison S. McLamb is one of 111 Schwarzman Scholars selected for the master's degree program at Tsinghua University in Beijing, China.
The inaugural class was selected from more than 3,000 applicants, making the program one of the most selective in the world with an acceptance rate of 3.7 percent. The first class of Schwarzman Scholars, which was inspired by the Rhodes Scholarship program, is composed of students from 32 countries and 71 universities with 44 percent from the United States, 21 percent from China, and 35 percent from the rest of the world.
A Lexington, N.C., native, McLamb, who is majoring in Chinese, is also an Army Reserve Officers' Training Corps (ROTC) cadet who recently captured the number 5 spot on the national Order of Merit List.
"This scholarship is a humbling opportunity to learn, develop and connect with a fantastic group of students," McLamb said. "I especially want to thank everyone who helped prepare me and guide me through the application process. It was a team effort and says more about Wake Forest than me as an individual."
Tom Phillips ('74, MA '78), director of the Wake Forest Scholars Program, said the Schwarzman Scholars program provides a perfect fit for McLamb's love of Chinese language, his further training as a leader, and his ambitions to be a true global citizen. "Addison owns one of the most inquisitive and playful minds of any student I have known. He will represent Wake Forest superbly."
The Scholars were selected through a rigorous application process designed to evaluate proven intellectual and academic ability, as well as leadership potential, strength of character, ability to anticipate emerging trends, and desire to understand other cultures, perspectives and positions. More than 3,000 applications were first reviewed by a distinguished team of readers from around the world, with 300 semi-finalists invited for in-person interviews in Beijing, Bangkok, London or New York before international panels composed of CEOs, former heads of state, university presidents, non-profit executives, journalists and other leaders.
The scholarship is fully funded for all participants, including travel costs and a personal stipend, and is supported by the program's endowment, which is expected to total $450 million with $371 million raised to date. Starting in September 2016, scholars will live and study together at Schwarzman College, the dedicated state-of-the-art academic and residential building built exclusively for the program in Beijing.
"The caliber of this first class of Schwarzman Scholars is truly exceptional. Each Scholar has demonstrated tremendous leadership potential at a young age and differentiated themselves through a myriad of academic and non-academic pursuits," said Stephen A. Schwarzman, the program's founder. "It is my intention that the Schwarzman Scholars will return home and provide leadership in a changing, complex and dynamic world. I have every confidence that this class will be such leaders."
Scholars will pursue degrees in public policy, economics and business, and international studies, and spend a year immersed in an international community of thinkers, innovators and senior leaders in business, politics and society. In an environment of intellectual engagement, professional development and cultural exchange, they will learn from one another and pursue their academic disciplines while building their leadership capacities. The Schwarzman Scholars experience will expand students' understanding of the world and create a growing network of global leaders for the future.
The full list of Schwarzman Scholars is available here. A video highlighting the process of selecting the first class of Schwarzman Scholars, is available here. Read more about the program in this New York Times feature.
About Schwarzman Scholars:
Schwarzman Scholars was inspired by the Rhodes Scholarship, which was founded in 1902 to promote international understanding and peace, and is designed to meet the challenges of the 21st century and beyond. Blackstone Co-Founder Stephen A. Schwarzman personally contributed $100 million to the program and is leading a fundraising campaign to raise an additional $350 million from private sources to endow the program in perpetuity. The $450 million endowment will support up to 200 scholars annually from the U.S., China and around the world for a one-year Master's Degree program at Tsinghua University in Beijing, one of China's most prestigious universities and an indispensable base for the country's scientific and technological research. Scholars chosen for this highly selective program will live in Beijing for a year of study and cultural immersion, attending lectures, traveling, and developing a better understanding of China. Admissions opened in the fall of 2015, with the first class of students in residence in 2016.
Categories: Admissions, International, Recognition, Student, Top Stories
Wake Forest in the News
Wake Forest regularly appears in media outlets around the world.