Main Content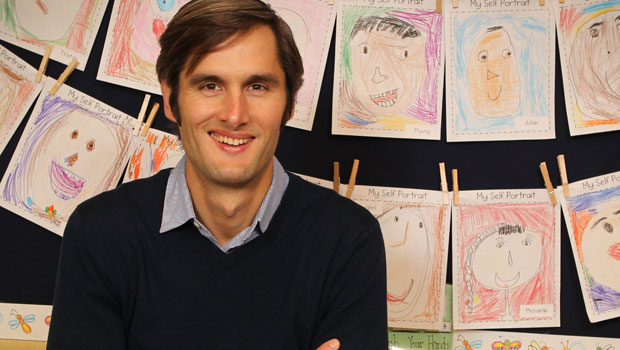 Charles Best, CEO of DonorsChoose.org will speak on Tues., April 5, at 6 p.m. in Broyhill Auditorium in Farrell Hall. The talk is part of Wake Forest University's Leadership Project, a program designed to showcase inspiring stories from leaders who represent a variety of professional paths.
The event is free and open to the public.
In honor of Best's participation in The Leadership Project, Wake Forest will host a philanthropic flash mob on March 29th as part of the DonorsChoose.org #BestSchoolDay movement. Students, faculty and staff are invited to pick up a free $25 DonorsChoose.org gift card to support a K-12 classroom project. One thousand gift cards will be available at various locations across campus from 11 a.m. – 7 p.m. The University's goal is to have 100% redemption by the end of the day, totaling $25,000 of support for classroom projects in our community and across the country.
DonorsChoose.org, a nonprofit organization, provides a simple way to address educational inequity. At DonorsChoose.org, public school teachers create classroom project requests and donors can choose the projects they want to support. Nationwide, 716,308 projects totaling more than $418 million dollars have been funded.
In Forsyth County so far this academic year, 174 projects, including hands-on science labs, vocabulary enrichment tools and playground improvements for children with special needs, have been funded — supporting more than 13,500 students. In the local school system, nearly 450 teachers have raised funds for more than 1,000 projects since 2003.
"Through DonorsChoose.org, Best has enabled everyday citizens to become philanthropists by creating a platform in which citizens can engage in education reform inspired by classroom teachers at the local level," says Wake Forest education professor Alan Brown. "Conversations about how leadership affects and is affected by ideas such as entrepreneurship and innovation, service and social action, and education and community building are critical when state and local funding for K-12 classrooms cannot meet all the needs of teaching and learning."
Best launched DonorsChoose.org in 2000 out of a Bronx public high school where he taught history. DonorsChoose.org is one of Oprah Winfrey's "ultimate favorite things" and was featured on the cover of Fast Company as one of the "50 Most Innovative Companies in the World." For three years, Fortune Magazine has named Best to its "40 under 40" hottest rising stars in business.
Categories: Pro Humanitate, Speakers, Top Stories
Wake Forest in the News
Wake Forest regularly appears in media outlets around the world.