Main Content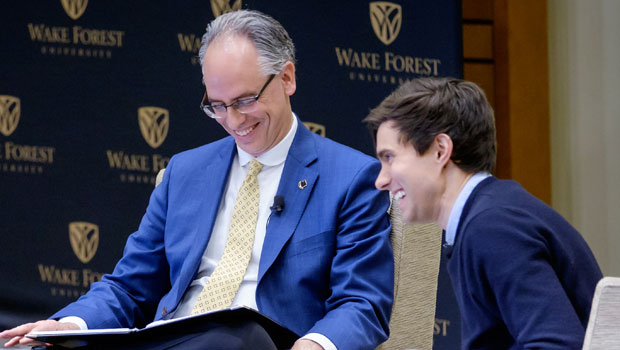 Provost Rogan Kersh presented 2003 graduate Ricky Van Veen, co-founder of CollegeHumor, a popular comedy brand/website, and the video sharing site, Vimeo, with the 2016 Excellence in Entrepreneurship award.
The Excellence in Entrepreneurship Award recognizes a Wake Forest alumnus, parent or friend who has demonstrated outstanding entrepreneurial spirit, creativity, achievement and social responsibility. Past award winners can be found here.
As part of the event, Van Veen and Kersh held an informal conversation touching on entrepreneurship, technology and competition before an audience of Wake Foresters and community members. During the talk, Kersh asked Van Veen if he missed the start-up environment he thrived in during his time as a student. Van Veen started CollegeHumor.com in the fall of 1999, during his freshman year at Wake Forest.
"When you start something new, there's nothing more exciting than rolling up your sleeves," Van Veen said. "I do angel investing now to scratch that itch, because there are other ways to make new ideas happen than by doing it myself."
Van Veen told the audience that when investing in new ideas, he bets on jockeys rather than horses. "It's the man or woman in charge who drives the vision. Bet on someone who knows what they're good at and also what they need help with."
Faculty and student award winners

In addition to Van Veen's Excellence in Entrepreneurship Award, one faculty member and six students were recognized at the event.
The Russell D. and Elfriede Hobbs Faculty Award for Exceptional Support of Entrepreneurship
Professor of Biology Bill Conner
Conner was recognized for his advocacy of and support for CICE. Under his guidance, faculty passed the entrepreneurship and social enterprise minor in 2005. Since then, 64 courses with entrepreneurship as a central theme have been added to the curriculum. "The success of this program is in large part because of his tireless efforts," said Michele Gillespie, dean of Wake Forest College.
The Russell D. and Elfriede Hobbs Student Award for Entrepreneurial Achievement (Commercial Venture)
Junior economics major Lauren Miller and senior health and exercise science major Olivia Wolff for UpDog Kombucha
UpDog Kombucha brews handcrafted kombucha, a fermented tea that is naturally carbonated and sold cold. The tea has probiotics, enzymes and acids for digestive and immune health. In the past four months, Miller and Wolff have produced approximately 150 bottles of kombucha weekly — selling their product to Wake Forest students and a local food truck, La Vie en Rose.
Chambers Family Fund Student Award for Entrepreneurial Achievement
Sophomore business and enterprise management major William Wang for The Media
During the fall of 2015, Wang launched The Media, a student-run organization that aims to provide credible digital content to enhance cohesiveness within the Wake Forest community. He also established the iTunesU platform for Wake Forest University, providing video content including courses, news, interviews and promotional material.
ICE Student Award for Excellence in Innovation
Freshman Arthur Willson for EZ Cork
EZ Cork is an easy-open wine solution that uses an integrated loop to remove the cork from a bottle. Willson represented Wake Forest at this year's inaugural ACC InVenture Prize at Georgia Tech with his innovative product.
Lelia and David Farr Award for Excellence in Entrepreneurship
Senior computer science major Kurt Walker for Spool
Walker launched Spool, a group video sharing application, on the Apple App Store in September 2015. The app allows users to create a Spool, a short video or phrase, then submit a short, looping video around the theme of that Spool, which shows up on the feeds of the creator's followers.
VentureWell University Innovation Fellow
Junior finance major Keshav Daga has been an entrepreneurial leader since his first year at Wake Forest when he joined the E-Society. During his sophomore year, he and his roommate founded Deacon Clean, a cleaning service for students who live off-campus. As a junior, he served as the University's Innovation Scholar — exploring ways to inspire more innovation and entrepreneurship activities on campus. Daga is the recipient of the Orton Scholarship for his entrepreneurial leadership.
About CICE
CICE seeks to create and sustain an environment that fosters innovative, creative and entrepreneurial thinking and action across the entire campus community.
The Center offers academic, experiential and co-curricular opportunities for undergraduate students, including the Entrepreneurship and Social Enterprise minor — the most popular minor in the College.
Categories: Alumni, Events, Student, Top Stories
Wake Forest in the News
Wake Forest regularly appears in media outlets around the world.