Main Content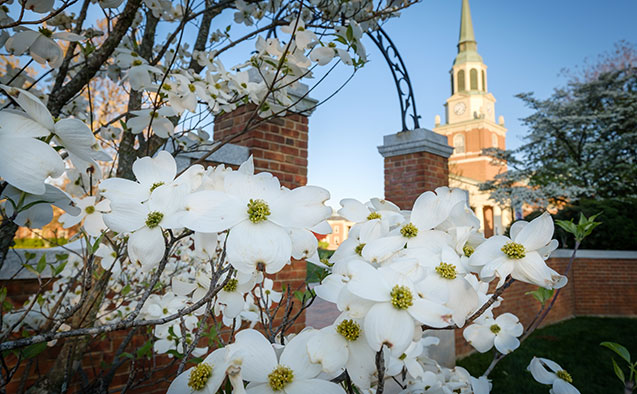 WFU Police receive Community Connections Award
The Wake Forest University Police Department received the Community Connections Award from LiveSafe, which produces an app for mobile devices intended to help colleges and universities, school systems and corporations bolster security efforts. The University Police Department was recognized for its longstanding success in establishing strong connections with the Winston-Salem community, including local organizations.
Wake Forest began using the LifeSafe app last fall and has encouraged students, faculty and staff to download it as part of the University's comprehensive safety and security measures.
National police organization recognizes WFU Police officer
WFU Police Sgt. Lesia Finney, who leads community policing at Wake Forest, was presented the Award for Innovations in Community-Oriented Policing at a recent national meeting of the International Association of Campus Law Enforcement Administrators (IACLEA) in Phoenix, Ariz.
Finney, who joined the University Police Department in 1999, has served as coordinator of community-oriented policing since 2011. In that role, her responsibilities include collaborating with neighborhood associations, the Winston-Salem Police Department and Wake Forest students to initiate partnerships that enhance community living; leading orientation activities for all who join the University community; and serving in a public information officer role.
Residence life professional elected national president of prestigious honor society
Matt Clifford, director of residence life in Residence Life and Housing, was elected national president of Omicron Delta Kappa at the organization's national convention in Grand Rapids, Mich. July 16-18. Clifford will serve as national president from 2016-18.
He joined the Wake Forest staff in 2010. Clifford earned his bachelor of arts degree in English from Davidson College, a master of education in higher education and student affairs form the University of South Carolina and a doctorate in higher education from the University of North Florida.
Faculty Fellowships awarded for new year
Six Wake Forest University faculty are the new-selected recipients of Wake Forest Faculty Fellowships, effective July 2016. The Wake Forest Faculty Fellowship program is a program of financial support designed to honor the University's best teacher-scholars.
New recipients include Uli Bierbach, professor of chemistry, Levison Fellowship; Rob Erhardt, assistant professor of mathematics & statistics, Sterge Faculty Fellowship; Tiffany Judy, assistant professor of Romance Languages, Baker Family Fund Faculty Fellowship; Claudia Kairoff, professor of English, MacDonough Family Faculty Fellowship; Frank Moore, assistant professor of mathematics & statistics, Sterge Faculty Fellowship; and Raisur Rahman, associate professor of history, Henry S. Stroupe History Faculty Fund.
Categories: Faculty, Recognition, Staff