Main Content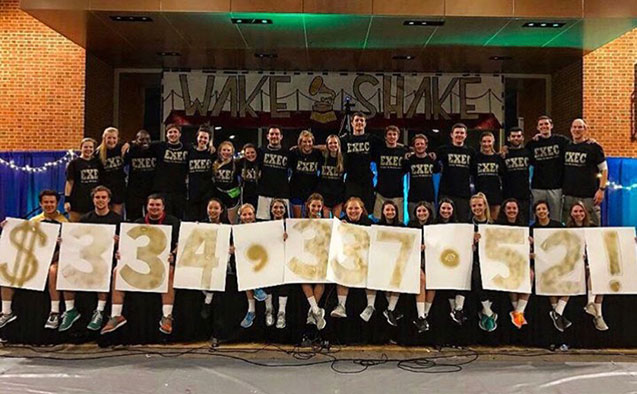 The WFU Awards and Recognitions briefs celebrate milestones of faculty, staff and students at Wake Forest
Wake 'N Shake event raises more than $330,000 to support cancer research
The Wake Forest community raised more than $330,000 to support cancer research during this year's Wake 'N Shake fundraiser event – a 12-hour dance marathon benefitting the Brian Piccolo Cancer Research Fund.
Community members came together to stand in support of those affected by cancer, asking for donations in support of their participation. Wake 'N Shake, a student-organized event, started 12 years ago and continues to grow in participation and donations each year. The event also included live music and entertainment, games, competitions and special guests throughout the evening. Eight team champions, who are cancer survivors, also shared their stories.
Wake Forest professor wins 'Award for Excellence in Teaching'
Lynn Neal, associate professor in the study of religions department at Wake Forest, is the recipient of the American Academy of Religion's (AAR) 2017 Excellence in Teaching Award. The award recognizes the importance of teaching and honors outstanding teaching in the field.
Neal will be interviewed the summer for Religious Studies News and will be the featured speaker at a Special Topics Forum sponsored by the Teaching and Learning Committee at the 2017 AAR Annual Meeting in Boston, Nov. 18-21.
WFU's Pinder receives 'Most Promising New Textbook' award
Wake Forest Professor of Management Jon Pinder's book "Introduction to Business Analytics Using Simulation Models" has been recognized by the Textbook & Academic Authors Association (TAA) with their "Most Promising New Textbook" award. The award recognizes excellence in first edition textbooks and learning materials. The award will be presented during the TAA annual conference on June 9.
Subscribe
Sign up for weekly news highlights.
Subscribe