Main Content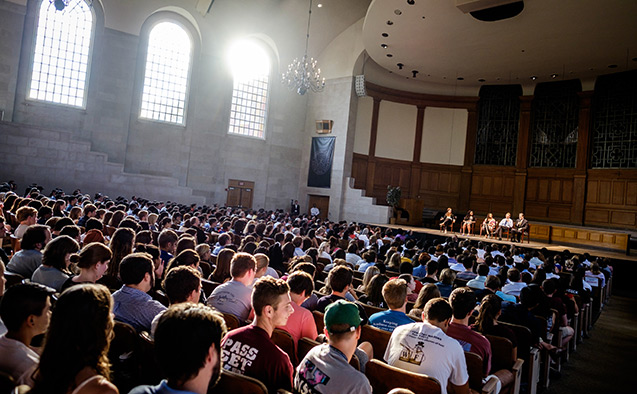 The Pro Humanitate Institute at Wake Forest University will host a panel discussion on race, politics and the South called "The Case of Charlottesville: Why Charlottesville Happened and What It Means for the Rest of Us" on Thursday, Sept. 7 at 6 p.m. in Wait Chapel.
The panel discussion will continue Wake Forest's rich tradition of engaging across difference in deliberative, democratic dialogue and will be among the first campus-wide events in this year's "Rethinking Community," a sustained effort of the academic year seeking to build a stronger community by inviting all to grapple with a more virtual, diverse, polarized and global society in which we live. Melissa Harris-Perry, faculty director of the Pro Humanitate Institute and Maya Angelou Presidential Chair, will moderate the discussion.
"I have deep ties to Charlottesville," said Harris-Perry. "I attended elementary and middle school there, and three older siblings graduated from Charlottesville High School. My father was the first dean of Afro-American Affairs and a professor at UVA for more than two decades and my uncle is a distinguished alumnus of the university. As a result, the events in Charlottesville are deeply personal as well as political. It means a great deal to have an opportunity to bring these incisive, crucial voices together for an open, productive, engaging conversation at Wake Forest."
The panel will include:
Michael Signer, mayor of Charlottesville
Jamelle Bouie, chief political correspondent at Slate and University of Virginia alumnus
Michael B. Dougherty, senior writer at National Review
Rashad Robinson, executive director of Color of Change
Takiyah Thompson, activist/North Carolina Central University student
Following the panel, the Pro Humanitate Institute will offer student-facilitated small group discussions from 7:30 – 8:30 p.m. for Wake Forest students.
Co-sponsors of the event include the following Wake Forest organizations: Office of the Provost, Anna Julia Cooper Center, Eudaimonia Institute, Humanities Institute, Campus Life, Office of Student Engagement, Student Government, Organization of Latin-American Students ( OLAS), Black Student Association, Delta Xi Phi, College Democrats, Interfraternity Council, National Pan-Hellenic Council, LGBTQ Center, Women's Center, Intercultural Center, School of Business, East Asian Languages and Cultures, Jewish Studies Program, Cultural Heritage and Preservation Studies, Department of History, American Ethnic Studies, Department of Education, Department of Communication, and Department of Sociology.
The event is free and open to the public. Doors will open at 5:30 p.m. A livestream webcast of the panel will be available at https://livestream.com/wfu/charlottesville.
The University will also lead a series of teach-ins using selected texts, some from the Charlottesville Syllabus, for Wake Forest students, faculty and staff. Wake Forest faculty will lead small group discussions of the selected texts on Tuesday, Sept. 5, and Wednesday, Sept. 6, at Wake Forest. The Humanities Institute and Pro Humanitate Institute will co-host the Charlottesville Teach-In.
Note: Seats will be reserved for media in the front row to the right.
Categories: Events, Faculty, Staff, Student, Top Stories, Valuing Diversity
Subscribe
Sign up for weekly news highlights.
Subscribe