Main Content
In the morning, Wake Forest University sophomore Jay Sherrill rides the D.C. metro to Capitol Hill to work on trade policy briefs for a subcommittee of the House Ways and Means Committee. In the evening, he shares his first-hand experience with classmates in his "U.S. Policymaking in the 21st Century" class at the University's new Wake Washington Center.
Sherrill is one of 16 students in the inaugural cohort of the new Wake Washington program, a semester-long study away program combining internship and academic experiences in the nation's capital.
The Wake Washington Center opened this fall at One Dupont Circle – a centrally located, instantly recognizable address – as a new home base for the thousands of Wake Forest alumni who live in the Washington area and the increasing number of students who plan to work or study in D.C. after graduation. The University is hosting open houses of its new space on Oct. 13 and 14.
"Not only are we opening a new facility and providing extraordinary opportunities for our students, we are building important bridges between the campus and Washington, D.C." Nathan O. Hatch, president
Career Development + Classroom Learning
"In higher education career development, semester-long study away internships in high demand, highly competitive fields are critical — especially those in large, metropolitan cities like D.C.," said Andy Chan, vice president of innovation and career development at Wake Forest. "These high impact, embedded experiences help students develop career readiness competencies, grow their professional network, and have more confidence and clarity in their post-college direction and aspirations."
Wake Forest students are learning through internships at the Senate Committee on Indian Affairs, the Office of D.C. Council Member Mary Cheh, the Heritage Foundation, the U.S. Asia Institute, the Kennedy Center, the International Rescue Committee, the German American Heritage Museum, the Carmen Group, the Century Foundation, the White House Historical Association and the Office of Congressman David Price.
"Wake Washington is the perfect opportunity to explore my passion – education policy," said Annette Barile, a junior interning with the Kennedy Center's Turnaround Arts program. "This is where I need to be if I'm going to make a difference." She helps plan school visits, and analyzes data on how the arts are improving schools. "I love working with schools – living and breathing education policy."
Savannah Baber, a junior majoring in English and political science, is working with the Senate Committee on Indian Affairs, ""It's really cool to see the behind-the-scenes work," said Baber, "I am learning the actual practical process of creating legislation from the people who do it every day."
Brianna Reddick, a junior who is exploring political journalism and communications as an intern with the Century Foundation, has already written an article published on the Foundation's website.
Students work at internships four days a week and spend Monday and Wednesday nights in classes taught by faculty director and political science professor Katy Harriger.
On Fridays, students get the scoop from Washington insiders on everything from think tanks to pollsters to fake news during guest lectures and field trips. In recent weeks, they toured the Pentagon with Surgeon General of the U.S. Navy Forrest Faison ('80); listened as Donna Edwards ('80) reflected on her time at Wake Forest and her time in Congress; and heard Grover Norquist, president of Americans for Tax Reform, speak about the current tax reform debate. They will also visit the Washington Post, the new National Museum of African American History and Culture and other D.C. landmarks and institutions.
"This program allows our foundational Wake Forest strengths – rigorous classroom learning and intense student-faculty engagement – to intersect with the opportunity to explore and shape public life. The students are not just getting the experience, they are reflecting and writing about it." Katy Harriger, faculty director of Wake Washington
Location, Location, Location
The 4,300 square-foot Center is situated among think tanks, research institutions, museums, non-profits and government agencies, many of which provide experiential learning opportunities for Wake Washington students. The building is owned by the American Council on Education (ACE) and houses many higher education organizations and non-profits. Wake Forest is the first ACE member institution to have space in the building.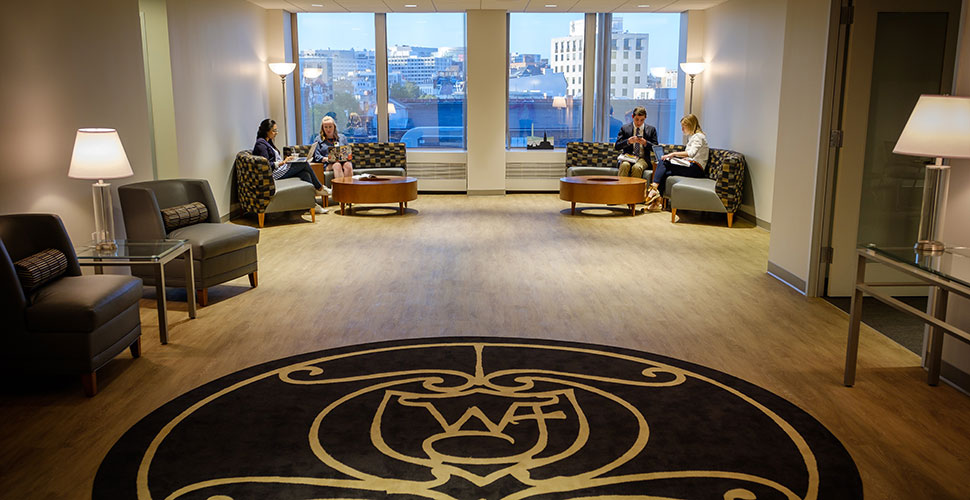 Hub for Alumni Engagement
"The Wake Washington Center provides the academic and career experiences students need, but also offer what alumni want from their school: opportunities to mentor students, network with peers, and learn from Wake Forest faculty." Jennifer Richwine, executive director of the Wake Washington Center
The Center will host alumni-to-student virtual panels to help students who want careers in D.C. so alumni can share with current students their knowledge and contacts for working in federal agencies, think tanks, non-profits and other fields.
"If you are thinking about a career in Washington, whether in politics or government or non-profits, know that having this experience and this opportunity to come live here and have this as a home base to spend a semester learning and working in Washington is enormously valuable," said Shane Harris ('98), a senior writer at the Wall Street Journal who spent a recent Friday afternoon talking with students about covering national security. "It gives me a place to engage with the students."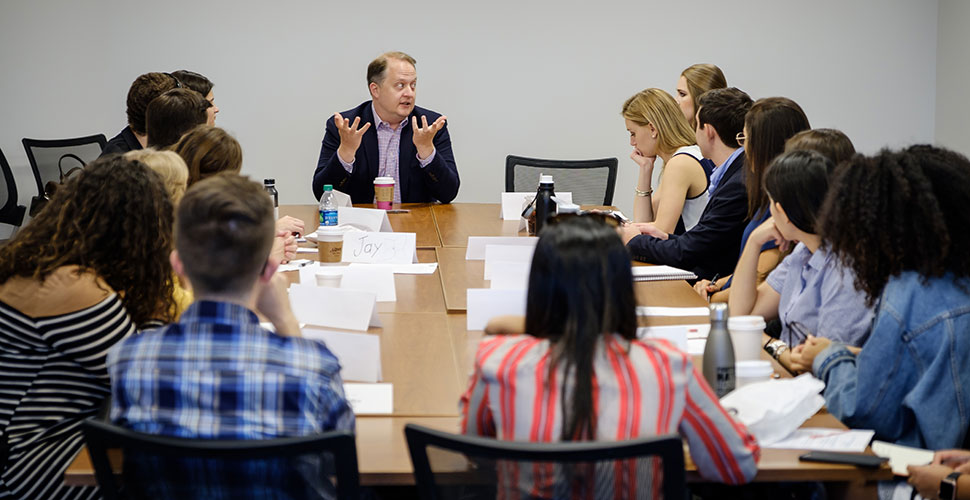 Wake Washington will also be a place for networking events and meetings for alumni and parent volunteers.
"The Wake Washington Center will fortify our alumni network," said Jonathan Willingham ('03), president of the Wake Washington community. "Its creation is a necessary step to enhance and broaden the Wake Forest experience."
Harriger is teaching workshops this fall for alumni and parents at the Center on topics including the Supreme Court, deliberative dialogue, and special prosecutors.
Learn more about the launch of Wake Washington and the opportunities the University will provide in D.C. 
Wake Forest celebrated the official launch of the Wake Washington Center with an Oct. 12 event at the Newseum and open houses in the Center's home at One Dupont Circle.
ACCelerate Festival
This week in D.C. Wake Forest is participating in the first "ACCelerate: ACC Smithsonian Creativity and Innovation Festival." Presented by Virginia Tech and the Smithsonian's National Museum of American History, the ACCelerate Festival is three-day celebration of creative exploration and research at the nexus of science, engineering, arts, and design. The event (Oct. 13-15) features 47 interactive exhibitions from the 15 Atlantic Coast Conference schools, including four Wake Forest projects.