Main Content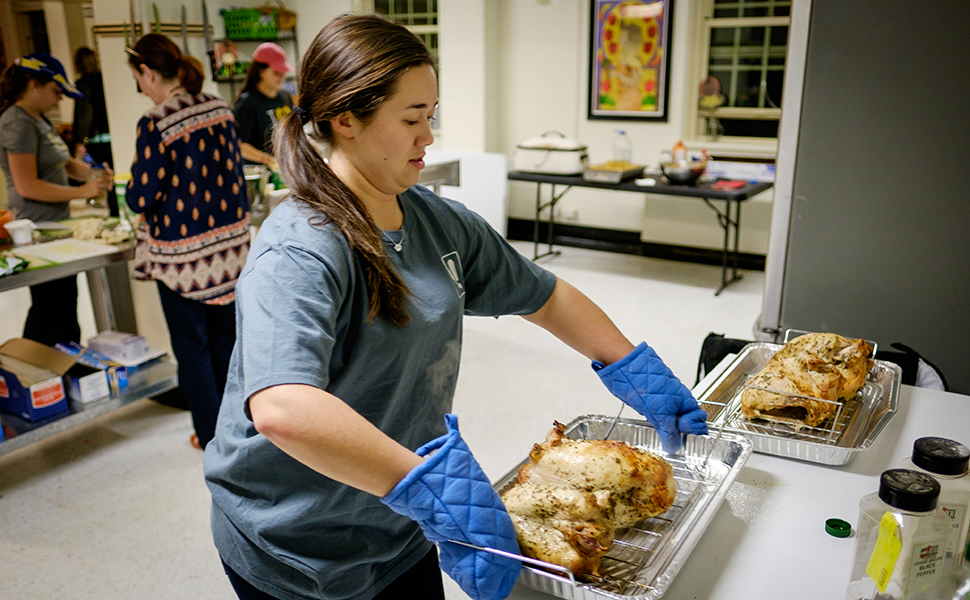 Wake Forest University students, faculty and staff will prepare and deliver more than 350 Thanksgiving meals to food-insecure Winston-Salem residents during Turkeypalooza. This annual event, hosted by The Campus Kitchen at Wake Forest, will be held Nov. 12 – 16.
Each year, The Campus Kitchen works to incorporate dishes cooked from scratch, using as many local ingredients as possible. These Thanksgiving meals include a variety of favorites, including locally-sourced turkeys, cranberry sauce and pumpkin cookies.
Volunteers prepare meals during cooking shifts and make deliveries to Triad-area organizations like Samaritan Ministries, Azalea Terrace Senior Apartments and El Buen Pastor Latino Community Services.
Media are welcome to visit cooking shifts in the Campus Kitchen Lounge in Kitchin Residence Hall:
Sunday, Nov. 12 (2-6 p.m.)
Monday, Nov. 13 – Thursday, Nov. 16 (5 – 9 p.m.)
"This event sheds light on the large amount of Winston-Salem residents that experience food insecurity while providing a way to help alleviate some of that insecurity as best we can," said senior Hannah Hulshult. "Sharing these Thanksgiving meals with our community organizations is so meaningful, and I am grateful to be a part of this wonderful event."
Turkeypalooza, which coincides with National Hunger and Homelessness Awareness Week (Nov. 11 – 19), has been hosted by The Campus Kitchen for 12 years. Through local partnerships, meals are distributed to community members in need the week before Thanksgiving.
Categories: Campus Life, Community, Events, Pro Humanitate, Student, Top Stories
Subscribe
Sign up for weekly news highlights.
Subscribe