Main Content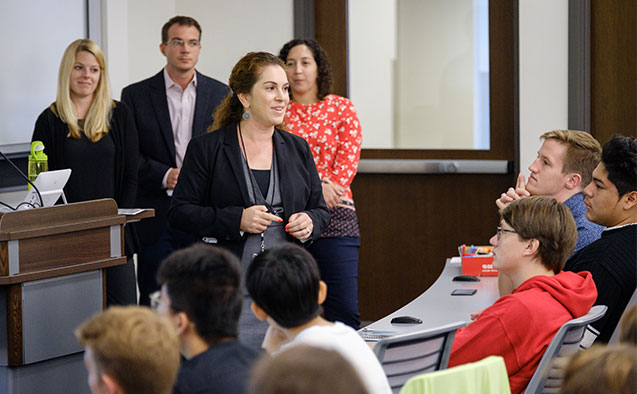 How does an engineer make a difference in the real world? By stepping out of the office and talking to the people affected by engineering challenges and their proposed solutions.
Or, in the case of first-year engineering students at Wake Forest University, taking a walk through the Innovation Quarter in Winston-Salem and asking questions such as, "How do people respond to decibel levels at construction sites?" Or, "How do carbon dioxide levels vary during high- and low-traffic periods downtown?" Or, "Which roofing materials affect the air temperatures around them?"
These engineers-in-training – part of the university's inaugural class of engineering majors – used electronic sensors, their own observations, plus surveys and discussions with stakeholders to learn the engineering research process. The "Sensing the City" project also gives students a feel for how professional engineers can come up with ideas to address the problems of tomorrow.
Students will present the findings from 14 group projects from 10-11:30 a.m. Dec. 12 in the engineering lab, Room 4601, Wake Downtown, 455 Vine St. Media are invited to attend.
That day, students also will present their final engineering design project – 55 full-size chairs constructed of layers of cardboard, alongside their 3D-printed design models. With this challenge, students have created the first project to list on their resume as they prepare for internships, entrepreneurship and other work experiences.
All this is a culmination of the first semester of undergraduate engineering education at Wake Forest, a unique program that blends STEM and liberal arts concepts to prepare engineers for a burgeoning knowledge economy, and the conclusion of the first year of Wake Downtown.
Categories: Faculty, Research, Student, Top Stories
Subscribe
Sign up for weekly news highlights.
Subscribe