Main Content
A crowd of almost 13,000 gathered on Hearn Plaza to celebrate the accomplishments of Wake Forest University's Class of 2018 on Monday, May 21. Nearly 1,900 graduates received their diplomas, flipped their tassels and began the next chapter of their lives as alumni.
Carla Harris, vice chairman, managing director and senior client advisor at Morgan Stanley delivered the commencement address. The accomplished business leader, author and singer's words drifted from powerful speech to melodious song — while packing an inspirational message for grads focusing on four things: choice, chance, change and courage.
"When faced with a choice, choose the options that position you to be a leader. Choose the options that create a multiplier effect, and make the choice that will inevitably push you and stretch you the most," she said.
"Choose to lead." Carla Harris, 2018 commencement speaker
Harris described mistakes as a valuable and valued part of life. "The key to making mistakes is to leverage the lesson into the next opportunity. Don't let it be a career-limiting occurrence and never let anyone else tell your story about the mistake. Own your narrative."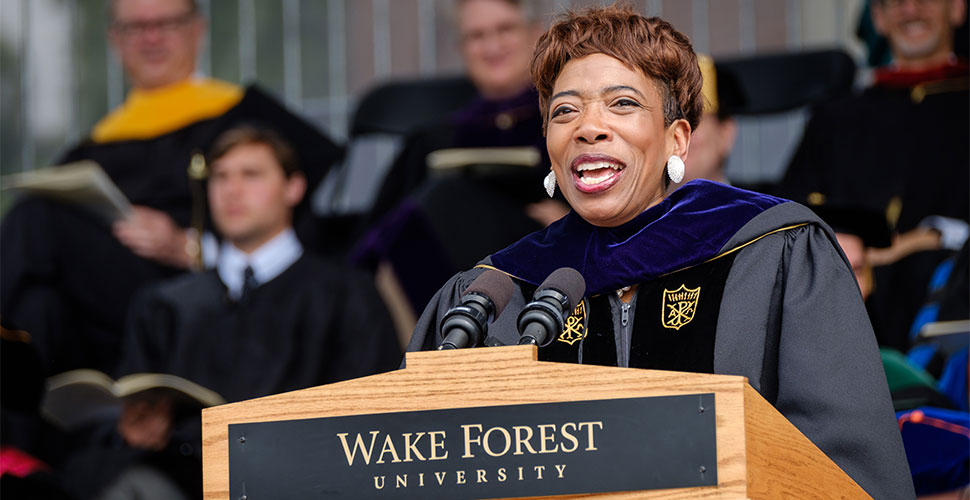 Lainie Noonan ('18) described Harris as a woman who exemplifies leadership. "She is a trailblazer for women in the finance industry. She has transcended boundaries and limitations," said Noonan, who majored in politics and international affairs with a minor in English. "Her speech today was inspirational, and it left me feeling excited and empowered to begin my career." Noonan will join Morgan Stanley's Client Coverage Division as an analyst.
In remarks titled "Both…And," Wake Forest President Nathan O. Hatch emphasized "the pressing need for all of us to understand the other side" in a society that is more divided and polarized than ever.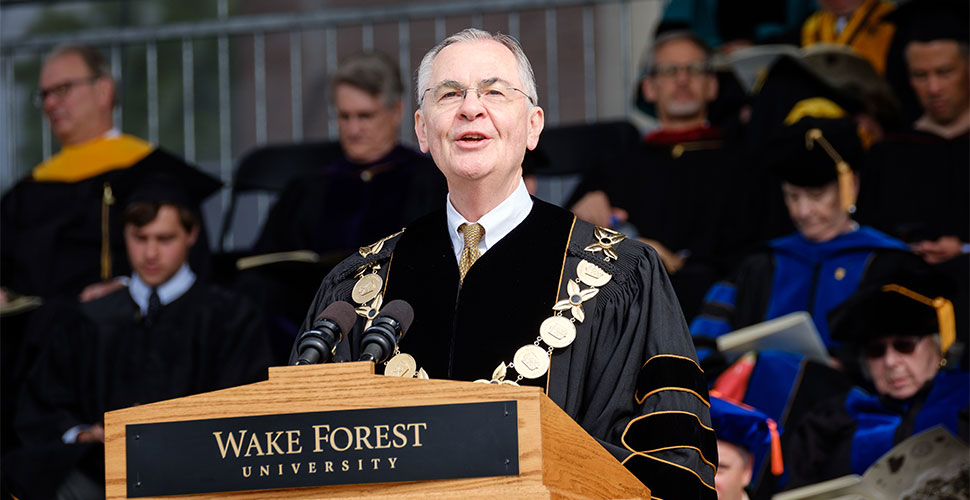 Hatch said listening to and understanding those we don't agree with will help us better understand what we believe and why, lead by persuasion and restore a common vision.
"That is why I trust Wake Forest can continue to forge a middle ground that welcomes a spectrum of viewpoints, promotes the art of conversation and prizes the common good. " Nathan O. Hatch, Wake Forest president
"Today, as you depart Wake Forest, I call upon you to pursue "both…and" – to hold out your hand, look into the eyes of your sisters and brothers, open your ears and listen," he said.
In his address to the Class of 2018, Student Government President Spencer Schiller ('18) said, "Today we venture out into the world with a foundation of friendship, justice and learning found at few other institutions….Stay true to the character and values and spirit of exploration that our alma mater has bestowed upon us."
At commencement, the University awarded honorary degrees to five individuals: C. Forrest Faison III, Carla A. Harris, Lawrence Joel, Daniel R. Porterfield, and Thomas L. Sager. Deborah and Tremaine Joel accepted their father's posthumous honorary Doctor of Laws degree. Timothy Michael Cardinal Dolan received an honorary degree at the baccalaureate service on Sunday, May 20.
As graduates crossed the stage, messages of encouragement and congratulations pulled from social media and tagged #WFUGrad were shared with the audience on the big screens.
After the ceremony, graduates processed through a tunnel of faculty to share grateful hugs, take photos and receive well wishes.