Main Content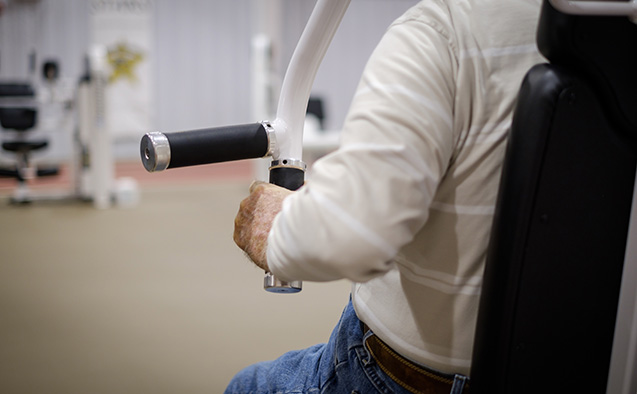 Community exercise programs that incorporated resistance or aerobic training were unable to prevent bone loss associated with active weight loss of older, obese adults who were cutting calories, according to a new study by Wake Forest University health and exercise science professor Kristen Beavers.
Results from her most recent study, published in the current issue of Journal of Bone and Mineral Research, suggested that resistance training may help minimize long-term hip bone loss, however. Bone mineral density was better preserved in the weight loss plus resistance training group one year after the intervention ended.
"If minimizing bone loss during active weight loss proves necessary to offset long-term skeletal fragility, then our results suggest that traditional, community-based resistance exercise may need to be coupled with other intervention strategies to maximize skeletal benefit," Beavers said.
Additional research should explore the mechanisms underlying weight-loss-induced bone loss, so that safe and effective strategies can be designed to fully preserve all aspects of bone health in dieting older adults, she said.
Beavers studies how to optimize weight loss for older adults, tinkering with nutrition and exercise to help seniors stave off disease and disability. She can recommend effective ways to incorporate resistance training into exercise programs as well as provide dietary tips for better bone health.
This study, "Effect of Exercise Modality during Weight Loss on Bone Health in Older Adults with Obesity and Cardiovascular Disease or Metabolic Syndrome:  A Randomized Controlled Trial," is the latest from the Cooperative Lifestyle Intervention Program (CLIP-II), a single-blind, randomized controlled trial. The participants were randomly assigned to one of three groups: a weight-loss-only group, who followed a calorie-restricted diet with no exercise regimen; a weight loss plus cardio (i.e., walking) group; and a weight loss plus weight-training group.
The research was funded by a grant from the National Institutes of Health/National Heart, Lung, and Blood Institute. Partial support also comes from grants by the National Institute on Aging and a National Science Foundation Research Experiences for Undergraduates grant.
Categories: Faculty, Research, Top Stories