Main Content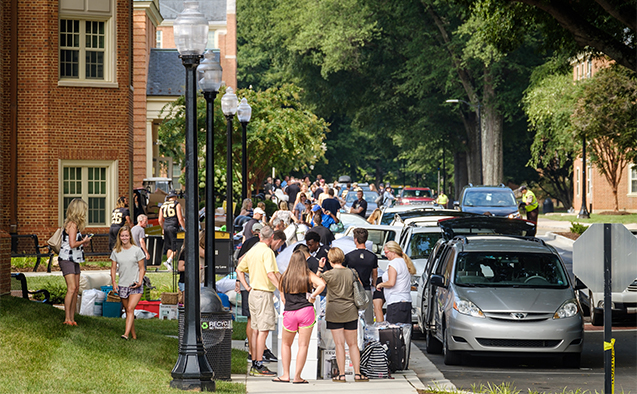 Highlights
Salem Hall, longtime home to the chemistry department, will reopen on the Reynolda campus after a $21M renovation that has transformed one of the campus' original 1950s buildings into a state-of-the-art environment for learning and research.
A 40-foot interactive public art project, to be created by students, faculty and staff through August 29, will be a visual representation of diversity and inclusion at Wake Forest.
More than 1,000 paper airplanes will be tossed in Wait Chapel to signify the launch of each new student's personal college-to-career journey which begins at Wake Forest on day one of new student orientation.
More than 1,400 first-year students will move into Wake Forest residence halls on Wednesday, Aug. 22. This class was admitted from an applicant pool of nearly 13,000. Seventy-four percent of the class of 2022 were in the top 10 percent of their high school classes.
Students from 42 states and 31 countries will begin moving into their rooms on the south side of campus at 8 a.m. Football players, men's and women's soccer players and members of the cheer and dance teams will wear their jerseys as they help move boxes and suitcases. Catch football players assisting at all first-year residence halls from 8 a.m. to 11:45 a.m.
Wake Forest Faculty Fellows, faculty members who are affiliated with each first-year residence hall, will be in the residence halls to meet new students as they move in Aug. 22.
Follow #WFU22 during move-in day. Classes begin Aug. 27.
Top back-to-campus stories
A newly renovated home for chemistry students. Salem Hall, originally built in 1955 on the Reynolda Campus, is the longtime home to Wake Forest's chemistry department. The 55,000 square foot renovation project features next-generation classrooms, labs and research facilities on par with Wake Downtown. With prior request, arrangements can be made for media to shoot video in select parts of the building on move-in day, Aug. 22.
Forty-foot art project to reflect diversity & inclusion. This larger-than-life UNITY project structure is intended to raise consciousness about the labels people give themselves and others and to explore how these labels both support and limit opportunities to build interconnected, interesting communities. Students, faculty and staff will participate from August 16 -29 at various scheduled times. Media are welcome to visit during times when the project is open to WFU community participants. Please contact the news office for details.
Launching the career journey. On Thursday, August 23, the Office of Personal and Career Development will host an introduction to career planning from 5 to 6:30 p.m. in Wait Chapel that includes students launching their career journey with paper airplanes. Wake Forest is a national leader in personal and career development and is one of the few colleges and universities where a four-year college-to-career program begins on day one. Media are welcome. Career development experts are available for interviews.
Engineering program builds momentum, enters second year. Wake Forest's engineering program, launched in 2017 and located at Wake Downtown, is distinctive for its innovative and customizable curriculum, and interdisciplinary and experiential learning. Eighty students – more than 42 percent are women – are enrolled in EGR 111 and will start classes Aug. 28.
Bike sharing is uniquely Wake Forest. The University's bike-share program, Re-Cycle, offers students, faculty and staff an opportunity to rent bikes for the semester. Unlike some of the grab-and-go programs, Wake Forest's program was developed and grown based on campus demand. Over the summer and in between fall and spring semesters, the 125 bikes are collected and stored where they receive any needed repairs before they are redistributed.
Categories: Admissions, Events, Student, Top Stories
Subscribe
Sign up for weekly news highlights.
Subscribe