Main Content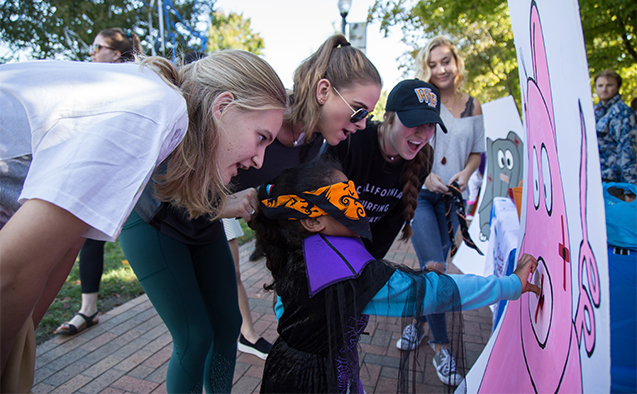 Wake Forest will host more than 800 Winston-Salem children on campus to trick-or-treat during the 30th annual Project Pumpkin festival. The event will be held on Wednesday, Oct. 24, from 3 to 6 p.m. on Hearn Plaza.
Each year students, faculty and staff collaborate to provide a safe environment for trick-or-treating, carnival games, clowns, entertainment and educational activities.
This year's festival will include more than 95 student-run booths. The theme is Candyland, based on the classic board game.
"Project Pumpkin has become one of the main events at Wake Forest over the last 30 years. As everyone gathers on the Quad for the afternoon and students interact with local kids, you truly get to see Pro Humanitate in action." Keighley Nemickas ('19), a "Head Pumpkin" of this year's event
The evolution of a campus tradition
In 1989, Wake Forest students started a Halloween festival on campus for local children. Libby Bell ('93) founded the event that has become a Wake Forest tradition that participating schools and agencies in Winston-Salem look forward to each year.
Bell came up with the idea for Project Pumpkin during her first year at Wake Forest. The inaugural event started off in just two South Campus residence halls and about 125 local children attended.
Project Pumpkin proved to be so popular that it quickly expanded to include all of the South Campus residence halls. Eventually, the festival moved to Hearn Plaza in 1995, where it's been held every year since.
Wake Forest students partner with local schools and agencies to transport the children to and from campus for a fun afternoon of Halloween events. Project Pumpkin also partners with Food Lion, who has donated candy each year.
The past themes have included everything from Harry Potter to Circus to Under the Sea.
"Being involved in the 30th Project Pumpkin is an honor, and I hope Project Pumpkin continues for another 30 years! In the future, my wish is that Project Pumpkin reaches more children in the community and allows Wake students to realize how important it is to give back when you have the opportunity," said Nemickas.
More information is available on the Project Pumpkin website.
Categories: Community, Events, Pro Humanitate, Student, Top Stories