Main Content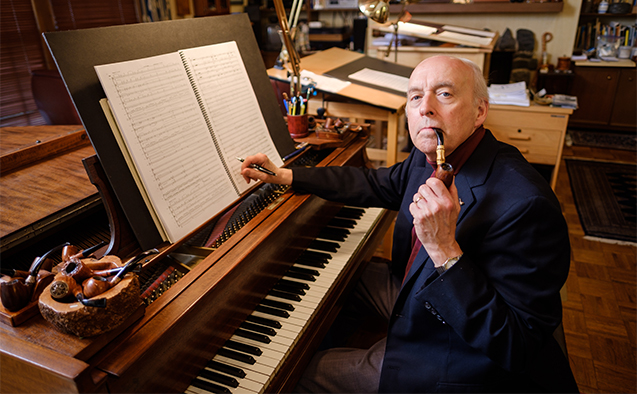 The WFU Awards and Recognitions briefs celebrate milestones of faculty, staff and students at Wake Forest.
Music composed by WFU's Dan Locklair performed at funeral of former President George H.W. Bush
"The Peace May Be Exchanged," organ music composed by Dan Locklair, was performed Dec. 5 at the Washington, D.C. funeral for former President George H.W. Bush. Locklair is composer-in-residence and professor of music at Wake Forest. Performed early in the service, the piece is the fourth movement of "Rubrics (A Liturgical Suite for Organ)." Previously, the music was played at funerals for former President Ronald Reagan and Supreme Court Justice Antonin Scalia. It was also performed on the inaugural weekend of former President Barack Obama's presidency. "The Peace May Be Exchanged" is known as one of the most frequently played organ works by an American composer. There are five movements, with each movement title inspired by The Book of Common Prayer.
Four Wake Forest writers to be inducted into the Writers Hall of Fame
On Saturday, Dec. 8, four writers will be inducted into the Wake Forest Writers Hall of Fame and will discuss their writing careers at "Words Awake":
Linda Carter Brinson, former book-page editor and editorial page editor at the Winston-Salem Journal
Betsy Teter, editor of the Hub City Press and founder of the Hub City Bookshop
Jo DeYoung Thomas, former reporter, editor, foreign correspondent and bureau chief for The New York Times
Douglas Waller, a former correspondent for Time and Newsweek and author of books including "Disciples: The World War II Missions of the CIA Directors Who Fought for Bill Donovan."
The program begins at 9 a.m. in Benson University Center, Room 401. Maria Henson, Pulitzer Prize-winning journalist and Wake Forest Magazine editor; Albert R. Hunt, Bloomberg News managing editor; and Wake Forest Provost Emeritus Ed Wilson will lead an 11 a.m. discussion of Wake Forest's literary history.
Wake Forest's Thomas receives Fellow of ABET Award
Stan Thomas, associate professor of computer science, has been honored with the 2018 Fellow of ABET Award, joining a group of individuals, institutions and programs known for driving excellence in STEM higher education. The Fellow of ABET Award recognizes U.S.-based educational units, individuals, associations and firms for extraordinary success in achieving diversity in the technology segments of society. The Accreditation Board for Engineering and Technology (ABET) is a non-governmental organization that accredits post-secondary education programs in applied and natural science, computing, engineering and engineering technology.
Categories: Faculty, Recognition, Top Stories
Subscribe
Sign up for weekly news highlights.
Subscribe