Main Content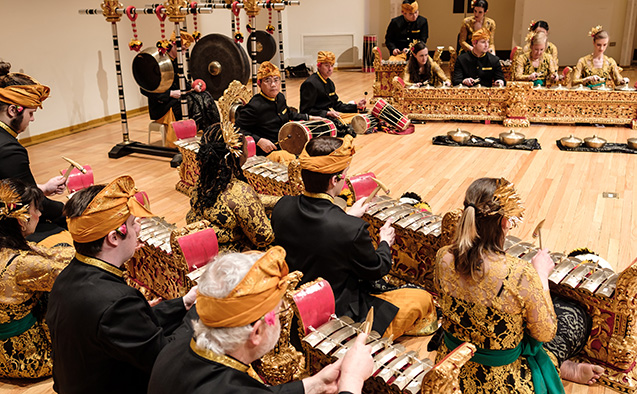 Highlights
The 15 members of the Atlantic Coast Conference, including Wake Forest, are participating in the ACCelerate Festival in D.C.
There will be 38 interactive installations from participating universities.
WFU installations and programs include: Environmental protection, spontaneous debates, Every Campus a Refuge and a gamelan performance.
The 15 members of the Atlantic Coast Conference (ACC), including Wake Forest University, will come together for the second "ACCelerate: ACC Smithsonian Creativity and Innovation Festival," April 5–7 at the Smithsonian's National Museum of American History in Washington, D.C. The festival will showcase cutting-edge technologies that draw upon art, science and humanities to address global challenges.
Presented by the Smithsonian's Lemelson Center for the Study of Invention and Innovation at the National Museum of American History and Virginia Tech's Institute for Creativity, Arts, and Technology, the three-day festival will provide an opportunity for visitors to engage with leading innovators of creative exploration and research at the nexus of science, engineering, arts and design.
From debate to journalism to tropical forests to refugee resettlement to gamelan playing, Wake Forest students and faculty will share their skills, experiences and research. The four Wake Forest exhibits and presentations are:
Saving the Planet, One Tropical Ecosystem at a Time
Miles Silman, a tropical ecologist, and journalism professor Justin Catanoso have combined their knowledge from their respective fields of study with their shared passion of conservation and education to create a fully immersive study abroad experience. The professors guided Wake Forest students on a four-week trek through the Andean jungles of Peru. In the exhibit, Silman and Catanoso will convey the importance of science in environmental protection, focusing on global warming and tropical forests.
Spontaneous Debates
The Wake Forest national champion debate team will host a series of spontaneous debates for and with the public in attendance. An array of topics will range from vegetarianism to mandatory voting. Read "Breathing Fire" for a multimedia experience into Wake Debate. (Warning: There will be sound. You'll be ok.)
Every Campus A Refuge
The Every Campus a Refuge (ECAR) program at Wake Forest strives to create a shared sense of community among University staff, faculty and students. The exhibit will be both interactive and immersive to symbolize a refugee's journey of resettlement and inform the public about life as a refugee. Read more about Wake Forest's ECAR model here.
Gamelan Giri Murti Performance
The Wake Forest Balinese percussion and dance ensemble will perform on Saturday, April 6 at 2 p.m. on Flag Hall Stage. The group will play the gamelan, a traditional Indonesian instrument consisting of approximately 45 instruments including gongs, keyed percussion instruments, drums and flutes. Read more about the "Gamelan of the Enchanted Forest," Wake Forest's custom-designed, hand-carved, hand-painted instrument, and listen to its unusual sound in this short video.
The festival is free and provides the ACC's member institutions an opportunity to display their work to each other, and more importantly, to the public. Student performances, presentations and interactive exhibits will feature digital humanities projects, musical performances and art displays, 3-D printing, robotic processes and multimedia exhibitions. There will be 38 featured interactive installations from the participating universities in three thematic areas: Exploring Place and Environment, Exploring Health, Body, and Mind, and Exploring Culture and Arts.
For the full schedule, performance descriptions, and exhibitions, visit www.acceleratefestival.com. Follow the hashtag #ACCelerateFestival on social media for live updates.
Categories: Media Advisory
Subscribe
Sign up for weekly news highlights.
Subscribe