Main Content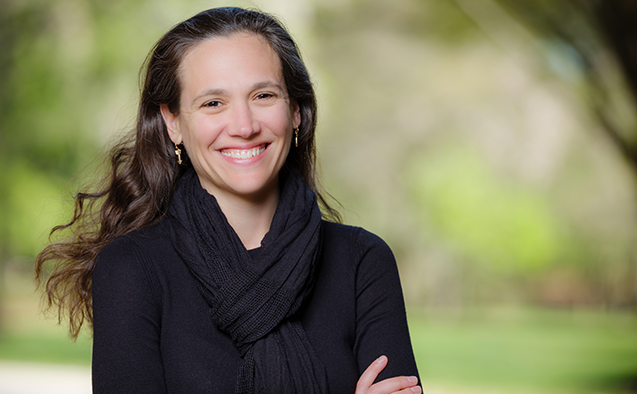 Wake Forest Associate Provost for the Arts Christina Soriano has been named a 2019-2020 Kennedy Center Citizen Artist Fellow. Soriano is one of eight change-makers from across the nation who will begin a year-long fellowship at the Kennedy Center Arts Summit on Monday, April 29.
Soriano, who is also associate professor of dance and director of the University's dance program, researches how improvisational dance can improve brain health in older adults.
Soriano is the creative force behind IMPROVment ®, an integrative method of dance that emphasizes physical and mental fitness for those with neurodegenerative diseases. Since 2012, she has regularly taught a community dance class for people living with Parkinson's disease, and has been involved in three scientific studies that look at the ways improvisational dance can help mobility and balance. In 2018, she was named a Next Avenue Influencer in Aging for her work in this area.
Soriano has received funding from the National Parkinson Foundation, Blue Cross Blue Shield of NC, and most recently the NIH to conduct a clinical trial, testing her dance method in a community of adults living with mild cognitive impairment. She is also involved in an annual symposium, Wake Forest's Aging Re-Imagined, which brings together the work of artists and scientists around the topic of healthy aging.
The Citizen Artist Fellows program recognizes artists nationwide who use their art form for positive impact on communities small and large. The program was launched in 2016 as part of the Center's celebration of President John F. Kennedy's legacy through his ideals of courage, freedom, justice, service and gratitude. Fellows receive opportunities to showcase their voice and work, as well as join in a year of learning and conversation centered on career development and impact. They also receive a platform for their work, including opportunities for performances and exhibitions at the Kennedy Center and beyond. In return, the Citizen Artists enrich the Kennedy Center community by sharing their individual artist perspectives and serving as advisors to the Center on new trends, issues and audiences.
The 2019–2020 class will be formally announced for the first time at the 2019 Kennedy Center Arts Summit "The Human Journey: Creating the Story of US."
Categories: Faculty, Recognition, Top Stories
Subscribe
Sign up for weekly news highlights.
Subscribe