Main Content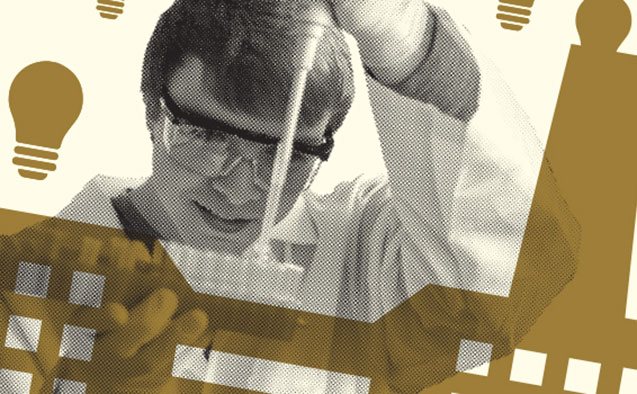 Wake Forest University announced today that new academic programs in Biomedical Sciences and Engineering will anchor the University's undergraduate presence, referred to as Wake Downtown, in Wake Forest Innovation Quarter beginning in 2017.
Last fall, Wake Forest announced plans to lease space in the rehabilitated former R.J. Reynolds Tobacco Company 60 series building in the Innovation Quarter, adjacent to what will become the home of the medical education programs of Wake Forest School of Medicine this summer.
Now, newly approved courses of study in Engineering, Biochemistry and Molecular Biology, and Medicinal Chemistry and Drug Discovery will extend the exceptional faculty-student engagement that is a hallmark of the Reynolda Campus to one of the fastest-growing urban-based districts for innovation in the country. The proximity of the 115,000-square-foot facility also will make it possible for undergraduates to take classes taught by faculty from Wake Forest School of Medicine.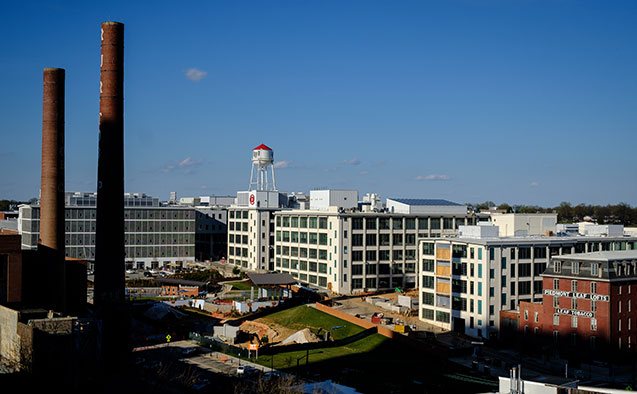 "The frontier of science and technology has rarely been as exciting as it is today. While many Wake Forest students already work with medical school research mentors, the next-generation building complex that literally and figuratively brings medical and liberal arts education together under one roof will greatly enhance students' opportunities for closer collaboration and deeper engagement," said Wake Forest President Nathan O. Hatch. "Wake Downtown presents a wonderful occasion to rethink how science is taught and how learning is best achieved."
Biomedical Sciences and Engineering programs rooted in the Liberal Arts
According to the Education Advisory Board, employer demand for undergraduate biomedical science and technology graduates increased by 58 percent nationally and 43 percent in North Carolina from 2012 to 2014.
Academic programs recently approved by College faculty are expected to meet employer, student and societal demands. New courses of study include:
B.S. in Engineering – Wake Forest engineering students will exemplify the term 'well-rounded,' bringing to their subsequent careers or graduate studies a focus on applying engineering science, design and analysis to complex issues. The engineering major will offer optional biomedical and materials engineering emphases in a liberal arts environment of entrepreneurial and critical thinking. Classes in the engineering program are expected to begin in fall 2017.
B.S. in Biochemistry and Molecular Biology – Jointly administered by the Chemistry and Biology departments, this interdisciplinary degree will enable students to develop a conceptual understanding of and build practical skills to address increasingly complex biological, biochemical and biomedical challenges. Students preparing for research or pre-health careers will develop greater insight into the experimental approaches and results that lead to the current understanding of biomolecular function. Abundant undergraduate research opportunities will be available for students in WFU labs and those of several medical school departments already in the Innovation Quarter. Biochemistry and Molecular Biology classes will begin in January 2017.
Concentration in Medicinal Chemistry and Drug Discovery – Building upon existing strengths and research interests of faculty and students, the establishment of a medicinal chemistry concentration within the Department of Chemistry will provide a distinctive, high-quality educational experience at Wake Forest. The concentration provides a new path to an American Chemical Society certified B.S. degree that will increasingly attract students interested in health-related fields, biomedical sciences and pharmacology. Classes for the new concentration will begin in January 2017.
"The distinct and compelling new set of programs of Wake Downtown represent the most significant academic innovation in recent Wake Forest history and one of the most audacious efforts to rethink undergraduate science education as we know it," said Michele Gillespie, Dean of Wake Forest College. "Embracing the Innovation Quarter as a hub for a liberal arts education is central to our future."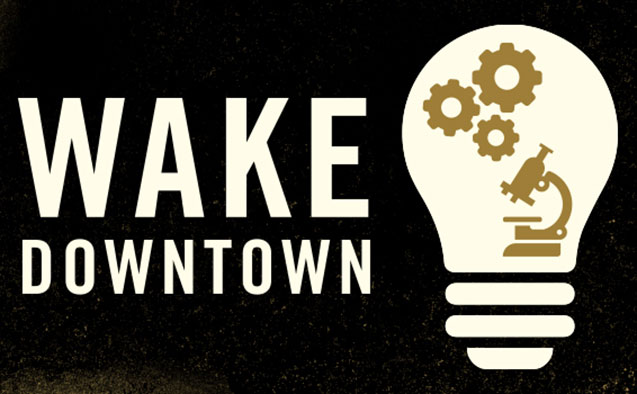 Wake Downtown bridges communities and promises collaboration
Undergraduate students in these programs are estimated to spend approximately equal time on the main campus – studying arts, humanities, and basic sciences – and in the new Biomedical Sciences and Engineering classrooms and labs downtown.
In addition to programs in Biomedical Sciences and Engineering, Wake Downtown will also enable expanded undergraduate offerings in entrepreneurship, bioethics, public health policy and the humanities.
"One of the most exciting aspects of Wake Forest's undergraduate presence in the Innovation Quarter is the potential to collaborate with the greater Winston-Salem community, our shared City of Arts and Innovation. Along with contributing to the knowledge economy and growing job base in the Innovation Quarter, we plan to partner on community projects ranging from public arts to service to volunteer opportunities," said Provost Rogan Kersh, whose leadership in the community includes chairing the city's Poverty Thought Force. "As an extension of the Reynolda Campus, Wake Downtown will serve as an incubator for tomorrow's leaders long before many of them even apply for admission."
Approximately 350 undergraduates are expected to study downtown by 2021, when new programs are fully operational. Expanded facilities and an increased demand would enable the University to accommodate modest enrollment growth. Wake Forest also plans to hire additional faculty and staff – all of which would increase the University's current $3.3 billion economic impact in the region.
"The Innovation Quarter has grown into a true knowledge community," said Wake Forest Innovation Quarter president Eric Tomlinson. "The addition of these new Wake Forest University undergraduate programs align perfectly with our 'Work. Live. Learn. Play' approach to building such a community."
Wake Forest Innovation Quarter in the News
Categories: Faculty, School of Medicine, Staff, Student, Top Stories, University Announcement
Wake Forest in the News
Wake Forest regularly appears in media outlets around the world.