Main Content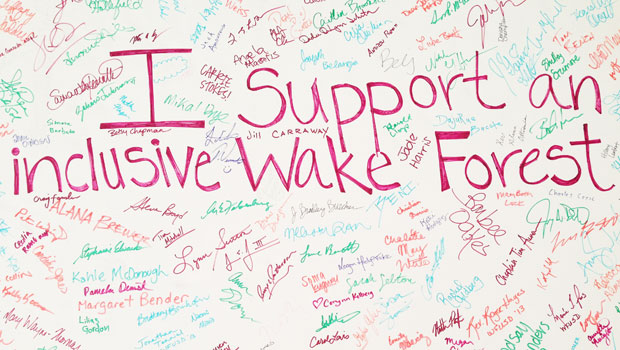 On an October evening in 1962, the Wake Forest community gathered in Wait Chapel to hear Dr. Martin Luther King Jr. share his ideas about working toward a more inclusive society.
Fifty years later, our country and college campuses nationwide – including Wake Forest, Harvard, Colgate, Emory, Bryn Mawr and others – continue to wrestle with diversity issues, such as those brought to the forefront by recent events in Ferguson, Mo.
Today Wake Forest has a more diverse student body than ever, and the campus community is taking action and engaging in conversations to ensure everyone at the University feels valued and respected. Current efforts build on decades of work by students, faculty and administrators to continually support programs, enact policies and create educational opportunities that contribute to a positive campus climate.
"Wake has a quest for excellence, and in that quest we must be fearless in our ability to look honestly and constructively at our community," said Vice President for Campus Life Penny Rue. "We are listening closely to student concerns and working to pursue a more just community. This is what it means to be educated in America. We are helping students grapple with these pressing social issues. Wake Forest considers it essential to prepare students to lead in a diverse global society and that starts right here at home."
Students, including groups such as Forward Together, National Pan-Hellenic Council, and the Arch Society, are raising awareness and advocating for changes in policy and practice related to cultural difference and equitable treatment on campus.
"Students, alongside some very helpful faculty and administrators, are working to increase knowledge and dialogue around how Wake Forest can encourage inclusion and social responsibility," said senior Sonia Kuguru. "Students have been getting together to talk within their own interest groups and across groups to make the University a better institution for everyone, so everyone feels like they belong."
Learning from difference: student-led efforts
Making sure everyone feels like they belong is an ongoing effort, and students are taking a leadership role.
Last month, one fraternity's student leaders canceled an event that prompted conversations about racial stereotyping. Though student leaders decided to cancel the event before it took place, the chapter is working with University officials and other students, as well as their national fraternity and alumni advisors, to improve their intercultural competency as an organization and as individuals.
"We want to be part of the dialogue and not avoid it," said Reid Nickle, chapter president. "We realized that just because a behavior isn't intended to be offensive doesn't mean that it isn't. We have made and will continue to make great efforts to address these issues, such as setting up educational opportunities, engaging in discussions, and taking on leadership roles in other broader campus initiatives relating to inclusion."
While issues of diversity, inclusion, dignity and respect are not always easy – particularly when they relate to race, religion, gender identity and socioeconomic backgrounds – student-led efforts have been important for cultural bridging.
For example, a student-led Town Hall meeting in March attended by more than 200 people provided a forum for students and others to share questions and personal stories related to campus life policies for social venues and reports of bias related to University Police. Emma Northcott and Marchel Ebron were among the students who helped organize the event.
"While it functioned as an effective consciousness-raising tool, the Town Hall was merely the first of many steps to remedy some of the concerns surrounding racial bias at Wake Forest," Northcott said. "Revision of the [social event management] policy and plans for unconscious bias training for University Police are positive actions that have resulted from the Town Hall and subsequent dialogues. However, recent incidents and continued discussions about the race climate here attest to how much work remains to be done."
Ebron said, "Following the Town Hall, I thought, 'Wow, Wake Forest unites as a community.' The event shed light on the fact that experiences are different. It was okay to say we do see these issues and we do want to find a way to work together. The door has been opened and I want it to lead to inclusion, inclusion for everyone."
After the event, Wake Forest's Student Government started the "Talk to Me" campaign to encourage students to break down barriers on campus by simply talking to one another.
At a recent campus gathering that was a follow-up to the Town Hall, Nate French, director of the Magnolia Scholars program for first generation students and a 1993 Wake Forest graduate, reflected on the importance of student-to-student interactions between people from different backgrounds.
"Individuals connecting with individuals and small groups connecting with small groups will determine how the campus climate is in the next five to ten years. You can't have any inclusive process without a critical mass and a critical mix. We have the critical mass and we need the critical mix," said French.
Along these lines, this spring, a delegation of Wake Forest students who recently participated in the inaugural PULSE Institute will host additional conversations on campus to explore identity, leadership and inclusion. PULSE is a national program that is the latest addition to the International Institute for Sustained Dialogue's work on campuses to build more inclusive and engaged environments.
Campus dialogue to administrative action
Current work has built on longer-term diversity and inclusion efforts, including the establishment of the Office of Multicultural Affairs, the Office of Diversity and Inclusion, the LBGTQ Center and the Women's Center. University leaders say important conversations have translated into concrete steps to provide an equitable environment for all members of the University community.
"We are working collaboratively with faculty, staff and students to advance equity and inclusion in our community," said Barbee Oakes, assistant provost for Diversity and Inclusion. "We are fully committed to fostering dialogue, building cultural competence, enhancing the curriculum, offering inclusive social programming, and recruiting a community reflective of the global society. While there is room for progress, we are beginning to make a difference."
Steps that have already been taken and efforts that are currently underway include but are not limited to:
Diversity education – Enhanced education and training for police officers and other University staff; increased faculty and staff participation rate in GateKeepers and Safe Zone cultural trainings (more than half of Wake Forest staff have participated in diversity trainings over the past several years); and inclusion of campus groups in diversity awareness, cultural awareness and diversity programs.
Student social programming – Ensuring equity for all student groups in Campus Life policies and practices that pertain to risk management at events; implementing online ticket sales through Eventbrite for large event parties in social spaces such as the Barn; employing students as frontline event staff rather than University Police; and evaluating space allocation for minority groups.
Climate for diversity and inclusion – The September launch of the bias incident reporting system; the establishment of the President's Commission on LGBTQ Affairs; the development of the Office of Diversity and Inclusion Collaborative Campus Climate working group; additional support for an increasing international student population; improved community relations efforts.
Equity in institutional policies – Examining a wide range of University policies, including those relating to event management and student social spaces, to ensure equitable and fair treatment of everyone in the campus community.
Additionally, this fall the Pro Humanitate Institute will facilitate a "Deliberative Dialogue," a structured way of listening and communicating across differences, to talk about community and campus climate.
"Participants are encouraged to think about what they can do as individuals to effect change," said politics professor Katy Harriger, who helped develop the model for this type of discussion. "People who live in and are engaged with this community every day will suggest ways to bring forth change — generating a list of action ideas that require commitment and resources."
Deliberative dialogue works. A 2013 deliberative dialogue on diversity and inclusion resulted in several actions, including the creation of the Diversity Collaboration Fund, designed to fund collaborative social programs between two or more student organizations. And, as a result of those conversations, the University began offering intercultural communication training for student leaders.
Other plans are in the works and will be announced as more details become available.
'There's widespread recognition that we can't have a great Wake Forest if we're not all in it," said Kuguru.
Categories: Admissions, Alumni, Campus Life, Faculty, For Alumni, For Parents, Staff, Student, Thrive / Wellbeing, Top Stories
Subscribe
Sign up for weekly news highlights.
Subscribe