Main Content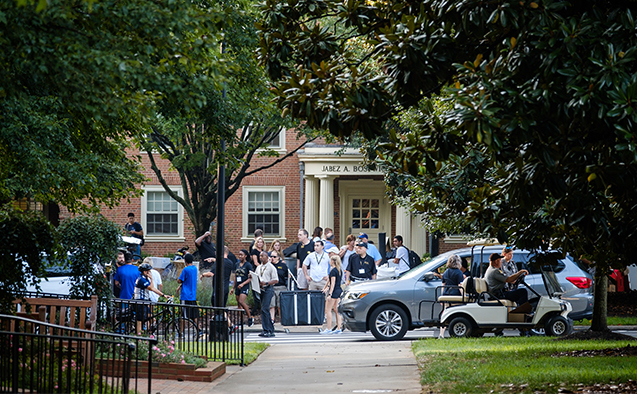 Just under 1,400 first-year students will leave home and move into Wake Forest residence halls on Wednesday, Aug. 21. Among them are a nationally ranked Congressional debater from Chicago and students from countries as varied as Brazil, France, Taiwan and Ireland.
The class of 2023 was admitted from an applicant pool of nearly 13,000. Seventy-five percent of the class were in the top 10% of their high school classes.
Students from 41 states and 26 countries will begin moving into their rooms on the south side of campus at 8 a.m. Football players clad in their Demon Deacons jerseys haul luggage, desk lamps and other items and welcome Wake Forest's newest students from 8 to 11:30 a.m. Volleyball players will assist with move-in from 9 to 11:45 a.m. and men's soccer players will help out from 12:45 to 2 p.m.
Follow #WFU23 during move-in day. Classes begin Aug. 26.
Matt Clifford, assistant vice president of campus life/dean of residence life and housing, is available for interviews on Aug. 20 or Aug. 21.
Back-to-Campus Stories
Lifting as We Climb, a new session sponsored by the Office of Diversity and Inclusion, will be held from 5 to 5:30 p.m. in Wait Chapel on Aug. 22. Lifting as We Climb represents the first time that Diversity, Inclusion and Equity occupies such a prominent spot at the start of Orientation Week, and was made possible through efforts from the Office of Personal and Career Development (OPCD). The session has three goals: Raising awareness around students' lived experiences; introducing incoming students to The Office of Diversity and Inclusion; and challenging them to support each other while learning from their differences and commonalities.
S.P.A.R.C., or Students Promoting Action and Responsibility in the Community, also runs Aug. 17-20. Sponsored by the newly named Office of Civic and Community Engagement, the service program introduces incoming Wake Forest students to local community partners and provides opportunities to learn about issues impacting Winston-Salem. They will participate in a Habitat for Humanity build and other service activities. First-year students will be matched with upper-class mentors who lead them in activities, answer questions about Wake Forest and introduce them to the spirit of our motto, Pro Humanitate (For Humanity). Contact the news office for a schedule of S.P.A.R.C. activities in the community.
Unique Deac, a program offered by the Office of Diversity and Inclusion for the first time, is a pilot program in collaboration with Residence Life & Housing. Unique Deac provides first-year students the opportunity to enhance their intercultural competence through discussions, interactive activities, reflective learning and coaching. The program lasts for seven weeks and begins on Aug. 24.
To give incoming students a headstart on STEM, Wake Forest's new pre-orientation program, Growth Mindset in STEM, runs Aug. 17-20 and is designed to help students excel in courses such as biology, chemistry, computer science, engineering, health and exercise science, mathematics, statistics and physics. Participants will gather for monthly mentoring dinners. Other activities include a scavenger hunt in downtown Winston-Salem. With prior request, arrangements can be made for media to attend a Growth Mindset in STEM event.
Categories: Admissions, Campus Life, Events, Student, Top Stories
Subscribe
Sign up for weekly news highlights.
Subscribe