Main Content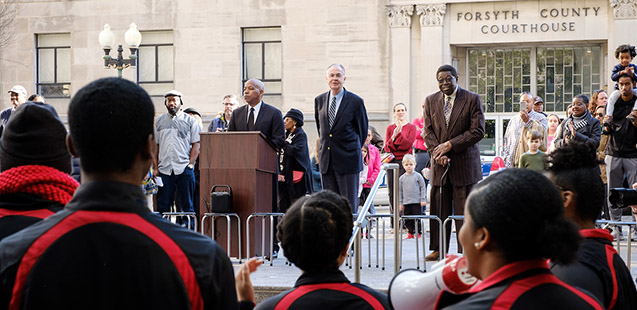 At 3 p.m. on Feb. 23, about 225 people gathered at the Millennium Center in downtown Winston-Salem for a vigil commemorating the 60th anniversary of the Winston-Salem sit-in. Organized by Wake Forest and Winston-Salem State universities, the event featured remarks by Wake Forest President Nathan O. Hatch and Winston-Salem State Chancellor Elwood L. Robinson, a keynote address by WFU Dean of the School of Divinity Jonathan L. Walton and music by The WSSU Singing Rams.
Sixty years ago, 21 students from Wake Forest, Winston-Salem State and a local high school staged peaceful protests against segregated lunch counters in downtown Winston-Salem, just weeks after the first such protest was held in neighboring Greensboro.
"The students had forged a bond of friendship and united against discrimination and unfair treatment of black members of the community and our nation," Hatch said. "Perhaps that is the lesson these 21 students have to share with all of us. Change does not have to come with waves of heroism. It can come with simple acts of courage and cooperative joint action."
Robinson recalled childhood memories of segregation, including seeing "for coloreds" signs and having to sit in the balcony at the movie theater, before reading a proclamation for Victor Johnson Jr., a longtime educator and Winston-Salem/Forsyth County Schools board member who was among the students to take a stand by sitting down at the lunch counter 60 years ago. Johnson attended Sunday's commemoration.
The proclamation read in part, "Whereas, the sit-in movement was a critical turning point in city history that ultimately brought about the desegregation of lunch counters in the city of Winston-Salem and raised the visibility of the civil rights movement to the national stage; be it proclaimed that Winston-Salem State University and Wake Forest University jointly recognize Victor Johnson's courage, leadership and significant role in the civil rights movement that has shaped our community for the last six decades."
Walton delivered a keynote address before the Winston-Salem Singing Rams began performing "Sing Out! March On!" then lead the crowd to the corner of Fourth and Liberty streets, where a historical marker designates the site as the location of the "First sit-in victory in North Carolina."
There, 21 stools symbolized the students as Hatch and Robinson read aloud each of their names: Royal Joe Abbitt, Donald F. Bailey, Donald C. Bradley, Joseph Brown Chandler Jr., William Andrew Bright, Linda G. Cohen, Lafayette A. Cook Jr., Margaret Ann Dutton, Jefferson Davis Diggs III, Linda Evelyn Guy, Everett Dudley, Anthony Wayland Johnson, Bruce Gaither Jr., William Penn Haney Stevens, Algemenia Giles, Paul Virgil Watson, Ulysses Grant Greene, George Williamson, Victor Johnson Jr., Jerry B. Wilson and Mary Delores Reeves.
Current Wake Forest and Winston-Salem State students representing the students who took seats at the counter 60 years ago, took their seats as the names were called.
Photo story
Categories: Community in Progress, For Alumni, For Parents, Top Stories, Valuing Diversity
Subscribe
Sign up for weekly news highlights.
Subscribe