Main Content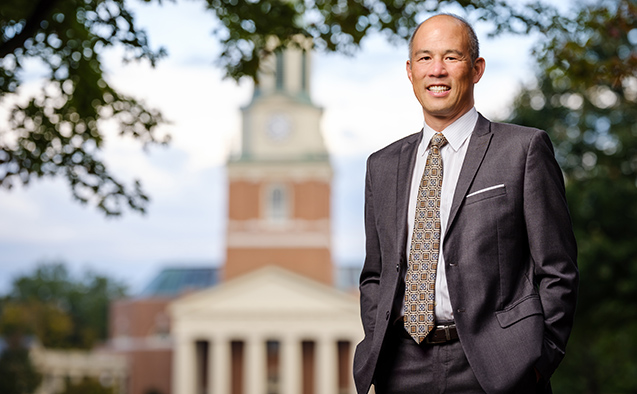 Over the course of a person's lifetime, the economy will have its ups and downs. Wake Forest University has built an award-winning Office of Personal and Career Development that supports students in developing the tools they will need for career success no matter what the economic landscape.
In this USA Today article on coronavirus and the uncertain job market, Vice President for Innovation and Career Development Andy Chan says that companies may not be hiring for the exact job students are looking for, but that's okay. "There will be time to find that beautiful job down the road." 
Chan offers insights into the market for jobs and internships and suggests proactive ways grads can move forward.
Q: Grads were looking forward to a thriving economy. How can they make the most of the situation when they may be feeling disappointed and less hopeful about their futures?
A: It's time to reframe what success looks like. Most people think that the best time to find a job is in a good economy. That may seem true because it's easier. But when there is less wind behind our sails, we all learn better how to adapt our skills and mindset to the opportunities that present themselves. We are more attentive. We work harder. We become more humble. We ask for wisdom and suggestions from friends and mentors. We accept what the market provides and develop a mindset bent towards learning, growth, and appreciation. We learn how to be nimble and flexible. These are the very skills that help prepare us for the next time uncertainty creeps into the job market.
"The jobs available may not be exactly what grads expected, so they will likely need to recalibrate plans and expectations. " Andy Chan, vice president of innovation and career development
Q: What top things should a college senior do if they're looking for a job or internship right now?
A: First, assess if you are "career ready." A common mistake by job seekers is that they're not well-prepared for every aspect of the job search which includes self-assessment, market assessment, personal branding, interviewing and networking. It's a little like trying to sell a product when the pitch and marketing materials are not professional or better than the competition's and the target market is not well-defined. If you're unsure, connect with your college's career center or other hiring professionals in your network, including family, friends and alumni, and ask for support, guidance and feedback. There are many people who would appreciate the opportunity to help a college student, especially during these challenging times.
Second, apply for a lot of job or internship opportunities on Handshake, LinkedIn, Indeed and specialized job sites that align with your interests and skills, including skills that you're highly interested in developing. Set a goal of applying to over 20 jobs each week, or 3 per day. Avoid being too picky about the brand name or industry sector, as those that tend to be the most popular among college students are either not hiring or are extremely competitive (i.e. less than 1 in 1000 or more applicants will receive a job offer).
Third, create a daily schedule that includes time to care for your personal wellbeing. In good times or bad, the job search process can feel like a lonely, emotionally draining marathon race that requires persistence, consistency and resilience. Incorporate activities to nurture and strengthen your mind, body, heart, and soul. This could include reading – and playing – for fun and/or learning, regular sleep and exercise, eating healthy, connecting with friends and loved ones, helping others in need, and meditating, praying or trying other spiritual practices. 
Q: How is the market for students seeking jobs or internships?
A: The economy during the coronavirus pandemic is creating uncertainty and anxiety. It's very fluid as organizations attempt to assess their staffing requirements as we head into the summer and then the fall. To date, a good number of students at Wake Forest have secured internships and jobs with a wide range of organizations. In fact, the percentage of students with job offers is higher than in prior years at this same time, which reflects how strong the job market was prior to the pandemic. 
Q:  For students with job offers, are employers likely to rescind those offers?
A: The majority of companies are currently committed to fulfilling their full-time job offers, though some organizations are beginning to push back start dates for new hires. There has been a slight increase in canceled internships, but many organizations are either postponing internship start dates, condensing the length of the internships, or moving to virtual/remote internships rather than canceling altogether. Some students who have accepted jobs or internships in cities most affected by COVID-19 may face difficult decisions as they have to consider what their living, working and wellbeing situations may be like post-pandemic.
Q: For students without job or internship offers, should they be concerned?  
A: It is important to note that even in the best economic landscape, a large percentage of graduating students secure full-time opportunities after graduation between May and November. There is no reason for students to pull out of the job market. Job opportunities in select industry sectors are increasing, including companies specializing in supply chain, logistics, healthcare, e-commerce, and technology. The jobs available may not be exactly what grads expected, so they will likely need to recalibrate plans and expectations. The important thing is that no matter where you land with a first job, you will learn important skills, meet great people, and earn a paycheck – all of which will help you build a strong career and life readiness foundation so that you're well-prepared when the job economy gets strong again.
Wake Forest's nationally recognized college-to-career approach to career development prepares students for a lifelong career journey, not just a first job after college. The University's comprehensive model, launched in 2010, has been featured in the Wall Street Journal, The New York Times Magazine, The Chronicle of Higher Education, Inside Higher Ed and dozens of other outlets over the years.
Chan is available for media interviews by phone, email and online.
Categories: Personal and Career Development, Top Stories
Subscribe
Sign up for weekly news highlights.
Subscribe