Main Content
Highlights
More than 200 institutions have visited Wake Forest to learn about the University's all-in approach to personal and career development and mentoring.
92.6% of the class of 2019 engaged with the career development office during their time at Wake Forest.
The National Association of Colleges and Employers awarded Wake Forest President Nathan O. Hatch the 2018 Career Services Excellence Award.
Each year, first-year students write their career interests on colorful paper airplanes and launch them in Wait Chapel during a New Deac Week session led by the Office of Personal and Career Development team. The activity marks the end of the career portion of orientation and the beginning of their college-to-career journeys.
The University established itself as a national leader in personal and career development with its Rethinking Success conference in 2012 and the crowdsourced publication "A Roadmap to Success." The Office of Personal and Career Development (OPCD) has been featured in the Wall Street Journal, The New York Times Magazine, The Chronicle of Higher Education, Inside Higher Ed and dozens of other outlets over the years.
Ten years later, Wake Forest is still paving the way in prepping students for careers after graduation with a new "Ready7" path that begins with self-awareness and ends with graduates leading an authentic and meaningful life.
"Our new step-by-step approach to career development sets mile markers and provides the tools needed to succeed in the workplace or in graduate school." Andy Chan, vice president of innovation and career development
From orientation to graduation and beyond, the OPCD team, faculty, staff, student-athlete development, recruiters, alumni and parents help students build skills that will keep them nimble in the future, no matter what the national or international economic landscape, says Chan.
Along with Ready7, here are three other distinctive ways Wake Forest's OPCD is continuing to widen the roads to success.
Coast to Coast Careers: 'Wake West'
For the past three years, California has ranked in the top five states where students graduating from Wake Forest want to work. The number of Wake grads who start their lives and careers in California has doubled from five years ago. A new spring-semester study-away program gives students a sense of what it is like to live and work in Silicon Valley and the Bay area – and, for those who still want to follow their path out west, the chance to make the coveted connections that can help land a job.
"It's important to be embedded in San Francisco to understand the benefits and challenges of the Bay area. The culture, norms, dress, lingo ­– these are all tools people need to know how to use if they plan to start careers here," says professor and program director Rebecca Gill, whose expertise integrates communication and entrepreneurship. "They have a way of working in Silicon Valley that is different from the way we work on the east coast. A strong network is critical."
Students take two e-ship courses during the semester but most of the emphasis is on the internship experience – many with startups.
"What we have found is that many of the larger firms have highly structured internship programs. Smaller organizations often need help in a variety of functions, so student interns take on more responsibility and are encouraged to develop new skills," says OPCD's Director of Special Projects Patrick Sullivan.
Junior Tiaye Wooten is one of 12 students spending the spring semester in Silicon Valley as part of the pilot Wake West program. His internship reflects this kind of experience.
"I have a rotational internship where I can try a variety of things," says Wooten who is interning with The Naked Market, a consumer package goods company focusing on healthy foods. "San Francisco is my dream location to start my career, and I'm eager to learn what it will take to succeed here."
Junior Alejandra Alvarez Gonzalez, an intern with Handshake, is having a different kind of experience. This is her second stint working with one of the largest talent recruiting platforms in higher education.
"I want to build on my experience in the tech industry as an internal consultant and proactive partner for service subscribers," says Gonzalez. "But I've also worked internships in digital marketing. My internship in San Francisco is giving me a chance to experience a deeper sense of my work interests so I can choose better what I want to do after graduating."
In addition to student benefits, Wake West will increase the flow of faculty, research, ideas and experts between Wake Forest and the San Francisco Bay area.
Connecting diverse talent with employers
Nationwide organizations of all sizes are realizing the need to bring as many different perspectives to the table as possible. Wake Forest's twice-a-year Diversity Matters Fair is a networking event for employers who are looking for diverse talent and students from underrepresented groups who are looking for career opportunities.
"Employers who attend are hungry for diverse viewpoints in their organizations," says Cheryl Hicks, associate director for career education and coaching who oversees diversity and inclusion career programs at Wake Forest. "They are eager to find soon-to-be grads who will connect with their organization's clients or customers or a fan base in new ways."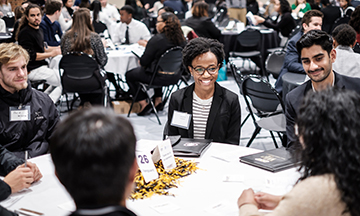 Recruiters and students participate in three 20-minutes speed-dating style group sessions, where students move from table to table to ask questions and learn more about the industries represented.
Students come prepared with resumes and elevator pitches to showcase their skills and talents.
Junior Sean Walker has attended the fair twice. "While we are talking as a group, I learn what other students are involved in and see how they're marketing themselves. It helps me be better able to describe my skills and my professional growth when I listen to others in conversation at the table."
Wake Forest achieved an "Excellent" Net Promoter Score from recruiters. Employers are connecting with the talent they seek.
The National Association of Colleges and Employers recognized OPCD's Diversity Matters with the "2019 Diversity and Inclusion Excellence Award." Since 2018, nearly 500 students and 82 employers have participated in this event.
Alumni mentoring
Wake Forest's Alumni Personal and Career Development Center offers support to alumni – with a laser focus on the first five years after graduation.
Assistant Vice President Allison McWilliams, director of the University's Mentoring Resource Center, and her team have created a service unique in higher education – one that supports students after they earn diplomas. "Life After Wake" offers assessment tools, networking opportunities, young alumni mentoring groups and workshops. The Center reaches more than 1,000 alumni in person and 8,500 online per year.
"Wake Forest is meeting a real need for our young alumni," says McWilliams. "Our alumni consider mentoring groups and workshops to be safe spaces where they feel comfortable not only formulating goals and engaging in next-step career planning but sharing their fears and frustrations as well."
The mentoring center fosters the sense of community and connection that alumni remember from their time as undergrads.
"Young professionals are overwhelmed with the perceived options available to them as they make important career and life decisions, and the lack of guidance and support to be found in their post-grad lives," McWilliams says. "What we do is to provide that guidance and support, while empowering young alumni to take ownership of all aspects of their lives. They continue to build on what they learned at Wake Forest rather than having to start over from scratch."
McWilliams, the author of "Five for Your First Five: Own Your Career and Life After College," also writes "Your Awesome Career," a blog on Psychology Today.