Main Content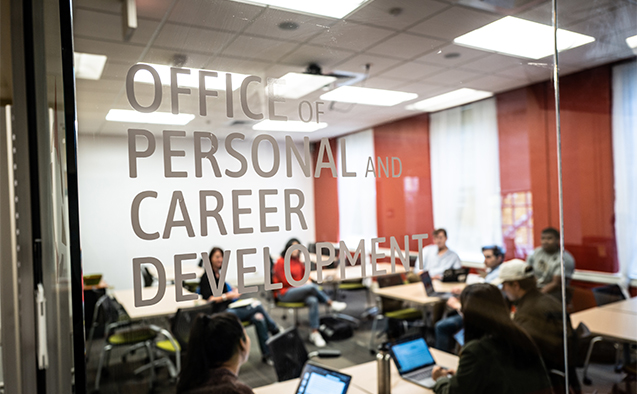 Wake Forest University has been awarded the 2020 National Career Development Association's (NCDA) Exemplary Career Center Program Award. The award recognizes a career center program for their commitment to thoughtful, innovative and effective initiatives that support career development.
Under the vision of Wake Forest President Nathan Hatch and leadership of Vice President, Innovation and Career Development Andy Chan, the University has become the national model for creating a college-to-career community designed to help students prepare for a lifelong career journey, not just a first job after college.
Career development for uncertain times
After 2008 during the Great Recession, when many colleges and universities cut funds for career development, Wake Forest invested. Under Chan's direction, the University's new Office of Personal and Career Development set out to prepare students to launch careers in less than ideal economic conditions.
"Though students often have a career and life vision, we know that over a person's lifetime crises happen that may involve job insecurity. Our most important work in career development is to prepare students for whatever economic environment they may face," Chan says. "It's easy to get a job in a good economy when the wind is behind your sails, but sometimes the wind changes direction."
"With a growth mindset and the competencies to be employable for life, students can better navigate uncertainty in the job market." Andy Chan, vice president, innovation and career development
As the world moves through the COVID-19 pandemic, Wake Forest's nationally recognized approach to career development continues to prepare students to be flexible, nimble and empowered, no matter what the economic landscape. The OPCD team is adapting by:
Offering targeted virtual career coaching and support to juniors and seniors.
Doubling down with employers in supporting the shift from on-campus experiences to virtual ones – including interviews, information sessions and career fairs.
Coaching students on online professional etiquette and skills for professional personal branding, interviewing, networking and relationship building using virtual tools to their best advantage.
Over the past 10 years, more than 200 institutions have visited Wake Forest to learn about the University's comprehensive approach to personal and career development and mentoring that supports students from first-year orientation to graduation and beyond.
Wake Forest career development experts are available for interviews on how graduating students can prepare for the job search given the impact of the coronavirus; job outlook and industry opportunities; and supporting employers and graduates in virtual spaces.
Categories: Personal and Career Development, Recognition, Top Stories
Wake Forest in the News
Wake Forest regularly appears in media outlets around the world.