Main Content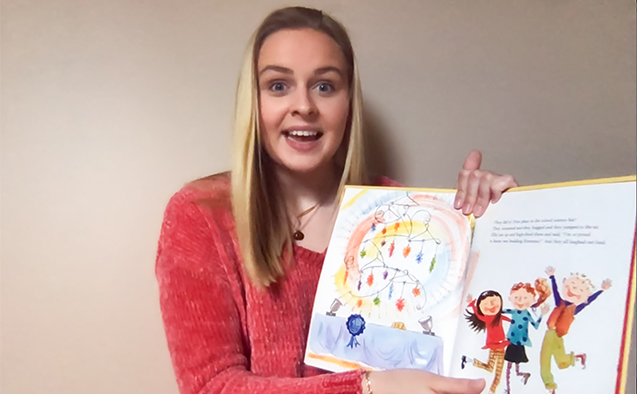 When Taylor Thornton ('22) was a little girl growing up in Kennett Square, Pennsylvania, she loved having storytime with her mom. Among her favorite books was "The Blue Ribbon Day" by Katie Couric.
"I think it teaches a really valuable lesson about finding what you're good at and not expecting to be good at everything or the same things others are good at," said Thornton, a sophomore English and communications major. "I think it says a lot about giving yourself grace, and about perseverance, which are incredibly important especially in this time."
A video of Thornton reading "The Blue Ribbon Day" has been posted on the YouTube channel of Wake Forest's Office of Civic & Community Engagement (OCCE.) It's all part of Wake Reads, which is designed to provide storytime for children while giving parents a break as they juggle working from home and caring for their children who are out of school until May 15 because of the COVID-19 pandemic.
Marianne Magjuka, executive director of the OCCE, said Wake Reads is just another way the University is demonstrating its motto, "Pro Humanitate."
Lara Arredondo, a nurse practitioner at Brenner Children's Hospital, said her toddler enjoyed hearing the book "Now" by Antoinette Portis on the Wake Reads site, narrated by Shelley Sizemore of the Office of Civic & Community Engagement.
"My daughter enjoyed listening to the book," said Arredondo of Winston-Salem. "Giving them an educational outlet versus a cartoon is always a good idea."
Wake Reads, Arredondo said, is beneficial to parents as well.
"The kids can watch Wake Reads while the parents are doing other things, whether it's working from home, cooking dinner or trying to write emails," she said. "I think Wake Reads is definitely applicable now but also when we're not in quarantine."
There have been more than 100 views to the OCCE's YouTube site, which indicates people are taking advantage of Wake Reads.
"We established Wake Reads as a way to support younger children during this time of social distancing," Magjuka said.
"This is a difficult time for children and caregivers. The Office of Civic & Community Engagement has worked hard to create quality, free educational content, organized in one place, to engage students." Marianne Magjuka, executive director of the OCCE
"Wake Reads is an opportunity for everyone in the Wake Forest community to come together to share the gift of reading," said Magjuka.
Magjuka said the OCCE welcomes diverse readers and stories. So far, nearly two dozen readings have been posted by students, staff and alumni. After they've finished reading, participants submit a form that goes to Jennifer Rubin, OCCE operations manager, who reviews submissions and posts them.
Thornton did three takes before deciding her submission was good enough. "I used to do a lot of acting when I was younger, so I relied on the tools I learned from those experiences about voice inflection and eye contact to try to make it interesting," she said. "I used my computer to record myself, and it was so much fun!"
Lillian Remler ('22), a sophomore English and history major from Manhattan, New York, read "One Lighthouse, One Moon" by Anita Lobel.
"I chose that book because I loved it when I was a child," Remler said. "It's simple but imaginative, and I love the illustrations. I did a practice take to make sure I was speaking loud enough, that I didn't look awkward and that the pictures were visible to the camera. It was fun, but I was also nervous because I've never done anything like this before."
Many people are thinking outside the box or stretching themselves as we shelter at home and adjust to new normals during the pandemic. But to Wake Forest alum Sarah Cave ('89), reading a book to children is second nature.
For years in Smyrna, Georgia, Cave was known as "The Story Lady" because she read regularly to children at King Springs Elementary School, which her children attended when they were younger. When she heard about Wake Reads in an email about Pro Humanitate Day, she didn't hesitate to record her narration of "Pete the Cat: I Love My White Shoes" by Eric Litwin and "How I Became a Pirate" by Melinda Long.
Cave, a development consultant, majored in English and theater at Wake Forest. Her daughter, freshman Margaret Onsager, recorded her readings on an iPhone.
"To a child everybody's voice is beautiful." Sarah Cave ('89)
"As long as you read with joy and enthusiasm, children will be enraptured," Cave said. "Pick a book that takes you to a 'happy place,' and don't worry so much about showing all of the pictures if you are expressive with your voice."
Cave lauded Wake Reads and its potential impact on parents and children as people stay at home to suppress the spread of the coronavirus. "I'm very grateful that my kids are old enough to take care of themselves," she said. "I can't imagine how stressful it must be to have young kids at home while you're trying to work from home."
Like Cave, Thornton and Remler were eager to participate in Wake Reads.
"I know this pandemic has been difficult for everyone, and I figured this would be a great opportunity to give back and help families and children adjust and adapt to a new method of learning in these unsettling circumstances," Thornton said.
Added Remler: "Reading a children's story is such a simple way to help. I just couldn't pass up the opportunity."
For interviews with Thornton, Remler, Cave or Magjuka, please contact media@nullwfu.edu.
Categories: Pro Humanitate, Staff, Student, Top Stories
Subscribe
Sign up for weekly news highlights.
Subscribe