Main Content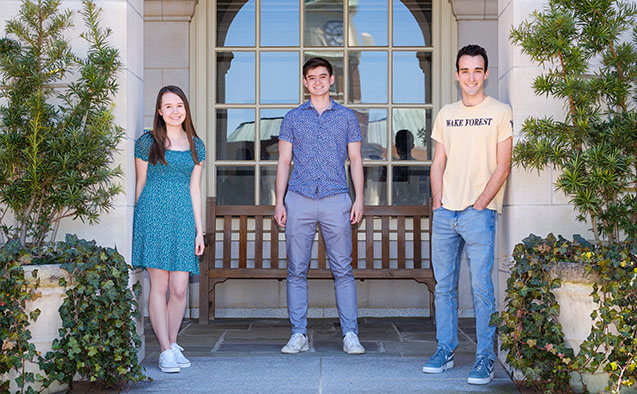 Joseph McCalmon, Ashley Peake and Samuel Schwartz have been named 2021 Barry M. Goldwater Scholars. The three are among 410 college students from across the U.S. to receive the award for the 2021-22 academic year.
They were selected for the Goldwater Scholarship based on academic merit from a field of more than 5,000 natural sciences, mathematics and engineering students from 438 institutions.
"The Goldwater Scholarship is the premier undergraduate award for STEM students; its recipients go on to become some of this country's finest scientists," said Jackie Sheridan, director of the Wake Forest Scholars Program. "To see three of our students honored as Goldwater Scholars in one year is very exciting—that's a rare achievement. This is a testament to the quality of the research experiences that Demon Deacons can pursue on Wake's campus and the level of mentorship embraced by our faculty."
McCalmon is a junior double-major in applied mathematics and computer science with plans to pursue graduate studies in artificial intelligence computational models. His focus is on building robust reinforcement learning algorithms against security threats.
Peake, a sophomore Stamps Scholar, is majoring in applied mathematics. Her research focuses on systematic inequality in machine learning models.
"Winning the most prestigious scholarship for undergraduates in STEM is a testament of the excellence of Joe and Ashley in research and leadership. Both started working with me in Spring 2020 on the same research project then they independently chose different paths," said Sarra Alqahtani, assistant professor of computer science. "Joe has achieved great progress by successfully attacking two algorithms and is building a mitigation system against attacks. Ashley's work is in urgent need and the focus of the machine learning research community." 
Peake is also working with assistant professor John Gemmer in the Department of Mathematics and Statistics.
"While we have only been working together for a short time, Ashley has been a tremendous asset in my own research," said Gemmer. "Our project researching how retinal ganglion cells in the eye send geometric information to the brain requires a unique combination of skills in both mathematics and computer science for which Ashley is uniquely positioned to make a significant contribution."
As a junior biochemistry with a concentration in molecular biology, Schwartz plans to focus his graduate research on biological communication between microbes.
"As a first year student, Sam made an important discovery that the globally abundant marine cyanobacterium, Synechococcus, formed large free-floating aggregates in response to predation by other organisms, said biology professor Sheri Floge who mentors Schwartz. "The Goldwater Scholarship recognizes his already significant work in biology research and potential for future contributions to the field."
The on-campus preparation and nomination process for the Goldwater Scholarship and other external scholarships is coordinated through the Wake Forest University Scholars Office. Interested students are invited to visit the website to learn more and arrange an appointment.
Categories: Faculty, Scholars, Student, Teacher-Scholar, Top Stories
Subscribe
Sign up for weekly news highlights.
Subscribe