Main Content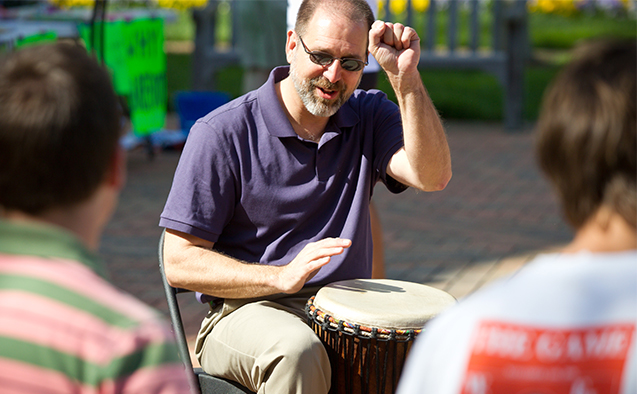 When music professor John Beck's Afro-Cuban drumming class moved online, his students didn't miss a beat – even though only one of the 17 seniors in his class had access to a drum.
"The global drum circle community on social media was quick to offer ideas for virtual groups. One video showed a friend of mine drumming on a picnic table and asking people to play his rhythm back," said Beck.
The students' first assignment was based on that video.
"I assembled their clips together and posted the recording so they could all see each other like we do in class when we are seated in a circle. One week I asked the students to send me their favorite song, and they recorded themselves drumming on buckets, tables, boxes and metal pots."
In an in-person class there is a sense of community, Beck explains. The group works together creating rhythm, smiling and enjoying the experience. But after spending time immersed in the video projects, looking at the student clips, watching them drum and assembling the projects on his computer, he felt he knew this class better than any other he has taught.
Beck recently completed a 22-month study at Wake Forest Baptist Medical Center with stem cell transplant recipients using a protocol developed called Comfort Sound® Drumming. During the patient drumming experience, researchers identified improvement in mood, energy and relaxation, and decreases in anxiety, distress and pain.
"The video compilations were a way of being together through the music and my students expressed they felt similar benefits to the ones in our study." John Beck
"Our work together helped them cope with the stress of finishing their time at Wake Forest away from their friends and teachers," said Beck.
Senior Lizzie Pittinger, a political science major, said continuing with the drumming exercises online was not only a fun way to stay connected with her classmates, but also created a sense of normalcy during this uncertain time. "Despite the physical distance that I felt from my classmates as we were all learning from our own homes, the weekly assignments reminded me that we will always be able to connect by sharing experiences with each other—even if it has to be through Zoom for now!"
Video Caption: To celebrate the end of the semester, Beck had students record themselves playing rhythms and created a "call and response" drumming video. His students watched the video from locations nationwide during their last day of class.
Categories: Faculty, Student, Top Stories