Main Content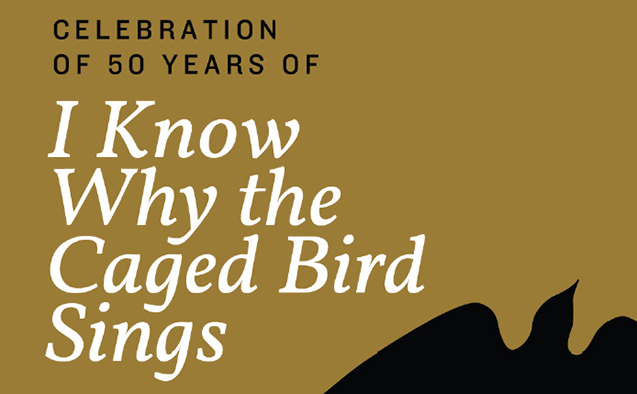 While celebrating her life and iconic autobiography "I Know Why The Caged Bird Sings," Wake Forest University alumni, faculty and staff, famous African Americans and her son paid tribute to renowned author and longtime University professor Maya Angelou.
Presented virtually on Jan. 30, the program commemorated more than 50 years of Angelou's book that was published in 1969 and has received wide acclaim, including placement on Time magazine's list of the All Time 100 nonfiction books.
The celebration took five months to plan and was a fitting tribute to Angelou, a poet, actress, author and civil rights activist who taught at Wake Forest for more than 30 years until her death in 2014, and for whom the University named a residence hall in 2016. The idea was to have a simple virtual book club meeting, initially suggested by Jaymi Thomas ('10), but as excitement grew so did the event. By all accounts, and with over 1,200 registrants and more than 600 participants, it was successful.
The 90-minute event, which included alumni-led breakout sessions, was sponsored by the Association of Wake Forest University Black Alumni (AWFUBA) and moderated by AWFUBA president Kelly Starnes. Panelists were Herman Eure, professor emeritus of biology and member of the Wake Forest University Board of Trustees, Melissa Harris-Perry, founding director of the Anna Cooper Julia Center and Maya Angelou Presidential Chair, Erica Still, associate dean for faculty recruitment, diversity and inclusion, and Kate Pearson, a junior history major from New Jersey.
Starnes opened by reciting three famous Angelou quotes including, "There is no greater agony than bearing an untold story inside you," before Ed Wilson, professor emeritus of English and former provost, told how the University successfully hired Angelou after she came to campus for a reading.
"My associate talked with her and got the idea that she would be a very fine teacher," Wilson said. "And then I went and talked with Maya Angelou about becoming the Reynolds Professor of American Studies and she liked that idea — a little surprising in a way because she knew very little about Wake Forest and we knew very little about her except that she was a very distinguished poet."
Eure and Harris-Perry shared sides of Angelou that most don't know.
"What you saw with Maya was what you got," said Eure, who traveled with her on a book tour throughout Europe during the summer of 1987 and was a close personal friend. "Obviously there was the professional persona…but when you got to Maya's house on Valley Road it was a whole different story. She was the loving person, the phenomenal cook….It was just comfortable because she made you feel welcomed. She paid attention to you and was just a down-to-earth person."
Harris-Perry said Angelou had a knack for making people feel special. She also fondly recalled attending Thanksgiving dinners at the beloved professor's home, under whom she studied and worked as an assistant. "Oprah Winfrey would be there, and her hairdresser and the man who drove her car and her student assistant and Nick Ashford and Valerie Simpson, all under one tent getting our food together through the buffet line, listening to and dancing to the music. She was extraordinary, and she had very high expectations that she conveyed mostly by her own carriage."
The panel focused on chapter 23, which is about Angelou's eighth grade graduation ceremony and the excitement and heartbreak surrounding it. Devin Smith ('99) directed and produced the reading, titled "unCAGED BiRDS 23:19." Starnes said his expertise was invaluable in capturing the chapter's spirit and making the program memorable.
During the program, she referenced a passage that said, "If growing up is painful for the southern Black girl, being aware of her displacement is the rust on the razor that threatens the throat. It is an unnecessary insult," after which Pearson, the student panelist, said she doesn't focus solely on pain and struggle as do many people when discussing the Black experience.
"I don't center myself on her struggle so much as I center myself on the way she was living and just enjoying herself with her brother, mother and grandmother," Pearson said. "Yes, being aware of the displacement is absolutely the rust, but the articulation of Black girl joy is the balm that soothed that pain. I think it's so important to emphasize that when we're celebrating Dr. Angelou, because she absolutely experienced so much struggle and injustice and she laughed through that…"
Angelou's son Guy Johnson led the chapter reading. Other readers were Winfrey, Beth Norbrey Hopkins ('69), actresses Yara Shahidi, Zazie Beetz, Tracee Ellis Ross and Aisha Tyler, actors Jesse Williams, Craig Robinson, David Rysdahl and Anthony Mackie, Wake Forest President Nathan O. Hatch, Dean of Divinity School Jonathan L. Walton, Mary Tribble ('82), Ledisi, Valerie Jarrett, Mahogany L. Browne, Vice Provost Kami Chavis and Brandon Leake. In a touching surprise, Angelou's voice was heard reading as well. And Ledisi, nominated for 13 Grammys, sang parts of "Lift Ev'ry Voice and Sing," also called "The Negro National Anthem."
Still said she was honored to be part of such a worthwhile event celebrating the enduring legacy of Angelou's book.
"I thought my enthusiasm and that of the other panelists was a true reflection of the lasting impact of Dr. Angelou's work," Still said. "The celebration gave us a way to think about issues and about questions related to racism, resilience and gender that are still important and continue to require our attention. Moreover, the book itself remains a really productive starting point for discussions on all of those things."
Categories: Events, Faculty, Top Stories
Subscribe
Sign up for weekly news highlights.
Subscribe