Main Content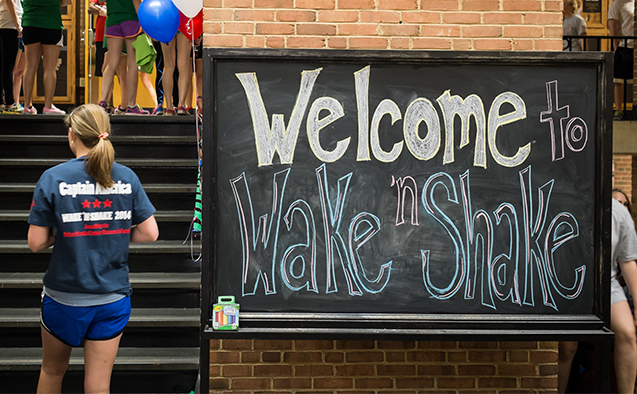 When Wake Forest senior Jack Rolle was 10, doctors discovered a malignant tumor on his pituitary gland. After it was removed, he endured more than a dozen rounds of chemotherapy and missed a year of school.
On March 27, Rolle will share his story during closing ceremonies for Wake 'N Shake, an annual 12-hour dance marathon organized by students that raises money for the Brian Piccolo Cancer Research Fund and this year runs from March 22-27.
"I like giving back by sharing my story, whether it's to raise money or to raise awareness," said Rolle, 22, an economics major from Bethesda, Maryland. "It's really powerful to hear a cancer story from a survivor, especially when it's coming from one of your peers."
Sponsored by the Office of Civic & Community Engagement (OCCE), Wake 'N Shake started in 2006 with 300 dancers raising over $30,000 for the Brian Piccolo Cancer Research Fund. Last year, more than 1,000 students, faculty and staff raised more than $380,000. The event was virtual because of COVID-19 but was still successful.
This year's Wake 'N Shake will feature a hybrid of virtual and in-person activities, said Brad Shugoll, associate director, leadership and service in the OCCE.
"Each day has a theme, so there will be different challenges associated with each day," Shugoll said. "We stretched it out to allow for as much engagement as possible given we couldn't all physically be together. I think the highlight will be the closing ceremony, which will feature University leadership and representatives from the Cancer Center. We're hoping to have 100 people on the lower Quad, in masks, socially distanced of course."
Shugoll said the COVID-19 pandemic has altered the event but not dampened student enthusiasm for it.
"The students are resilient, and they're still enthusiastic about Wake 'N Shake," he said. "They're putting in the time and effort, continually thinking and rethinking what it will take to make it successful. They understand the greater cause to support cancer research."
Emma Ecklin, 22, a senior health and exercise science major from Lancaster, Pennsylvania, has been affiliated with Wake 'N Shake since her freshman year. Her mother passed away from cancer a few days before the event her first year, so she had to miss it.
"I was blown away by all of the love and support I received " Ecklin said. "My classmates were very supportive, and I knew that I had to keep being a part of Wake 'N Shake during my time here."
Ecklin was on the Wake 'N Shake executive board as a sophomore and junior and this year is one of three student directors. The others are Lucy McLeod of Durham and Paige Gallagher of Sherborn, Massachusetts.
"Lucy, Paige and I have poured our hearts into creating a new version of Wake 'N Shake," Ecklin said. "We were selected for this role last April and started planning in May. Because of the virus we've had to change direction multiple times, but we're very much looking forward to having this weeklong hybrid event, and we're really excited to have students, faculty, staff and alumni share in it with us."
Last year marked the 50th anniversary of the passing of Piccolo, a former Wake Forest All-American football player who died of cancer at age 26 while playing for the NFL's Chicago Bears. The fund bearing his name provides discretionary money that allows the Comprehensive Cancer Center to pursue its most innovative research programs. Piccolo's daughter, Traci Piccolo Dolby ('89), submitted a pre-recorded message for last year's event that was streamed.
Rolle is honored to speak as a student champion at this year's closing ceremonies.
"I've been a Wake 'N Shake dancer for three years, but this is my first time being a champion," he said. "I've spoken before Congress about the need for more funding for childhood cancer, and I've also spoken at a Jimmy V fundraiser. It will definitely be more emotional for me because I'll be speaking in front of my peers, but … Wake 'N Shake is a great way to give back to the cancer community. It's not only an amazing fundraiser; it's a great way to spend time with your friends."
To interview Rolle, Ecklin or Shugoll, please contact media@wfu.edu or to request photos or video clips, contact Laurie D. Willis at 336.549.1994.
Categories: Events, Pro Humanitate, Student, Top Stories
Wake Forest in the News
Wake Forest regularly appears in media outlets around the world.