Main Content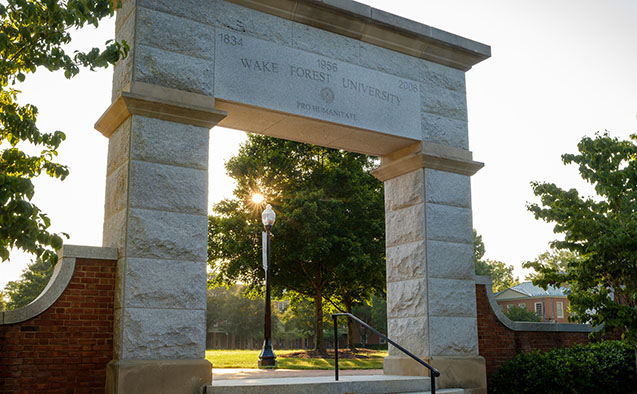 A recent Pew Research study found that just 20% of U.S. adults say they trust the government in Washington to "do the right thing" just about always or most of the time. Public servants, health care professionals, lawyers and business leaders rely on mutual trust with those whom they serve in order to make a difference.
For Wake Forest University and the Program for Leadership and Character, trustworthiness is among other character traits such as honesty, kindness and generosity that make up a person's ethical identity to facilitate the achievement of some particular professional objective, explains Kenneth Townsend, the director of the leadership and character program for the professional schools. "While we are certainly interested in the usefulness of virtues, the intrinsic value of cultivating character comes first."
Earlier this month, leading scholars joined physicians, attorneys, religious leaders, government leaders, engineers, educators, business executives and other professionals to explore the role of character in the professions at a three-day virtual conference.
The conference, hosted by the Program for Leadership and Character at Wake Forest University and the Oxford Character Project at the University of Oxford, provided a unique opportunity for students, faculty, staff, and professionals to explore the importance of character in various professional settings and consider ways of cultivating character in their personal and professional lives.
Almost 2,300 people from 37 countries across six continents registered for the conference.
Panels included: Character and Public Life; Character and Religious Leadership; Character, Engineering and Technology; Character, Diversity and the Professions; Character and Medicine; Character and Business; and Character and Law.
For Rucker Robinson, a Wake Forest Leadership and Character Scholar who is planning to enter the healthcare field, the diminishing trust between healthcare providers and their patients is a critical concern. The pandemic has shed light on ongoing health and social inequities that have put people from racial and ethnic minority groups at increased risk of getting sick and dying from COVID-19.
"The enormous inequities in healthcare are becoming more prevalent, said Robinson. Those with strong character can lead healthcare to better reach the underserved, and hopefully, increase the collective trust in medicine by being honest, empathetic and just."
"By developing character in our professions and our lives, we will be able to lead by example and compromise with those of differing opinions rather than discrediting and dismissing them as is so common today." Rucker Robinson, leadership and character scholar
Leadership and Character Scholars receive full scholarships to Wake Forest, along with special opportunities for leadership and character development. The program is designed to strengthen students' sense of community, inform their values and vocation and prepare them to serve their communities well beyond Wake Forest.
"To listen to the panelists thoughtful answers and comments was helpful in gathering a clearer picture of what it looks like to be a leader of character in professions," said Rachel Edwards. "As a sophomore Leadership and Character Scholar, I have been involved in conversations and work around leadership and character on and off campus. To hear professionals speak about the virtues and strategies we have been studying gave me hope that I will still be growing and applying this important work to my life in the future."
A conversation about character: "Face to Face" with Albright and Powell
Those who attended the Character and the Professions conference had the opportunity to join an opening keynote session with former U.S. Secretaries of State, Madeleine K. Albright and General Colin L. Powell (Ret.), who discussed leadership and character in public life.
Wake Forest President Nathan Hatch moderated the conversation with Albright and Powell. Both discussed influential mentors who instilled values that guided them throughout their lives. "Their commitment to public service and to doing the right thing is a model for what we are trying to do here at Wake Forest University and through our Leadership and Character initiatives," said Hatch.
Public service is one of the greatest honors, said Albright. "My mantra has been to work very hard, to be dependable and to give back. While you can be proud of what you have accomplished it can never be done without other people and the responsibilities that we have toward each other and being generous and unselfish."
Powell shared thoughts on the importance of building "bonds of trust." "The most important trait you have is your ability to get people to trust you and to demonstrate to people that you trust them," said Powell. "It wasn't because I was a senior officer that I wanted people to trust me. I wanted people to trust me because they watched me work, they watched what I did, they watched how I went about the work that I had to do."
From bringing distinguished leaders to campus to engaging students in conversations about character to supporting new scholarships, Wake Forest is widening the lens to explore how the rich and diverse perspectives of the humanities and liberal arts can enliven and expand our understanding of leadership. Read more about the University's commitment to connecting leadership with character and teaching students to be ethical leaders whose values, virtues and vision orient them toward the common good regardless of their field of study.
Categories: Events, Faculty, Top Stories