Main Content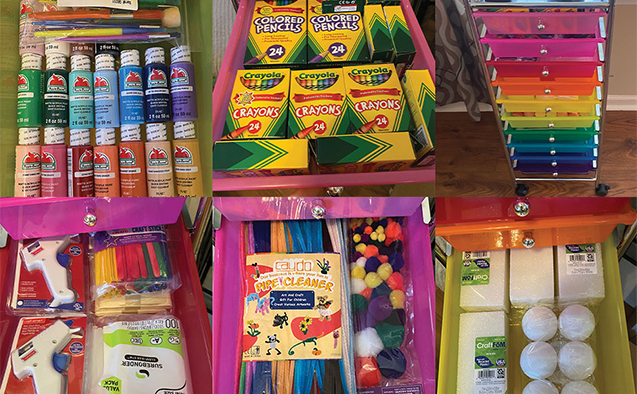 Kenya Cropps participated in Girl Scouts when she was younger and has always been service-oriented. So when the Reynolds High School junior learned about $250 community service mini-grants being offered by Wake Forest University's Office of Civic and Community Engagement (OCCE), she didn't hesitate to apply.
"I like to be out there helping people," said Cropps, 16. "I don't like to see people struggling and prefer to help them if I can." For her project, Cropps filled backpacks with non-perishable items, including Vienna sausages, crackers, chips, cereal and bottled water, and toiletry items, including hand sanitizer, face masks, soap, lotion and toothpaste, and donated them to homeless people in Winston-Salem.
Cropps was among 18 applicants for eight, $250 mini-grants, said Camry Wilborn, assistant director, community engagement in the OCCE. Eligibility was open to individuals ages 5 to 25, and of the applicants, all were high school students except two who attend Wake Forest.
Seven high school students and WFU student Jenna Mayer were awarded the mini-grants.
Mayer, of Hillsborough, is a senior double majoring in politics and international affairs and elementary education. With her grant funds, she worked with Action4Equity to launch a new district-wide PTA organization titled "Forsyth Family Power," which aims to empower families to get engaged with their children's education by treating them as experts to help solve current issues.
To provide the opportunity, the OCCE used grant funds from Youth Service America, an organization with a "mission to activate young people ages 5 to 25 to find their voice, take action and acquire powerful civic and 21st Century skills"
"This was our first time disseminating these small grants, and it was exciting to have so many applicants," Wilborn said. "We expected adults to apply for the grants, but it was great to see youth with ideas for community service projects, and I'm grateful we were able to provide the additional support and funding they needed to carry out their ideas."
Winners were notified by letter in December, received their money in late January and must submit progress reports to Wilborn by April 15. They have until the end of the semester to complete their projects.
Mitchell Rice, 17, a senior at Reagan High School, heard about the grants through a school counselor. With his $250 and the help of Center Grove Church, he started "The Compassion Project," a letter writing campaign for people at Brookridge Retirement Community in Winston-Salem.
"I talked on the phone to my great-grandmother who lives in Texas, and she described to me the difficulties and pains of being shut in because of the pandemic and unable to see friends and family," Rice said. "That inspired me to take direct action in reaching those in retirement homes."
Besides writing letters, Rice used his funds for individual tomato plants and succulents for Brookridge residents.
"This grant from Wake Forest's OCCE ultimately shows me how committed they are to raising up service leaders in the community," Rice said. "I appreciate them for providing the funds that allowed me to orchestrate a project that reached so many people at the retirement community, and give them encouragement, during this pandemic."
Other grant winners were Alston Gaillard, Kiran Kapileshwari, Ella-Brooke Morgan, Grayson Weavil and Berk Yalcinkaya. Weavil, 16, a junior at East Forsyth High School, used her grant funds to renovate a room for kids in a local domestic violence safe house and to purchase crayons, acrylic paint, canvasses, colored pencils and other art supplies — as well as storage units for the items. Wilborn said the OCCE has already applied for another grant from Youth Service America and, if awarded, will begin accepting applications in the fall.
"From decorating a room for kids in a shelter for abused women to tutoring middle schoolers, our grant winners performed community service work that demonstrated humanity and compassion," Wilborn said. "We take community service seriously at Wake Forest and were thrilled to help these young people be of service to others. By engaging them at such a young age, we're confident their spirit of service will only increase."
Categories: Pro Humanitate, Student, Top Stories
Subscribe
Sign up for weekly news highlights.
Subscribe