Main Content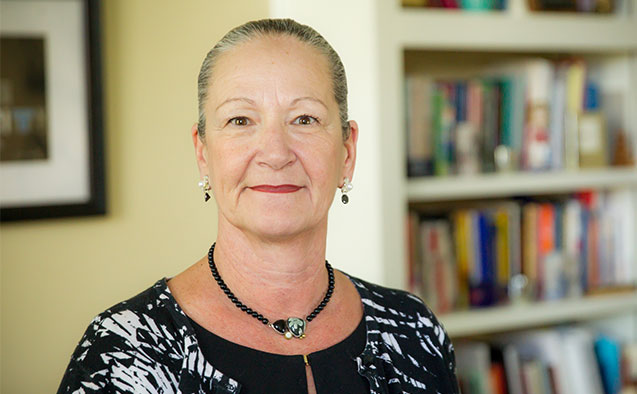 Penny Rue announced today she will retire as Wake Forest University's Vice President for Campus Life.
Rue's work at Wake Forest, which began in 2013, built on a distinguished career of leading student-life teams, including those at the University of California-San Diego, the University of Virginia and Georgetown University.
"I am grateful for Dr. Rue's service to our students, her essential role in navigating the COVID crisis on campus, and for all she has done for the health and wellbeing of the Wake Forest community," said President Nathan Hatch in a message to the Wake Forest community.
Her vision for comprehensive wellbeing led to the expansion of the Reynolds gym into the state-of-the-art Wake Forest Wellbeing Center and the creation of the Thrive program. She has elevated conversations about diversity, equity and inclusion. From establishing the Police Accountability Task Force to hiring the University's first Title IX director, she has put caring people and essential programs in place to strengthen the Wake Forest community.
"Across eight remarkable years of expanding, enhancing and professionalizing Wake Forest's Campus Life teams and programs," said Provost Rogan Kersh. "Dr. Rue has been a leading force for positive change during a time in higher education when engaging students has become more complex than it has ever been. She has also been an indispensable source of counsel and comradeship to so many of us on campus — students and staff colleagues alike — especially during these past 15 COVID months."
A nationally recognized leader in higher education, Rue served as Board Chair for NASPA, the leading association for student affairs professionals. She has been a NASPA member and volunteer leader since 1977. Her work assessing and enhancing wellbeing at Wake Forest has also received national attention.
"Working side-by-side with Penny on so many projects, from the First-Year Experience Commission to enhancing learning assistance and student mental health, has been a highlight of my time as dean," said Dean of the College Michele Gillespie. "She has also been deeply committed to addressing the national problem of sexual assault on university campuses, testifying before Congress on the importance of Title IX, and working diligently to establish systems at Wake Forest that are both survivor-centered and fair to all students."
Rue reflected on her work at Wake Forest and expressed appreciation for her Campus Life colleagues.
"Helping students explore and enjoy their potential outside the classroom has been my life's work and passion, and my decision is beyond bittersweet," Rue said. "I remain immensely grateful for the people and the relationships that have made Wake Forest such a special place. Our shared mission to educate the whole person and the university's emphasis on wellbeing remains a critical part of the fabric of this campus.
"I am especially appreciative of the extraordinary team of professionals in the Division of Campus Life. Together, we have made meaningful progress toward a comprehensive approach to wellbeing, an inclusive community where all students feel a sense of belonging, a diverse environment with cultural humility, and a culture of peer engagement, leadership, and accountability."
Kersh will organize a national search for a new Vice President for Campus Life.