Main Content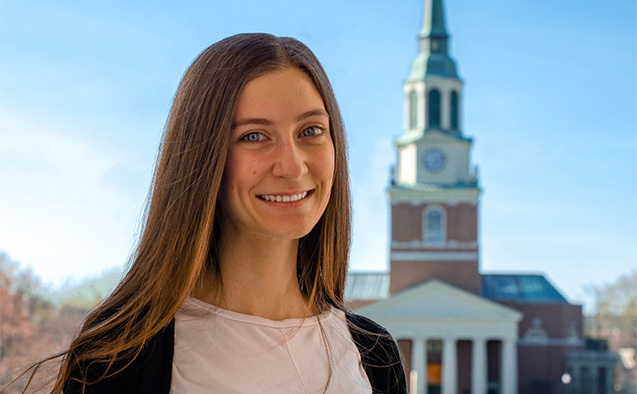 Savannah Littlejohn, Landon Bradshaw and Jessica Mark have all benefited from tutoring in the past. So when they learned about Wake Forest's Virtual Tutoring program, they didn't hesitate to sign up.
The University's program, for children in the Winston-Salem area in grades K-12, is sponsored by the Office of Civic & Community Engagement (OCCE) and requires students to spend an hour a week with the kids with whom they're paired. It was established in early 2020 after the COVID-19 pandemic forced classroom doors to close and children to begin learning at home.
About 200 Wake Forest students are tutoring this semester, including three as student directors and 20 as team leads. Days and times for tutoring sessions are agreed upon by Wake Forest students and the children's parents or guardians. Now that in-person learning has resumed, many tutoring sessions are held after school.
"As the program continues to grow, we want to provide opportunities for our tutors to grow as well," said Camry Wilborn, assistant director in the OCCE. "We want them to have leadership roles, to share their experience with new tutors and to share ideas that worked with them and the kids they tutored. Student directors are the support for the team leads, and they're also going to help me plan an end-of-the-semester celebration for everybody, depending on state COVID protocols at the time."
Littlejohn, a junior political science major from Bluffton, South Carolina, said she has a passion for education and education policy. She participated in a tutoring program during her first-year at Wake Forest to help with the transition from high school to college.
"I think tutoring Forsyth County children is important," said Littlejohn. "This program is not only fulfilling, but really flexible for college students. You're still able to do what you need to do academically while being really engaging and supporting the students' needs."
Mark, a junior elementary education major from Long Island, New York, has participated since the Virtual Tutoring program's inception. She had a tutor to assist her with geometry during her sophomore year in high school.
"I'm a general tutor, and I tailor each week to my students' needs," said Mark. "Teaching and working with kids is my passion, so it's rewarding for me to work with kids at a time when there's such a great need. As someone who wants to become a teacher, I have an opportunity every week to work with students and put the skills that I'm learning in class into practice."
Mark, a student director, is also a participant in Wake Washington, a semester-long, study-away program combining internship and academic experiences in the nation's capital. While she's away in D.C. this semester, she's tutoring two middle school boys, helping them with their homework or preparing them for upcoming tests.
Bradshaw is a junior biochemistry and molecular biology major from Lake City, South Carolina. He said he decided to tutor after the University sent students home during the spring of 2020 because of the pandemic.
"I thought it'd be a good way to use my skill set to make a difference," said Bradshaw. "I really enjoy it. I get a sense of service out of it … and think the kids get a more enriched educational experience but also get to see someone like me, a man of color, majoring in biochemistry."
"I don't see a lot of people who look like me within my major, and this is my way of wanting to change that." Landon Bradshaw ('23)
Wilborn said the program is serving an important role in the community.
"We collect survey data at the end of each semester, and in the responses we get we've learned that this program is very necessary," she said. "The needs aren't going away after the pandemic. We found that it's helpful for families in the community to have access to free tutoring resources, so this program is going to continue indefinitely."
Wilborn said there's still a need for 25 more tutors. To apply, Wake Forest students can go here.
To interview Littlejohn, Bradshaw, Mark or Wilborn, contact media@nullwfu.edu or Laurie D. Willis at willisla@nullwfu.edu or 336.549.1994.
Featured Image: Jessica Mark ('23)
Categories: Student, Top Stories
Subscribe
Sign up for weekly news highlights.
Subscribe