Main Content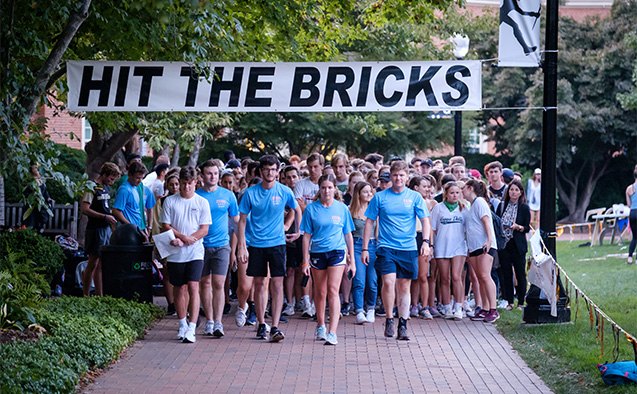 Wake Forest University's annual Hit the Bricks campaign was record-breaking this year, with more teams participating and more money raised than ever in the event's 18-year history.
On Sept. 30, 1,693 participants logged 22,789 laps — or just over 5,600 miles — around Hearn Plaza to raise money for the Brian Piccolo Cancer Research Fund. They competed on 146 teams and raised $202,787.85, with donations still coming in.
"It was an amazing day bringing our campus community together," said Brad Shugoll, program adviser.
"We had record-breaking participation and fundraising, and everyone united in this shared fight against cancer." Brad Shugoll, program adviser
Hit the Bricks was one of Wake Forest's first in-person, campus-wide events since the COVID-19 pandemic forced colleges and universities nationwide to temporarily shut down and pivot to remote learning. Everyone from students to faculty to staff to alumni to friends of the University seemed to enjoy being outside under clear, sunny skies for such a worthy cause.
See the Photos
Piccolo was an All-American football player who attended Wake Forest in the 1960s before becoming a running back for the Chicago Bears. He died of embryonal cell carcinoma at age 26 in 1970. The next year, ABC premiered "Brian's Song," a film about Piccolo's life that featured actor James Caan as Piccolo and actor Billy Dee Williams as Gayle Sayers, his Chicago Bears teammate and close friend.
Funds raised from Hit the Bricks support the Comprehensive Cancer Center at Wake Forest Baptist Medical Center. Since 1980, Hit the Bricks and other student-led initiatives have raised nearly $5 million for the Brian Piccolo Cancer Research Fund.
Wake Forest University President Susan R. Wente spoke at the Hit the Bricks opening ceremonies on Sept. 30 and walked around Hearn Plaza to lend her support. Closing ceremonies included comments from Wake Forest Chaplain Tim Auman, Mike Ford, a former student life director, and junior Thomas Cutting ('23), who discussed losing his mother and an aunt to cancer, and watching a childhood friend battle the disease.
See the Video
Categories: Events, Philanthropy, Pro Humanitate, Top Stories
Wake Forest in the News
Wake Forest regularly appears in media outlets around the world.