Main Content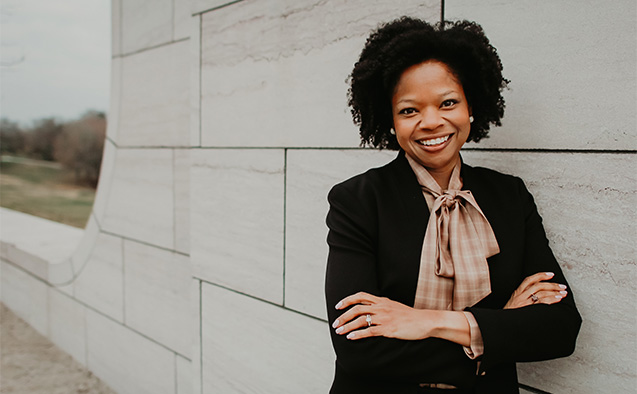 Wake Forest has appointed Shea Kidd Brown as vice president for campus life. Kidd Brown, who currently serves as associate vice chancellor for student life and dean of students at the University of Tennessee, Knoxville, is known for her commitment to student care, belonging and success.
"Shea Kidd Brown cares passionately about the wellbeing and development of students and will provide strategic, visionary leadership as Wake Forest's new vice president for campus life," said Wake Forest University President Susan R. Wente. "This is an incredibly important and influential role on a residential and highly relational campus like ours, and she is exceptionally well-qualified to both meet the needs of students and expand opportunities for engagement."
"She has a gift for connecting in meaningful ways with students and campus partners and is committed to ensuring all students can feel a sense of belonging and thrive here." Susan R. Wente, Wake Forest President
Kidd Brown will begin January 1, 2022.
"I am thrilled to lead alongside President Wente and the campus community at this important time and place," said Kidd Brown. "Wake Forest's national reputation coupled with the teacher-scholar ideal are congruent with my values related to service, leadership and social change. Leading on a college campus, particularly today, requires hard work and heart work. I look forward to building deep, authentic relationships, celebrating our strengths, and examining our limitless opportunities for growth."
At Wake Forest, Kidd Brown will have broad responsibility for the health, wellbeing and development of students. She will oversee a wide array of offices that provide student resources and support, such as Residence Life and Housing, the Office of the Dean of Students and the University Counseling Center.
Kidd Brown joined the University of Tennessee, Knoxville, as assistant vice chancellor for student life and dean of students in 2018 and was promoted to associate vice chancellor two years later. She oversees eight departments within the Division of Student Life. Called "Dean Shea" on campus, she quickly became known for leading on-campus student-facing initiatives including the Rocky Topics conversation events designed to spark meaningful dialogue around challenging issues and Milkshake Mondays, where she met face-to-face with students each week while serving frozen refreshments.
She implemented both outreach efforts as part of the "Vol is a Verb" campaign to foster belonging and encourage students to embrace and celebrate diversity on campus. During the pandemic, she established the Student Emergency Fund and has been at the forefront of efforts to provide compassionate care and support for students.
"I want to know students' stories, what is important to them, and what makes them tick," said Kidd Brown. "It is not lost on me that their college experience has been shaped by a relentless global pandemic, and I look forward to addressing existing and emergent needs of this ever-changing campus. The way to do this is through spending time with them.
"From one-to-one coffees and lunches to attending student organization meetings and events to being present on social media, I look forward to being a curious, visible and accessible leader to Wake Forest students." Shea Kidd Brown
Originally from Hattiesburg, Mississippi, Kidd Brown spent more than a dozen years in university leadership roles at schools in the Southeast. She served as director of new student and retention programs at the University of Southern Mississippi from 2015 to 2018. During that time, she reimagined new student orientation, used data-driven strategies to increase retention, served as an IFC fraternity faculty advisor and led training for emerging leaders. She also has experience working with first-generation students and supporting career development. She served as coordinator of the First Scholars program for first-generation college students at the University of Memphis. Earlier in her career, she was the coordinator for the first-year experience at Tarleton State University and coordinator for multicultural activities at Angelo State University. Brown began her higher education career as the manager of transition programs and first-year experiences at her alma mater, the University of Southern Mississippi.
Kidd Brown earned a bachelor of arts degree in speech communication from the University of Southern Mississippi, a master's of education in college student affairs administration from the University of Georgia, and a Ph.D. in educational psychology and research from the University of Memphis, where her scholarship focused on racial identity development in African American college students.
She is a life member of the Southern Miss Alumni Association, serves as a faculty member in the college student personnel graduate program at UT, and is a co-lead facilitator for the LeaderShape Institute. Kidd Brown holds leadership positions in national campus life professional organizations, serving on the AVP steering committee for NASPA – Student Affairs Administrators in Higher Education, and served on the Board of Directors for NODA – the Association for Orientation, Transition and Retention in Higher Education. As a community leader, she serves on the Knoxville YMCA Board of Directors. In 2020, she was among 14 African-American leaders – one from each of the Southeastern Conference institutions – highlighted by the SEC as trailblazers.
She authored a 2021 article on social barriers to traditional student leader roles for the journal New Directions for Student Leadership and has been a frequent panelist and keynote speaker at professional conferences.
A search committee co-chaired by President Susan R. Wente and Provost Rogan Kersh and composed of faculty members, students, administrators, and board representatives recommended Kidd Brown's appointment. The committee hosted three forums this fall for the campus community, where faculty, staff and students could share their thoughts on the search for the University's next campus life leader. Kidd Brown will succeed Penny Rue, who announced in June her plans to retire. Rue joined Wake Forest as vice president for campus life in 2013 and will serve through mid-December.
"Among a national field of extraordinary candidates, Dr. Kidd Brown stood out as a creative, committed and visionary leader who will support the holistic success of students, enhance strong partnerships across and beyond campus, and support our vibrant and diverse learning community," said Kersh. "The committee was impressed with her collaborative spirit and deep commitment to student success."
Kidd Brown will join the Wake Forest community with her husband, Ryan and son, Jack Wilson.
Categories: Faculty, Staff, Top Stories
Wake Forest in the News
Wake Forest regularly appears in media outlets around the world.