Main Content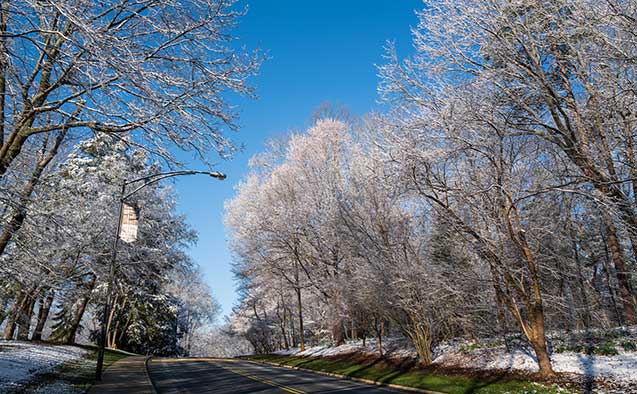 FEATURED NEWS
$8.6M Kern Family Foundation grant puts character first
By Cheryl V. Walker | news.wfu.edu
The Kern Family Foundation has awarded Wake Forest University an $8.6 million grant to develop programs that put character at the center of preparing students for work in the professions. The grant will expand the work of the University's nationally known Program for Leadership and Character to equip future leaders in medicine, law, engineering and other professions to think in holistic ways about their values and work. – 12/16/2021
This story was covered by the Winston-Salem Journal.
NATIONAL & INTERNATIONAL
Overweight older adults lose weight, keep it off by moving more
By Brian P. Dunleavy | United Press International (UPI)
Moving more throughout the day offers enhanced weight-loss benefits for older, severely overweight adults, even without structured exercise activities, a new study shows. "We hope that these findings empower older adults to seek out an array of enjoyable activities that help them to move more throughout the day and to sit less," said Jason Fanning, Wells Fargo Faculty Scholar in the Department of Health and Exercise Science. –12/21/2021
America's rocky road to justice-informed policing
By Greg Berman | The Crime Report
In this interview with Greg Berman, Distinguished Fellow of Practice at The Harry Frank Guggenheim Foundation, Kami Chavis, the director of the criminal justice program at Wake Forest School of Law, talks about issues of police reform and the relationship between police violence and the recent increase in shootings in many American cities. – 12/16/2021
Advice: How to hire leaders better than yourself
By Nathan O. Hatch | The Chronicle of Higher Education
As a university president for 16 years and a provost for nine, I witnessed time and again how the right leader can animate an academic program, financial office, athletic department, or medical center. In fact, I have never seen significant progress made in any part of a campus without a transformative leader. As the retired CEO and writer Lawrence A. Bossidy once said, "At the end of the day, you bet on people, not on strategies." –12/15/2021
'Green With Milk and Sugar' Review: When Japan filled our teacups
By Heller McAlpin | The Wall Street Journal
'I have found that a surprising amount of history can be contained in a simple cup," writes history prof Robert Hellyer in, "Green With Milk and Sugar." His new book intertwines the history of green tea in Japan, the U.S. and his own family. – 12/14/2021
REGIONAL & TRADE
WFU's part-time MBA program ranked among top 25 nationally, No. 1 in NC by Fortune
By Daniel P. Finnegan | Triad Business Journal
"We are tremendously proud of our part-time MBA program for its strategic focus and flexibility," said Michelle Roehm, Interim Dean and Peter C. Brockway Chair of Strategic Management. "We consider this not only a significant accomplishment for our MBA program, but it also underscores the quality of our faculty and commitment to academic excellence." – 12/17/2021
Fathers and daughters: custody plans and other steps to protect their relationships
By Linda Nielsen | Psychiatric Times
Education professor and nationally recognized expert on father-daughter relationships Linda Nielsen offers insights into why father-daughter relationships are typically more damaged after a divorce than father-son relationships. – 12/28/2021
Atrium Health's Charlotte medical school building gets a name — and $25M donation
By Hannah Smoot | The Charlotte Observer
The Howard R. Levine Foundation donated $25 million to name the academic building. The Howard R. Levine Center for Education will host the Wake Forest University School of Medicine Charlotte, along with Wake Forest University School of Business, Wake Forest School for Professional Studies and Carolinas College of Health Sciences. – 12/14/2021
LOCAL
Local universities adjust on-campus COVID-19 protocols as students return
By Richard Craver | Winston-Salem Journal
Wake Forest issued the latest version of its pandemic policies last week that still requires all students to be fully vaccinated. Classes begin on Jan. 10. The University continues to adhere to the city of Winston-Salem's indoor face mask requirements. "We anticipate that the current requirements will remain in effect through the month of January." – 1/02/2022
Charlotte medical school building to be named for Howard R. Levine, retired CEO of Family Dollar
By Richard Craver | Winston-Salem Journal
The primary academic building for the Wake Forest School of Medicine in Charlotte will be named after business leader and philanthropist Howard Levine. Levine's foundation has agreed to provide a $25 million gift to the Atrium foundation for the medical school, which is slated to open in 2024. – 12/14/2021
NC remains on sideline in raising minimum wage debate
By Richard Craver | Winston-Salem Journal
"State minimum-wage increases have been passed either by Democratic-controlled legislatures or through citizen-initiated ballot measures in states that allow the public to bypass legislative opposition and place measures directly on the ballot," said politics professor John Dinan, who is a national expert on state legislatures. – 1/01/2022
Omegas distribute toys throughout community
WS Chronicle
Members of the social action committees of Psi Phi Chapter, Lamba Eta Chapter at Wake Forest, and Mu Epsilon Chapter at Winston-Salem State, delivered toys to daycares, elementary schools, homeless shelters and other organizations throughout Winston-Salem. – 12/15/2021
Jeff Jackson drops out of race for U.S. Senate
By David Ford | WFDD-FM
"Republicans are going to have a contested primary, and it's even been bitter at times," said politics professor John Dinan. "Democrats looked like they might be having one of those primaries, and now they will not be. So, they're breathing a sigh of relief. They see this gives them perhaps a leg up in what's likely to be a tough election year for Democrats nationally." –12/16/20
Categories: Top Stories, Wake Forest in the News
Subscribe
Sign up for weekly news highlights.
Subscribe