Main Content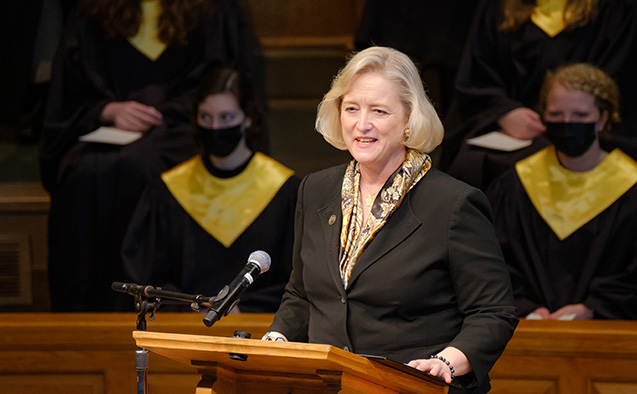 Highlights
Former WFU President Nathan O. Hatch was awarded the Medallion of Merit, the University's highest honor.
Tribute to Dr. Maya Angelou held; quarters bearing her image distributed to attendees.
Senior history major Bea Pearson delivered a senior oration.
On Feb. 17 during the annual Founders' Day Convocation at Wake Forest University, President Susan R. Wente asked what it means to be a founder while challenging the institution's faculty, staff, students, alumni and friends to become founders.
A video of the event is available on the Founders' Day Convocation website.
"Being a founder means being fearless, advocating for positive change, reflecting and not simply settling on getting on with our work and studies," Wente said at the 4 p.m. event held in Wait Chapel. "It means engaging in radical collaboration with others, cultivating respectful and open dialogues with those with whom we may disagree, and it means embodying our motto, 'Pro Humanitate.'
"These traits are critical if we are to be great founders," Wente said.
"Today, I want to call on all of us to be founders for the future and engage in the continued hard work needed to be a great university." WFU President Susan R. Wente
Wente became the 14th Wake Forest president on July 1, 2021. Founders' Day Convocation is held annually to observe the University's founding in 1834. She acknowledged the University has a history that, "like that of our state and of our nation is tied up with slavery, segregation and significant injustices. We shouldn't shy away from these aspects of our past. Instead, we should confront them. And most importantly, as an institution with knowledge creation at our core, we must learn from them."
She cited Wake Forest's inclusion in Universities Studying Slavery, a consortium of nearly 90 colleges and universities that are examining the role slavery played on their campuses, and Wake Forest's Slavery, Race and Memory Project.
She also highlighted other important University milestones: the Law School was founded in 1894, the Medical School was founded in 1902 and Wake Forest began playing collegiate sports in 1923 under the nickname Demon Deacons. In 1942, the first women were admitted to the college, and in 1956 it relocated to Winston-Salem from its original home near Raleigh. Wente continued the Wake Forest story, mentioning that in 1962 the Board of Trustees voted to admit African American students, Ed Reynolds became the first full-time Black student enrolled at Wake Forest and civil rights leader the Rev. Dr. Martin Luther King Jr. spoke in the same place where she delivered the Founders' Day address.
"Wake Forest is a place where many things have begun, where the act of founding is continuous," Wente said.
Medallion of Merit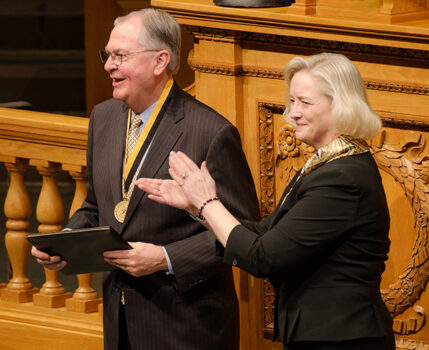 Former Wake Forest President Nathan O. Hatch, who served from 2005 to 2021 and led the successful $1 billion Wake Will Lead Campaign, was awarded the University's highest honor, the Medallion of Merit. Before he was given the award by Wente, a seven-minute video chronicling his tenure was shown. The Medallion of Merit is presented to individuals who have rendered distinguished service to Wake Forest.
Tribute to Dr. Maya Angelou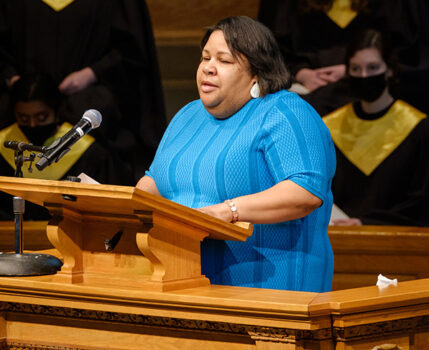 After Wente's address, Erica Still, an associate professor of English and an associate dean for faculty recruitment, diversity and inclusion, paid homage to poet, actress, author and civil rights activist Dr. Maya Angelou, who inspired generations of Wake Forest students to become better writers, thinkers and citizens.
Angelou was named the University's first Reynolds Professor of American Studies in 1982 and taught at Wake Forest until her death in 2014. A residence hall is named after her.
Last year it was announced that Angelou would become the first African American woman whose image would grace the U.S. quarter. Founders' Day attendees were given quarters.
Still began her tribute by quoting the closing stanza of Angelou's famous poem, And Still I Rise.
"As the first African American woman featured on the quarter, Dr. Angelou joins and expands a well-known set of founders," Still said. "She took what was all around her, the ordinary things of her life, of our lives, and she made them extraordinary. In her art and her wisdom, she pointed to the beauty and the pain, to be sure, in the mundane. She taught us to see life's extraordinary possibilities, to see that we are, ourselves, extraordinary possibilities."
2022 Senior Oration
Senior orations have been a part of Founders' Day for 187 years. Bea Pearson, a senior history major from Mount Holly, New Jersey, was the winner of the 2022 senior oration competition.
In her speech "Seized at the Root," she discussed some of the tumultuous times the Wake Forest campus has experienced in her four years and the challenges she has faced as a Black student.
"Being uprooted allows you to flourish, to seize hold of new fertile ground….I was stretched by these moments and stretched into the outline of the strong person and proud Demon Deacon that I am today."
The Founders' Day program included a video remembrance of Wake Forest community members who have passed on since the last Founders' Day Convocation accompanied by the Wake Forest University Chamber Choir singing "The Road Home." The Choir also performed the anthem "Wake! Now A Time Has Come," composed by Wake Forest Composer-in-Residence Dan Locklair with text by former N.C. Poet Laureate Fred Chappell. 
The event ended with a benediction by School of Divinity Dean Jonathan Lee Walton.
Updated 2/19/22
Categories: Top Stories