Main Content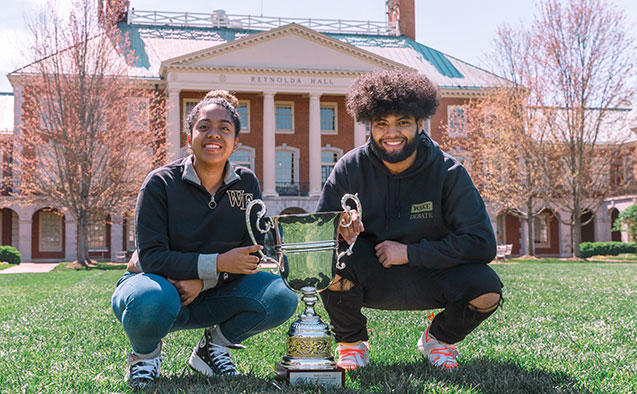 As he celebrated Wake Forest's first-ever win in the Cross Examination Debate Association (CEDA) National Championship, sophomore competitor Dimarvin Puerto said Wake Debate's strength comes from the community its coaches and teammates have created.
"Wake Debate is very unique in the way it engages students," said Puerto, a Spanish major who hails from Chicago. "I've met people I can call my friends and people I can depend on. Community is very important given the times, and Wake Debate has done a wonderful job in terms of building community."
Debate partner Asya Taylor, a sophomore from Dallas, seconds that and adds: "It's more important to be a good person first, a good student second and a good debater third, which is a mantra we carry with us in Wake Debate."
Puerto and Taylor won the CEDA Nationals with a 9-0 decision over the University of Michigan, a rare unanimous triumph in the competition. It was held April 8-13 at George Mason University.
Wake Debate had competed in the CEDA nationals 18 times before Taylor and Puerto brought home the top honor.
This was the first time the two had partnered up for a competition, and they had only two days to prepare their strategy for arguing whether the United States should expand antitrust law. (Resolved: The United States federal government should substantially increase prohibitions on anticompetitive business practices by the private sector by at least expanding the scope of its core antitrust laws.)
Taylor gave the final speech of the debate, and she had an inkling that she had clinched it.
Jarrod Atchison, Wake Forest's John Kevin Medica Director of Debate, said what sealed the win was the pair's ability to change course as the debate progressed.
"This championship was won by the brilliance of the debaters to recognize arguments as they developed over the course of the debate," he explained. "Far too often, debaters go in with a certain strategy and execute that strategy regardless of what their opponents argue. In this situation, Asya and Dimarvin listened closely to Michigan's arguments and adapted in the moment, which takes courage."
Puerto, who joined his first debate team in the 6th grade and was recruited by Wake Forest for its team, said Wake Debate's willingness to stray from the traditional and support his passion for exploring the intersection of public policy and issues like anti-blackness has made all the difference for him.
"It's the best place to talk about the things I want to talk about in the way I want to defend them in a debate," he said.
Puerto also credits the team's success to the support it receives from the University and its community. Wake Debate received a $5 million gift in 2020 from alumna Megan Medica in honor of her husband, John Medica, a Wake Forest Trustee. The John Medica Fund underwrites scholarships and travel costs to high-profile debates, among other initiatives.
Puerto's next goal: Help bring Wake Debate another National Debate Tournament victory by the time he graduates. The school won the competition, which has taken place annually since 1947, in 1997 and 2008.
Taylor, who is majoring in English and communication, has a similar goal – to at least make it to the deep elimination rounds of the competition.
That jibes with Atchison's goals, too.
"We compete year in and year out for national championships because we believe success is setting a high goal for yourself and, in trying to achieve it, seeing what you can become as a person," he said. "Asya and Dimarvin, along with their fellow debaters, will continue to succeed because they believe in focusing on the process over the product."
Categories: Top Stories
Wake Forest in the News
Wake Forest regularly appears in media outlets around the world.