Main Content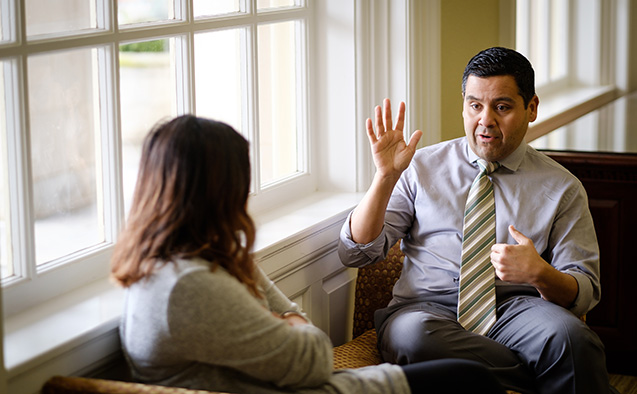 The National Association of Colleges and Employers has named Allison McWilliams, assistant vice president of mentoring and alumni personal and career development, "Mentor of the Year." She is also a co-winner of the Career Services Excellence Award for her work with alumni and personal and career development.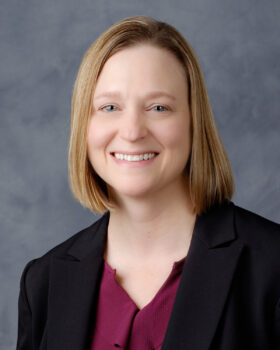 A decade ago, Wake Forest was one of the first higher education institutions in the nation to adopt a campus-wide mentoring model. McWilliams has been at the helm of the University's Mentoring Resource Center since its inception. Hired to get the Center going, she imagined a program where every Wake Forest student would have the opportunity for a positive mentoring experience.
While mentoring has always been part of a Wake Forest education, McWilliams has expanded that culture by encouraging faculty, staff, students and alumni of all ages to take on both mentor and mentee roles. Today, the Center reaches more than 3,500 in person and 27,000 online per year.
McWilliams offers advice for both organizations and their employees.
Q: What one strategy would you recommend to organizations looking to build a workplace-wide mentoring culture and why?
A: Spend time talking to your people and assessing their specific, strategic needs. This is still probably 75% of the work that I do, 12 years into this role. Then assess whether mentoring is the right intervention to address those needs. Many programs fail because organizations don't do this work. Mentoring is not a magic solution to all problems. I do believe everyone can benefit from great mentorship, and that there should be more of it, both inside and outside of organizations. But it should be executed thoughtfully and strategically.
Q: How do you see mentor and mentee support working for recent grads and employers when many new hires are seeking hybrid or fully remote workspaces?
A: If you're going to do hybrid/fully remote, then you're going to have to put even more effort and structure into developing relationships. I would suggest for recent grads,
start off by making as many 15-minute coffee conversations with new colleagues as possible;

follow up with longer conversations with those who seem most interested and relevant; and

ask for regular meetings with your manager and immediate team members. 
And for the mentor or manager, 
help facilitate this process by creating those connections and introductions; 

ask your new employee whom they have met with, what they have learned, and where are their knowledge gaps; and 

look for opportunities to build intentional connection between and among your people. 
We are hard-wired for connection and to exist within community. And that doesn't happen by accident.
Q: A recent study by TimelyMD shows that new professionals are eager and ready to work while also nervous about finances, their ability to be successful, and their general mental well-being. What kind of mentoring support should employers be prepared to offer 2022 college grads entering the workforce?
A: It's critical that employers understand these concerns, and not brush them off. We each show up to work as whole people, with lives and challenges and successes outside of work that will impact what we do at work. You don't have to be your people's therapist, nor should you be. But it's OK to ask if they're OK, and to recommend resources as appropriate. We've all faced some heavy, traumatic things over the past few years, from COVID to the ever-present news cycle. When employers act like these things aren't happening, your people notice it. First and foremost, we need to be human and to treat others with kindness, grace and respect. It's not your job to fix other people or to fix their problems for them. It is your job to show some basic compassion and care for others.
Q: What is the most unexpected or surprising thing a mentor can do to support a mentee or a mentee to support a mentor?
A: Maybe not surprising, but sometimes the easiest and best thing that a mentor can do is to offer to connect the mentee to another person, to a resource, or to an opportunity. Sometimes that's all the other person needs, and then you can get out of the way. For the mentee, especially when you are just starting out, I think you can get caught up thinking that you aren't paying your mentor back. This is the problem with thinking of mentoring relationships as reciprocal in nature: it implies a bit of quid pro quo and that the mentor is only doing their job to get something in return. The only thing we can expect from mentees is for them to be at least as invested in their own growth and development as we are.
Q: For those smaller organizations or groups with fewer resources, what would you suggest to improve mentoring?
A: Think about how to infuse mentoring into everything. What would it look like to develop a culture based on intentionality, on asking questions and listening to feedback, on showing up for and with other people, on truly being invested in other people's growth and development? That is what a culture of mentoring looks like. It's not having a great formal program. It's having a community of people who care about one another, who are invested in one another, and who take ownership for their own growth and development. It's just that easy, and it's also just that challenging. But that's how you change organizations and cultures.
Q: You helped Wake Forest build a mentoring resource center to support mentors and mentees, not take over the mentoring process. What is the biggest challenge to this approach?
A: You have to be willing to let go of control. We created a decentralized model here at Wake Forest, which means that my office does not run or "own" any of the formal mentoring programs on campus. Instead, we serve in a consultative role for those who want to develop and lead formal programs and provide a lot of guidance, training and support to both formal and informal programs. Culture change is a long-term process. We decided early on that we were much more interested in that long-term success instead of running a formal program with limited reach. And that means letting go of much of the oversight and control to our campus partners.
McWilliams is the author of "Five For Your First Five: Own Your Career and Life After College" and "Year One: How Young Professionals (And Their Managers) Can Thrive in Their First Job After College" She also blogs for Psychology Today at "Your Awesome Career"
Categories: Mentoring, Personal and Career Development, Staff, Top Stories
Subscribe
Sign up for weekly news highlights.
Subscribe